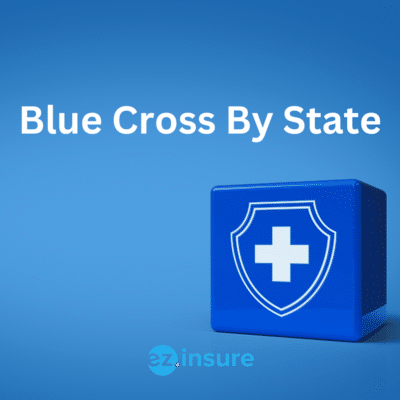 Blue Cross Blue Shield (BCBS) companies have been around since 1929, and their members have benefited greatly from their healthcare coverage. BCBS provides its members with individualized healthcare plans based on the specific requirements of their neighborhoods in each and every one of their service areas. By partnering with local clinics and hospitals, they are able to keep costs down for their 115 million members across the United States. Their companies have more contracts with medical facilities and doctors in the United States than any other insurance provider. Below we've highlighted they're coverage in all 50 states.
Health Maintenance Organization (HMO), Preferred Provider Organization (PPO), Exclusive Provider Organization (EPO), and Point of Service (POS) plans are all available from Blue Cross Blue Shield of Alabama. Which is well-liked for its low out-of-pocket costs. This insurer gives customers a lot of leeway in selecting a suitable plan. The provider's $531 average rate is also the lowest of any major insurer in the state. At $5,847, Blue Cross Blue Shield has the lowest maximum out-of-pocket cost on average within Alabama. With health insurance BCBS Alabama also offers great special programs such as a gym reimbursement and maternity program.
Alaska's Blue Cross Blue Shield company is called Premera, it's a BCBS affiliate. Premera Blue Cross and Blue Shield has coverage throughout the entire state, with a variety of individual plans available, including customized options. Cost-sharing, income-based, and indigenous-people-targeted options are also available. Premara used to provide off market plans, but as of the year 2023, the company only provides the standard Marketplace plans. 
People who take generic medications and see their doctor less frequently will benefit greatly from one of Blue Cross Blue Shield of Arizona's plans. The costs are standard and you can choose from several different deductible levels. With the use of this plan, primary care is covered and your deductible is reduced, but you'll have to chip in for your share of the cost of specialists' visits and medications. 
The next plan is the True Health plan. Those with preexisting conditions that require frequent doctor visits would benefit most from this strategy. Your primary care physician visits will be free, but specialist visits will require a copayment. True Health plans have higher premiums and deductibles compared to standard medical insurance, but they cover a wider range of medical needs. Also, some popular brand-name drugs are covered by such plans. 
Finally, the last plan is Advance Health. This plan might be the best option for those who need to speak with a doctor frequently or have trouble getting to the clinic or hospital, as it includes telehealth services. These plans also provide access to low-cost pharmaceuticals.
According to their official website, Arkansas Blue Cross Blue Shield does not make a profit off of their services. This means that nearly all of the premiums they receive are used to provide benefits to policyholders. Arkansas Blue Cross Blue Shield is connected with USAble and HMO Partners. As of 2021, HMO Partners is a brand-new player in the market. The three major insurance providers all supply plans that fall within the metal tiers (Bronze, Silver, Gold, and Platinum).
Anthem Blue Cross Blue Shield provides health coverage to 8.3 million residents of California, which is more than any other insurance provider in the state. They have Bronze, Silver, and Gold as their levels of insurance coverage. In addition to that, they provide resources, such as a healthcare portfolio that is referred to as Benefits. They also have 360 Health Management, which is a program that provides policyholders with tools and resources to assist them in taking responsibility for their own health.
Anthem Blue Cross Blue Shield is one of the most prominent health insurance companies in Colorado. They are well-known for providing policies at competitive prices that enable you and your family to obtain adequate coverage despite financial constraints. They provide essential medical coverage, as well as dental and vision coverage, medical coverage for travel, group health insurance, supplemental insurance, Medicare and Medicaid coverage.
One of the most reputable health insurance providers in Connecticut is Anthem BCBS, which not only provides options for your own health coverage, but also for the health coverage of your entire family. They provide catastrophic, vision, dental, travel medical, and supplemental insurance options in addition to basic health insurance. Their provider network incorporates all of Connecticut's general hospitals, in addition to almost 3,000 primary care providers and approximately 5,500 specialists.That gives Anthem's customers a wide range of options when it comes to their healthcare providers.
There is a wide selection of medical coverage available through Delaware's Highmark Blue Cross Blue Shield. Each metal tier contains a variety of options that offer varying degrees of coverage at a range of different price points. The Bronze tiers cover a smaller percentage of your medical expenses but have lower monthly premiums, while the Gold plans have higher premiums, but cover 80% of your medical expenses. Which plan will work for you best depends entirely on the state of your finances and the requirements of your health situation. 
Florida Blue, a subsidiary of Blue Cross Blue Shield, is an insurance carrier that provides Preferred Provider Organization (PPO) plan options. Their PPOs are compliant with the Affordable Care Act and provide free preventive care, vaccinations, and screenings like mammograms. Additionally, you have the freedom to choose your own providers.
Anthem Blue Cross Blue Shield of Georgia is one of the health benefits providers in Georgia that is both one of the largest and one of the oldest. In fact, almost a third of the state's population carries an Anthem BCBS card. They offer a variety of health plans along with benefits like the 360 Health management program. Anthem Blue Cross and Blue Shield of Georgia also provides the State Health Benefit Plan (SHBP) with medical claims administration and medical management services. SHBP provides eligible members, including pre-65 Retirees, with three Health Reimbursement Arrangement (HRA) Plan Options through Anthem: Gold HRA, Silver HRA, and Bronze HRA. In addition, Anthem provides eligible members and pre-65 Retirees with a statewide Health Maintenance Organization Plan Option, as well as Medicare Advantage Premium and Standard Plan Options.
The Hawaii Medical Service Association (HMSA) is the name of the insurance provider that operates under the BCBS brand in Hawaii. HMSA is the state's largest healthcare provider within Hawaii because it maintains the largest network of pharmacies and medical professionals. Within each of the islands, there are a number of HMSA urgent care facilities that are open to members of the HMSA insurance program.
In addition to the Bronze, Silver, and Gold plans, HMSA also provides a Platinum plan, a catastrophic plan, and two different options for each of those three tiers of coverage. 
BlueCross of Idaho, which is an independent branch of the Blue Cross Blue Shield Association, is the most prominent health insurance provider in the state of Idaho. They provide all types of plans, including those for individuals, families, and employers, in addition to Medicaid and Medicare options. Policyholders can choose from any of the 2,400 providers that are part of their network. 
Blue Cross Blue Shield of Illinois is the state's largest health insurer. The company offers group and individual health insurance, managed-care products, Medicare Supplement Plans, and coverage for prescription drugs to its over 7 million members. The BCBSIL network includes more than 91 percent of primary care physicians in Illinois, more than 92 percent of the state's hospitals, and more than 87 percent of the state's specialists.
The mission of BCBS Indiana is to improve the overall health of their members. In order to accomplish this, they provide access to extensive provider networks, programs designed to assist in the management of chronic illnesses, and even pharmacy management benefits. They collaborate with medical professionals, hospitals, and other providers to assist in making care more easily accessible, coordinated, and delivered in a timely manner, as well as in a manner and environment that encourage the development of healthy patient-provider relationships.
Wellmark BCBS has a network in Iowa that includes 99.9 percent of all doctors and 100 percent of hospitals. The PPO plans offered by Wellmark qualify as High Deductible Health Plans (HDHPs), making them compatible with HSAs. When you sign up for a high-deductible health plan (HDHP) with a health savings account (HSA), you'll be able to save money tax-free for future medical costs.Free annual checkups, mammograms, and well-child exams are just some of the preventive services included in Wellmark plans. The Blue Simplicity RX plan pays for the vast majority of prescribed drugs. You can visit any participating Blue Cross Blue Shield doctor or hospital nationwide while you are away from home.
Being one of the largest national health insurance carriers results in Blue Cross Blue Shield of Kansas having one of the largest networks of physicians, clinicians, and other healthcare professionals in the country. This insurance provider offers multiple coverage options. Blue Cross Blue Shield is a good choice for frequent travelers because it provides both temporary and permanent worldwide health insurance coverage. You can also take advantage of their Blue365 network, which provides access to wellness product discounts.
Anthem Blue Shield is a Kentucky-based branch of Blue Cross Blue Shield, one of the largest insurance providers in the country. Screenings and preventative care are covered without out-of-pocket costs by Anthem, and the company also provides dental and vision coverage as add-ons to medical policies. 
The Blue Cross Blue Shield of Louisiana organization is called HMO Louisiana. HMO Louisiana provides two different managed-care insurance options. A Point of Service plan is one option where members of this plan have the option of using in-network providers or paying a surcharge to see a provider who is not part of the plan's network. Members of POS plans can maximize their benefits by seeking care from in-network medical professionals. 
Another option is the Health Maintenance Organization (HMO) plan the company is named for. As with the POS plan, participants in this plan can see any participating provider and enjoy similar coverage. With the HMO plan, however, you are limited to in-network providers only.
Anthem Health Plan, which is also known as Blue Cross Blue Shield of Maine, gives customers the option to choose from a variety of health care plans, including HMO and POS options. It is consistently ranked as one of the best health insurance companies in Maine, both for treatment and preventive care. Their network includes all of the state's general hospitals, as well as over 3,000 primary care providers and 5,500 specialists.
CareFirst is Maryland's BCBS company. It is now recognized as one of the most successful health insurance companies in the Mid-Atlantic area. With over 3 million members who are covered by the company's various subsidiaries and affiliates. CareFirst's physician network includes more than one million medical professionals in addition to hospitals and other types of healthcare facilities.
In addition, their all-inclusive prescription drug plan includes coverage for almost 5,000 different kinds of drugs. They also provide health and wellness programs, through which users receive incentives for maintaining their health. These programs allow their members to use the incentives towards copays or other out-of-pocket costs. 
Blue Cross Blue Shield of Massachusetts is a well-known full-service health insurance carrier that provides an extensive range of health insurance plans to meet a broad spectrum of client requirements and financial constraints. They provide both HMO and PPO insurance plans. Enrolling in one of their plans gives you access to their extensive network.
Blue Cross and Blue Shield of Michigan is the company that owns Blue Care Network of Michigan. BCN provides access to approximately 6,300 primary care doctors, more than 26,400 specialists, and 132 hospitals located throughout all 83 counties in Michigan. Making it one of the most comprehensive networks available in the state. There are only two HMO insurers in the state of Michigan, and BCN is one of them. 
BCBS Health care is an important part of Minnesotan life. And Blue Shield of Minnesota is dedicated to providing its members with comprehensive, competitively priced health plans and exceptional medical care. BCBS Minnesota offers regional plans that cut down on travel time and make for better-informed customer service agents.
Blue Cross Blue Shield Minnesota provides high-quality care at a reasonable price because of the extensive list of in-network pharmacies, hospitals, and doctors. Plans can be customized to include dental and vision insurance for complete protection.
Through health and wellness partnerships with quality healthcare providers, employer groups, and community leaders across the state, Blue Cross Blue Shield of Mississippi works every day to help Mississippians stay healthy. Starting with an annual wellness visit at no out-of-pocket cost with a Primary Care Network Provider. Their health and wellness benefits are intended to assist members in understanding their health. And obtaining the care they need at the right time and place.
Blue KC, which is also known as Blue Cross Blue Shield of Kansas City, makes it easy for individuals and families to purchase high-quality health plans on the Marketplace established by the Affordable Care Act (ACA). They provide their members with individual and family plans. As well as Medicare Supplement Plans and short-term plans to choose from.
Individuals and families in Montana have access to a variety of Blue Cross Blue Shield (BCBS) health insurance plans. You have the option of selecting either a PPO or POS plan. Both of which provide you with a number of different ways to make payments, depending on your requirements and available funds.
The BCBSM provides a great deal of flexibility. Allowing you to select the premiums and deductibles that are most suitable for your circumstances. 
One of the most significant providers in the state, Nebraska Blue is an insurance company that is a subsidiary of Blue Cross and Blue Shield of Nebraska. They provide individual and family plans, supplemental critical illness and hospital recovery plans, travel insurance, and even Medicaid plans. Other available coverage options include critical illness and hospital recovery plans. 
Anthem Blue Cross Blue Shield of Nevada provides a wide variety of plans for individuals and families at prices that are among the most affordable in the industry.  Because this company is an independent franchisee of the Blue Cross Blue Shield National Association, members of its PPO plans have access to the Blue Card Network. Which is a collection of medical professionals and establishments. The Blue Card network boasts the distinction of being the nation's most extensive insurance network.
In the state of New Hampshire, customers of Anthem Blue Cross Blue Shield can choose from a number of different coverage options. In addition to the various HMO and PPO plans that are available on the ACA Marketplace, it provides Medicare Supplement Plans for people who are above the age of 65 or who are disabled. After you have satisfied your deductible, there are individual plans as well as family plans that are available to choose from that will pay up to 80% of your expenses.
The benefits of New Jersey's BCBS programs are incorporated into the Horizon BCBS plans. In addition to other benefits, features, and services that are offered at no additional cost to the consumer. The plans offered by Horizon give you access to an experienced team of medical specialists, primary care physicians, and care managers. Who will work together to meet all of your healthcare requirements.
BCBS New Mexico offers complete coverage to ensure that their members receive the highest quality care at the lowest possible cost. They provide many different types of plans. Such as individual and family plans, employer plans, Medicare and Medicaid plans, as well as dental and vision plans. In addition to that, they provide coverage for telehealth services as well as some pharmacy services. 
New York actually has 4 BCBS companies to choose from. They are Empire BCBS, Highmark BCBS of Western New York, Highmark BCBS of Northeastern New York, and Excellus BCBS. All of these offer a variety of plans and benefits to make sure all of New York has plenty of access to health insurance at an affordable rate.
North Carolina Blue Cross  Blue Shield is dedicated to improving health and the healthcare system in the state. Blue Cross NC is a statewide health insurance provider headquartered in Durham and with significant offices in Winston-Salem; it is a not-for-profit organization. Access a worldwide network of hospitals and doctors with Blue Cross Blue Shield of North Carolina. Almost everywhere you go will accept your insurance. You'll never have to pay full price for services when you see a doctor who is part of their provider network because we always negotiate discounts. 
Blue Cross Blue Shield of North Dakota provides coverage for individuals and their families. Other plans, such as high-deductible and catastrophic ones, are available to help you manage your healthcare costs. BCBS of North Dakota is the largest health insurance provider in the state. All of the state's hospitals are in their network as well as 98% of doctors and specialists.
Independent Licensee of the Blue Cross Blue Shield Association, Blue Cross Blue Shield of Ohio is a mutual insurance company that does not operate for profit. BCBSO has made it a priority since its inception to slow the growth of medical expenses. It established a health maintenance organization (HMO) that contracts with hospitals to offer both outpatient and inpatient services. 
Cross Blue The Blue Shield of Oklahoma has the best coverage area of any insurance provider in the state. Also, if you're traveling and end up needing medical attention, its network is the largest in the United States. Health insurance for individuals and families are available through Blue Cross Blue Shield, in addition to Medicare Supplement Plans. Having a mobile app that lets you handle your healthcare needs from any location has helped this company earn high marks from customers.
Regence Blue Cross Blue Shield of Oregon now offers its health insurance services to more than 974,000 residents of Oregon. Regence, a nonprofit independent licensee of the Blue Cross Blue Shield Association, is a member of a group of companies working to improve the health of the nation's population through the development and distribution of novel health care products and services.
Capital Blue Cross, a provider of health insurance, has its headquarters in Harrisburg. Their plans provide access to a network of over 18,000 doctors and 40 hospitals. Capital Blue Cross offers both on- and off-exchange individual and family health insurance plans, with Preferred Provider Organization (PPO) options, to residents within its service area.
If you or your family require medical or dental coverage, Blue Cross Blue Shield of Rhode Island has several options to choose from. Its plans are tiered to provide the scalability you need. This provider additionally provides Medicare Advantage plans to those who are eligible. In addition, BCBSRI can provide you with special member discounts on wellness and health products and services through Blue365.
Blue Cross Blue Shield is proud to provide low-priced individual policies, with many plans featuring higher deductibles and coinsurance percentages in exchange for cheaper premiums. Access to one of the state's most extensive networks is included with Blue Cross Blue Shield of South Carolina. This ensures that you will always have access to a physician in your area.
South Dakota residents can choose from a variety of plans and providers with Wellmark BCBS's pliable benefit plans and reasonable rates. Wellmark is accepted by virtually every medical facility and doctor in South Dakota. And the Blue Cross Blue Shield Association offers comprehensive domestic and international coverage.
BCBS of Tennessee provides Bronze, Silver, and Gold coverage tiers. You have the option of selecting a Bronze plan with lower monthly premiums and higher deductibles. Or a Gold plan with higher premiums that covers more costs, depending on your specific healthcare requirements. There are a variety of plans to choose from so you can get the care you need without breaking the bank. Depending on your yearly earnings, you may be qualified for a tax credit to use toward the cost of medical care.
Blue Cross Blue Shield of Texas is an excellent option for Texans in search of low-cost medical insurance. There are a wide variety of individual and family health insurance plans that meet the minimum standards set by the Patient Protection and Affordable Care Act.
Regence, the largest affiliation of health care plans in the Pacific Northwest and Mountain region, can trace its origins all the way back to the first BlueShield plan in the United States and is run entirely on a not-for-profit basis. Regence is affiliated with other regional plans in various cities. A.M. Best has given Regence an A rating, and they provide insurance to nearly half a million people in Utah.
When it comes to health insurance in Vermont, Blue Cross Blue Shield of Vermont is a major player. They have a variety of plans to choose from so you can find one with a premium and deductible that works with your budget.
Individuals can enroll in a full coverage ACA plan for as little as $545 per month. And once their deductible is met, most plans have no coinsurance. If you have a Blue Cross Blue Shield insurance policy, you can use their online wellness center to get information and discounts on health-related services.
One-third of Virginians have coverage through Anthem Blue Cross Blue Shield. Individuals, families, and businesses in Virginia, as well as those who qualify for Medicare, can choose from several different health insurance plans. Including traditional, Preferred Provider Organization, and Health Maintenance Organization.
The largest health insurance provider in the Pacific Northwest is Premera Blue Cross. Which is a part of the national Blue Cross Blue Shield Association. Numerous Bronze, Silver, and Gold plan options, as well as a PersonalCare option designed to help members save money, are available from this insurer for individuals, families, the elderly, and businesses seeking healthcare solutions.
Independently licensed by the Blue Cross Blue Shield Association, Highmark BCBS West Virginia offers comprehensive plans at competitive prices. Both on and off the federal Marketplace, they provide a selection of PPO plans across a wide range of deductible and coverage amounts.
More than 5 million people in all 254 counties of Wisconsin are insured by Anthem Blue Cross Blue Shield Wisconsin. Making it the largest health insurance provider in the state. Consumer-directed plans, Health Savings Accounts, and Medicare Supplements are just some of the options available to individuals, families, and small groups.
The Anthem Blue Cross BlueShield Wisconsin program no longer provides PPOs on the individual market. However, Advantage Plus plans provide the additional flexibility to see doctors outside of the Blue Advantage network at a reduced cost.
The Blue Cross Blue Shield Association licenses independent companies, such as Blue Cross Blue Shield of Wyoming. Both regional health maintenance organization (HMO) plans that cover a smaller number of providers in a more limited area. And statewide preferred provider organization (PPO) plans that cover the vast majority of Wyoming's doctors and hospitals, are available to members.
Working With EZ
No matter where you live, Blue Cross Blue Shield has you covered. Some states even have multiple affiliates to make sure everyone has access to their plans. For more information or help enrolling in one of BCBS' affordable plans give one of our licensed agents a call at 877-670-3557. We can also get you free instant quotes if you enter your zip code in the box above.