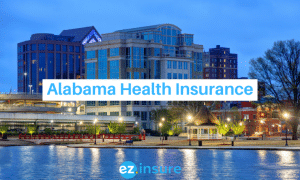 There are various affordable health insurance options available in Alabama that will meet your specific needs. Coverage and rates vary based on multiple factors like your age, gender, and household size. The cheapest health insurance available costs around $360 a month, but on average, Alabama residents can expect to pay around $650 a month for a full coverage health insurance plan. Some Alabama residents, though, may qualify for certain plans free of charge. Additionally, many of these plans have dental and vision insurance add-ons available, with dental add-ons starting as low as $38 a month and vision insurance starting at just $13 a month!
Jump To:
Alabama Health Insurance Companies
While there are several insurers in the state, Alabama has two primary health insurance carriers:
Blue Cross Blue Shield of Alabama

– Over 3 million people have access to health insurance through this nonprofit organization. They control more than 90% of the market for health insurance.

UnitedHealthcare – This is a for-profit managed healthcare organization. They have four insurance divisions: employer and individual, Medicare and retirement, community and state, and global. Each of the four divisions handle a different group of people, from employers to people over 65, with the global division offering coverage in more than 100 other countries.
Having multiple insurers who offer a variety of plans makes it easier for residents of Alabama to find coverage that meets all of their needs.
Health Insurance Marketplace Plans in Alabama
During the Open Enrollment Period (OEP) each year, residents of Alabama can buy Platinum, Gold, Silver, and Bronze health insurance plans on the Affordable Care Act (ACA)-created Marketplace. The metal-tier plans that you can buy on the Marketplace offer certain consumer protections, guarantee coverage for pre-existing conditions, and include 10 essential health benefits:
Ambulatory patient services (outpatient care)

Emergency services

Pregnancy, maternity, and newborn care (both before and after birth)

Mental health and substance use disorder services, including behavioral health treatment (including counseling and psychotherapy)

Prescription drugs

Rehabilitative and habilitative services and devices

Laboratory services

Preventive and wellness services and chronic disease management

Pediatric services, including oral and vision care (but adult dental and vision coverage aren't essential health benefits)
The metal tiers do not indicate the quality of care you will receive; the distinction is in how much of your costs will be covered, versus how much you will have to pay out-of-pocket. 
Keep in mind that not every health insurance carrier in the state participates in the exchange. For instance, Alabama only has 3 companies available on their exchange, Blue Cross Blue Shield of Alabama, Celtic, and United Healthcare.
Around 53% of the uninsured in Alabama who qualify for Marketplace insurance coverage could get a Bronze plan for FREE.
If you've missed the OEP or have a need for health insurance for a short amount of time, short-term plans are a great option. It's important to note, though, that these policies tend to only cover the basics, and you can be denied one of these plans if you have a pre-existing condition. 
There are some rules around short-term plans, though, both at the federal and the state level. As in every state, Alabama has its own guidelines for short-term health insurance. In Alabama's case, short-term policies are not strictly regulated by state guidelines, so they default to the federal regulations. That means that the initial plan duration for short-term plans is 364 days, with the option of renewing up to three times, making the maximum duration allowed 36 months. 
Whether you want a Marketplace plan, a plan from a private insurer, or a short-term plan, an EZ agent can help. We work with all insurance carriers across the country and can compare all available options.
Alabama Health Insurance Options
In addition to Marketplace plans and short-term plans, there are a few other options for getting health insurance. If your employer offers health insurance, you can sign up for their group insurance plan. Generally speaking, purchasing a plan through your company is less expensive than purchasing individual insurance.
You can also look into government-assisted healthcare if you are older or low-income. You are eligible to sign up for a low-cost Medicare plan if you are 65 years of age or older or have a qualifying disability. Medicaid offers affordable or free insurance plans for people with low incomes, including pregnant women. In order to be eligible for these plans, your income must be under a specific amount.
If you can't get employer-based or government-assisted health insurance, work with an agent to find the best plan available to you. Insurance agents can easily compare all of your available plan options and will ensure that you select a plan that meets your needs and the needs of your family.

Get free instant quotes by entering your zip code in the bar below. No hassle. No obligations.
How to Get the Most Savings
Choosing your health insurance plan is all about finding a balance between affordability and coverage. Alabama is by no means the most expensive state to buy insurance (in fact, it's the 28th most expensive state in healthcare spending per capita), so you can find an affordable plan with the coverage you need. 
In addition to using an agent to help you save money on your health insurance plan, there are some easy ways to save on your healthcare costs once your plan is in place:
Use providers in your network – Understanding your plan's provider and pharmacy networks is crucial, since they have an impact on the costs of your medical services and prescription medications. Utilizing the doctors, hospitals, clinics, and other healthcare providers in your provider network will help reduce your out-of-pocket expenses. Your pharmacy network is just as important. You can get prescription medications for much cheaper when you use a pharmacy that is part of your plan's network. Always check if a doctor or pharmacy is in your network before seeking medical attention or filling a prescription.
Generic prescriptions – You can also save on prescription drugs by seeking out generic options, since generic medications often cost less than their brand-name counterparts. They are FDA approved and have all the same active ingredients.
Use preventive care benefits – Important preventative care is frequently fully covered by many healthcare plans. Routine checkups, screenings, and vaccinations can help you save a lot of money, since they help you identify or even prevent medical issues while they are still easy to treat.
Wellness programs – Most healthcare plans include programs and incentives to assist you in quitting smoking, maintaining a healthy lifestyle, and evaluating your health. These initiatives can help you save money while improving your health.
 Alabama Health Insurance FAQS
Does Alabama require you to have health insurance?
The Affordable Care Act technically requires that all citizens have health insurance coverage. But as of 2019, there is no longer a federal tax penalty for not having health insurance. Some states do still require health insurance at the state level, but Alabama is not one of them.
What is the cheapest health insurance in Alabama?
The cheapest healthcare plan will generally be a Marketplace Bronze Plan: these plans start at as low as $360 a month. Health insurance plan prices, though, can vary depending on age, zip code, gender, and other factors. More than half of Alabama residents that qualify for a Marketplace plan can actually get a Bronze plan for free.
How much does health insurance cost in Alabama?
The average monthly premium for health insurance is $729, or $8,748 per year, with plans as low as around $300 a month to as high as $1,200. But do not let these numbers scare you. More than half of uninsured people in Alabama qualify for a $0 Bronze plan and don't even know it.
Which companies offer health insurance in Alabama?
The top two insurers in Alabama are Blue Cross Blue Shield of Alabama and UnitedHealthcare.
 How to Enroll in Health Insurance in Alabama
Residents of Alabama can use the Marketplace to enroll in a healthcare plan or can choose to buy policies on their own through private insurers. Either way, finding the right plan for you and your family can be confusing, time-consuming and overwhelming. An EZ agent can guide you through the process of enrolling in an affordable health insurance plan. We will go over your medical and financial needs, as well as any subsidies you qualify for. After reviewing your information, we will compare all available health insurance plans and go over your options with you.
If you still have questions, feel free to give us a call at 877-670-3557. You will be directly connected to a local insurance agent who can answer all of your questions and help you find the health insurance plan that works best for you.
Looking For A Different Type Of Insurance In Alabama?