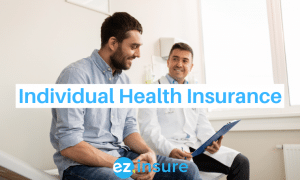 There are multiple ways to get health insurance for yourself and your family. Your employer might offer a plan, or you can buy individual insurance, or a personal health plan. If you do not have access to group health insurance, your best bet is to go on the health insurance marketplace and purchase individual insurance. And the good news is that if your employer does not provide affordable health insurance, and your household income does not exceed 400% of the federal poverty threshold, you might qualify for a subsidy for an ACA-compliant plan, which will reduce the cost of your health insurance.
Jump To:
Who Needs Individual Health Insurance?
Anyone who does not have access to employer-sponsored or publicly-funded health insurance should get individual health insurance. This includes individuals who work for small businesses without health benefits, those who are self-employed, and those who retire before becoming eligible for Medicare and need their own private health insurance until they turn 65.
Advantages of Individual Plans
There are plenty of advantages to individual plans, including:
You can select the insurer, the type of plan, and the features that best suit your needs.

If you're not happy with your plan, you can switch plans or insurers during the annual Open Enrollment Period. 

You won't lose coverage if you switch jobs because your plan is not dependent on your employment. 

You can select a plan that covers the clinics and hospitals you are comfortable using. 

You might qualify for a federal government subsidy to assist with the cost of your insurance.
Disadvantages of Individual Plans
The biggest drawback of individual health insurance can be the price, as you might expect. This is especially true if you don't have access to any form of group coverage and are in poor health. Many individual health insurance plans can cost several hundred dollars a month, and family coverage can cost significantly more. Most comprehensive insurance plans have deductibles and copays that must be met and paid before you can get coverage.
In addition, not all treatments and conditions are covered by the majority of health insurance plans. When it comes to paying for specific medical services, those who require care that falls under one of the policy gaps are on their own. 
Networks and Prescription Drug Coverage
If you're switching from an employer-sponsored health plan to the individual marketplace, keep in mind that the provider networks and prescription guidelines in the two markets can be very different. This is true even if you decide to go with the same insurance company. Don't rely solely on your recent experience with another plan from the same insurer, and assume that a new plan will cover your medications in the same way, or will have the same providers in its network.
This means that, when looking for individual health insurance, two of the main things to take into account are your preferences for doctors and any prescription medications you take. 
The Cost 
In the past, insurers would base the cost of your health insurance on a wide range of variables. The Affordable Care Act, though, has greatly reduced the number of variables that can affect the price of your premiums. Now, instead of your health being a factor, your location and your age are two of the primary factors that affect the cost of your individual health insurance.
In addition, your individual health insurance premium prices are based on the metal tier you choose (Bronze, Silver, Gold, or Platinum) and the type of plan you choose (HMO, PPO, POS, EPO).
The national average for each metal tier as of 2022 are:
Bronze – $396 for monthly premiums, $4,753 for yearly premiums

Silver – $541 for monthly premiums, $6,487 for yearly premiums.

Gold – $592 for monthly premiums, $7,108 for yearly premiums

Platinum – $678 for monthly premiums, $8,134 for yearly premiums.
The average premium prices for each plan type as of 2022 are:
HMO – $457 monthly, $5,487 yearly
PPO – $522 monthly, $6,261 yearly

POS – $531 monthly, $6,369 yearly

EPO – $508 monthly, $6,094 yearly
These averages can all change depending on factors such as age, location, and coverage needed.
What Benefits Are Covered?
All ACA-approved health insurance policies are required to cover what is known as the 10 essential health benefits. Knowing these essential benefits is important but it is still important to compare plans, because each one may differ when it comes to the hospitals and doctors that are included in their network and might cover (or not cover) services other than those on the list of 10 essential benefits.
The 10 essential benefits covered by ACA-approved individual health insurance plans are:
Ambulatory patient services

Emergency services

Hospitalization

Maternity and newborn care

Mental health and substance abuse disorder services

Prescription drugs

Laboratory services

Preventative and wellness services

Rehabilitative and habilitative services and equipment
How Are Premium Rates Determined?
The price of premiums for individual health insurance plans is determined by a set of criteria. The extent to which these factors affect your rates can be restricted by states. For instance, health insurance premiums in some states, such as California and New York, cannot change based on a person's tobacco use.
In general, though, insurance companies look at:
Age

– Premium rates for individual health plans generally rise as you age.

Where you live

– Health insurance providers choose which policies to offer and how much to charge for coverage based on the state and county you reside in.

Tobacco use

– While the maximum surcharge is set by each state, smoking can result in up to a 50% increase in health insurance rates.
But the good thing about individual insurance plans is that, depending on your income, government subsidies may be available to assist with the cost of premiums. The amount of subsidy you are eligible for depends on the size of your household and your modified annual adjusted gross income. In general, individuals with incomes between 100% and 400% of the Federal Poverty Level (FPL) might be eligible for subsidies.
You might also be eligible for discounts, known as cost-sharing reductions, on your out-of-pocket expenses for medical care. If you are eligible for cost-sharing reductions, you will pay less for deductibles, coinsurance, and copayments, among other out-of-pocket expenses. These reductions are accessible for those whose incomes do not exceed 250% of the federal poverty level, and who purchase Silver plans through the exchange.
Estimating Your Expected Income
Because of the government subsidies available, and because you'll need to know the budget you're working with, it's important to know how to estimate your expected income for the coming year before you choose your policy. There are a few things to consider when you estimate your income for the year:
Your Adjusted Gross Income (AGI)

– Your most recent federal income tax return will give you a general idea of your AGI.

Factor in extra forms of income

– Tax-free overseas income, tax-free Social Security payments (including tier 1 railroad retirement benefits), and tax-free interest can all be sources of additional income.

Adjust for expected changes

– Think about things like anticipated pay hikes, new employment opportunities, or other employment changes, such as adjustments to the workweek or self-employment income. Also consider any modifications to income from other sources, such as Social Security or investments or changes to your household, such as the addition or removal of dependents. 
Looking at all of these factors will give you a clear view of the budget you have so you know what health insurance you can afford. It will also give you an idea whether you might be eligible for government subsidies that will make your individual health insurance more affordable.
FAQs
How do I know which health insurance plan is best for me?
Start by researching medical coverage options. Create a set of questions before settling on a health insurance provider. Make a health insurance budget based on the information about your household income. Find out what makes each type of plan unique so you can pick the one that's best for your family. If you want to get this done quickly and easily, it's best to call an EZ agent. If you need assistance determining your requirements or locating a plan that is a good fit, we are here to help.
How much does health insurance cost in my state?
The location of your home has a significant impact on the price of health insurance. The laws and prices vary from state to state. Expenses may change from state to state, county to county, and city to city. Check out our state-by-state health insurance guide for more details on the specifics of health coverage and cost where you live.
Do I need individual or family insurance?
If you are single without children, you only need individual insurance. However, even if you aren't single you don't necessarily need family insurance. You and our partner can have separate health insurance; it just depends on what works best in your budget.
What are the types of family health insurance? 
There are 4 basic types of family plans available: Health Maintenance Organizations (HMOs), Exclusive Provider Organizations (EPOs), Preferred Provider Organizations (PPOs), and Point-Of-Service (POS) Plans. Read more about them on our guides to each.
Working With An Agent
Because there are so many factors to take into account when organizing your own health insurance, it can be frustrating. No one enjoys reading hours of different plan benefits and premiums, so why not let a professional do all of the hard work for you, for free! There is a way to get affordable health insurance without all the hassle. A licensed EZ insurance agent can outline the benefits and drawbacks of each plan. And assist you in creating the plan that will work best for you. 
Working with an agent saves you time and stress, no more trying to decode legal jargon or reading fine print. Agents do all the heavy lifting while you rest easy knowing that your coverage will be the best fit for your financial and medical needs. 
Not to mention EZ agents can save you hundreds of dollars every year on health insurance premiums. We do this by having the ability to search both on and off market for the most affordable plans. We're also able to find and apply any discounts you may qualify for. And we don't stop at just finding you a plan, we help maintain your plan after the fact too! We can help you file claims with your provider and even help renew your policy when the time comes. To get started, simply put your zip code into the box below or give one our licensed agents a call at 877-670-3557.