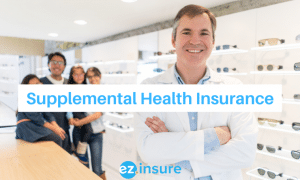 If your primary major medical health insurance doesn't cover certain services or out-of-pocket costs, you can get supplemental insurance to help cover any areas you feel you do not have enough coverage. Some supplemental insurance policies will cover your health insurance plan's out-of-pocket expenses like deductibles, copayments, and coinsurance. They might also cover the expenses for medical services like dentistry and vision care that your healthcare plan doesn't cover at all.
Jump To:
How Supplemental Insurance Works
The goal of supplemental healthcare coverage is to pay for the costs that a conventional health plan excludes.
Even with the best health insurance, you'll probably still have to pay for some of the costs of treatment. As well as pay for your everyday expenses. That means an unexpected medical diagnosis could put a financial strain on you. Having supplemental health insurance policies is an excellent way to lessen the financial load, should that happen.
Supplemental health insurance policies aren't intended to take the place of your main insurance coverage. Your healthcare plan will always offer more comprehensive coverage for medical care. But having supplemental insurance will give you access to coverage for costs that you otherwise would have to pay for out-of-pocket.
Types of Supplemental Insurance
Dental insurance –

Dental insurance is often not a part of major medical insurance, meaning you have to buy it separately as a supplemental add-on. The majority of supplemental dental insurance policies fall under the managed-care or indemnity categories. Your choice of dental care providers, out-of-pocket expenses, and how your bills are paid will depend on the kind of plan you choose.

Vision insurance – Standard health insurance generally covers treatment for eye diseases or accidents. But "routine maintenance" costs of eye care, such as eye exams, glasses, or contacts, are not. The majority of the expenses of annual eye checkups and in-depth eye exams required to update prescriptions are covered by vision insurance.
Medical Indemnity

– Medical indemnity plans are set up so that the insurance company will pay a fixed portion of the "reasonable and customary" charges on your medical bill. You are responsible for the rest. The providers decide the fees for the medical services themselves so the price can vary from doctor to doctor. But the portion that the insurance company pays does not vary. So your out-of-pocket depends by which doctor you choose for your services.

Critical illness – These types of plans will cover you in the event of a diagnosis of a major medical condition. Having critical illness coverage will add additional funding to existing health insurance. The funding will cover excess costs associated with medical crises like cancer, stroke, heart attack, coma, or paralysis. Depending on the plan, you can receive monthly payments or a flat sum to cover additional costs. Like your mortgage payments, groceries, or utility bills. Adjustable coverage limits allow you to concentrate on recovery rather than expenses.
Accidental death and supplemental accident insurance – Accidental death and dismemberment insurance (AD&D) and additional accident insurance are two more types of supplemental insurance that are frequently combined and sold as a unit. Due to state-specific insurance laws, the benefits differ from one state to the next.  An AD&D policy will give you a lump-sum cash payout if you are named in the policy of a policyholder who is killed in an accident. If the policyholder survives the accident, but suffers dismemberment, becomes blind, or develops lifelong paralysis, the insurance will still pay out. But will generally pay out less money. Additional accident medical insurance, sometimes referred to as an accident indemnity policy or supplemental accident policy, will generally cover medical expenses stemming from an accident or injury. Some of these policies may also cover additional in-home care services, as well as travel and hotel costs for families.
Hospital indemnity – Hospital indemnity coverage, like other types of supplemental insurance, assists you in paying for treatments and essential items. These are typically not covered by your usual health plan. If you are admitted to the hospital because of a serious illness or injury, hospital indemnity insurance, also referred to as hospital confinement insurance, pays you a cash compensation. The monetary benefit is generally given out either as a single lump sum or as daily or weekly payments. But payment will usually not begin until after a minimum waiting period.
Long term care insurance – If you have a chronic disease, you may need to pay for long-term care services. Which can be expensive. Supplemental long-term care insurance can help. You usually need to meet certain requirements in order to qualify for payments from long-term care insurance. For instance, many insurance policies pay benefits only if you are unable to complete two of the six activities of daily living (ADLs). Such as eating, dressing, or taking a shower.
        Long-term care insurance coverage can help with:
Home health aides

Nursing homes

Assisted living facilities

Adult day care
     8.  Supplemental life insurance – Supplemental life insurance, often referred to as employee-paid or voluntary life insurance, is typically purchased from your employer to add an extra layer of protection to an existing policy. You can also purchase it from private insurers. Supplemental life insurance can be a helpful addition to your life insurance coverage. Especially if your health makes it difficult for you to obtain adequate coverage elsewhere.
        Additional insurance options include:
Additional coverage to add to your basic policy

Life insurance for your children or spouse

Coverage that will pay out in the event of your death or injury in a major accident
Benefits of Supplemental Insurance
Primary health insurance policies don't always cover everything a policyholder needs. Supplemental insurance fills in the gaps in your insurance, giving you well-rounded healthcare coverage. For example, if you do experience a major illness or accident, supplemental insurance policies can assist you in covering out-of-pocket medical costs, including copays and deductibles.
Furthermore, your normal expenses don't stop just because an accident or unexpected medical issue occurs. Supplemental insurance, unless otherwise specified, provides benefits directly to you. The benefits assist with daily costs like energy bills, groceries, and daycare.
Limitations of Supplemental Insurance
The Affordable Care Act does not regulate supplemental insurance policies the way they do for other insurance policies. For instance, these plans might not cover pre-existing conditions, and can restrict coverage based on a person's health. The benefits of the policies might also have certain amount limits. All of this means that prior to purchasing a plan, it's important to know what the policy covers and excludes. Since a coverage exclusion may prevent you from receiving the benefits of a policy.
How Much Does Supplemental Insurance Cost?
The price of supplemental policies varies greatly, with some premiums costing around $10 per month and others exceeding $500. The type of policy, as well as a variety of other variables, including age, health condition, gender, where you live, and your tobacco use, all come into play. In general, age is the major factor that affects price: the older you are, the more expensive coverage will be. 
While some plans impose annual premium increases, others charge consistent premiums each year.
Remember to factor in all of the expenses associated with supplemental insurance plans when deciding if one will be worth it for you. Supplemental plans, like conventional insurance policies, might have deductibles, copays, and coinsurance. Which will make the whole cost of coverage higher.
Frequently Asked Questions
Is a supplemental plan worth it?
Because most insurance policies do not fully cover the costs associated with an illness or an accident. Supplemental insurance is frequently necessary to fill in the gaps. That means the price you pay for one of these policies could very well be worth the cost.
Can supplemental insurance be claimed on your taxes?
Yes. If you are paying for your supplemental health insurance out-of-pocket, you can deduct your premiums as a medical expense on your income taxes. It's important to note that if you are under 65, your medical expense deduction must be greater than 10% of your adjusted gross income (AGI) to affect your tax returns. If you are older than 65, the amount must be greater than 7.5% of your AGI in order to affect your returns.
Does supplemental health insurance replace my regular health insurance?
No, this type of insurance doesn't take the place of traditional health insurance. These plans are add-ons that will help bolster your current health insurance.
The type of policy you can purchase often varies depending on the state you live in. No matter where you live, you can usually sign up for a supplemental policy in one of the following ways:
Through your employer – Talk to your human resources department to see if your employer offers supplemental plans or contributes to a portion of premiums for these plans.
On your own – You can also speak to an insurance agent or broker, look for plans online, or contact an insurance company directly to buy the majority of supplemental policies. Many different types of supplemental policies are open for enrollment throughout the year. Though there can be waiting periods for some covered services.
Through organizations – Additional health insurance choices might be provided through membership organizations like AARP or AAA, or by professional organizations in your field.
On the health insurance marketplace – Dental coverage may be available through Marketplace plans, but there can be seasonal restrictions on enrollment.
With Medicare – If you are a Medicare beneficiary, you can also enroll in certain policies that offer dental or vision coverage.

Am I eligible for supplemental insurance?
In order to get a supplemental health insurance policy, you will need to apply. To establish whether you are qualified for a plan, underwriters will examine your medical history. The amount of coverage, together with your age, tobacco use, and the policy you choose, will all affect your rate.
The Bottom Line
For those who already have traditional medical coverage, but want to add another layer of financial security, a supplemental plan can be a good option. Make sure you understand the plan and what it covers before buying any coverage. And make sure you're purchasing a plan that will work in conjunction with your current coverage. To get started, simply put your zip code into the box below or give one our licensed agents a call at 877-670-3557.