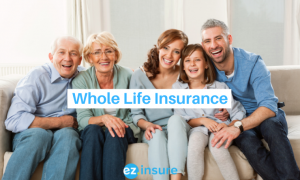 If you're looking to financially protect your family with a life insurance policy, there are several types of policies you'll need to look into. This can get a little overwhelming. But EZ is here to break down all of your options and help you find the right policy for your family and your budget. Here we're going to look at whole life insurance, a type of permanent life insurance. 
Jump To:
Since whole life insurance is a type of permanent life insurance, once you purchase a policy, it will remain in effect for your whole life. As long as you continue to make your premium payments. Like all life insurance, whole life pays out when you die. But unlike some other types of policies it has a cash value, which is an investment element. When the cash value of the policy has grown sufficiently, you can withdraw or borrow against it while you are still alive. In contrast to other types of permanent coverage, the cash value of a whole life policy is guaranteed to grow at a fixed rate. 
One major benefit of whole life insurance is that the premiums are fixed for the duration of the policy, and the death benefit is guaranteed. If you die with no outstanding cash value loans or withdrawals, your life insurance beneficiaries receive the entire death benefit.
Components of Whole Life Insurance 
If you want a whole life insurance policy, you'll need to check out the following components of these types of policies. So, you can understand how these policies work, and make sure whole life is right for you. 
These policies include:
Guaranteed Death Benefit

– As long as you keep up with your premium payments, the death benefit for your whole life insurance policy will remain unchanged. And, while whole life policies in theory remain in effect for your entire life. Many of them will actually expire when you reach a certain age, usually 100. But in this case, the death benefit will be paid to you. Or you will be able to extend the policy term indefinitely. All of this means that the death benefit is guaranteed to be paid out. Even if you outlive the policy's maturity date.

Guaranteed Cash Value

– The cash value of your insurance policy is built up over time with money set aside from your premium payments, and it will continue to grow at a predetermined rate set by your insurance company. While you are still alive, you have access to the funds and can even borrow against them. But taking a loan or making a withdrawal from the cash value of the policy without repaying it might reduce your policy's death benefit.

Fixed Premiums

– The premiums for whole-life insurance policies are typically fixed and do not fluctuate. If you don't pay your insurance premiums on time, you could lose your coverage. If you do miss a premium payment, your built-up cash value can pay for it, but not all policies offer this benefit.

Dividends

– Depending on the success of your insurance company, policyholders of a mutual whole life insurance policy may be eligible to receive dividend payments. In most cases, dividends are not taxable income. You may be able to use the dividends to pay your premiums or boost your death benefit, depending on the terms of your policy.
Types of Whole Life Insurance
There are a variety of types of whole life insurance to choose from. This allows you to choose the exact coverage you need with the benefits you want:
Indexed Whole Life Insurance
Indexed whole life insurance is a type of permanent life insurance that includes a cash value account. Which accumulates interest based on an investment index selected by your insurance provider. For the vast majority of people, indexed whole life insurance is not the wisest financial move. It's possible that your cash value will grow at a faster rate than it would with a conventional whole life policy. But that rate will still be lower than what you'd get from a savings or checking account. Your provider will determine the minimum rate of return for your cash value. And the majority will also determine the maximum rate of return for your earnings. These policies might also not be the best choice because cash value accounts have fees, while regular savings accounts do not.
Modified Whole Life Insurance
A modified whole life policy, also called modified premium whole life, has affordable initial payments. After the initial payment period ends (2 to 5 years), the premium will increase once and then remain constant for the duration of the policy. Instead of waiting to buy coverage when you're older, you can get a higher death benefit sooner by purchasing a modified premium policy. Even if you can't yet afford the higher premiums (but are certain you will be able to afford the higher premiums in a few years). Be aware you may not be able to add to the cash value during your initial payment period.
Simplified Issue Whole Life Insurance
Simplified issue whole life is a form of permanent life insurance. Which means that it covers you for the entirety of your life. However, the coverage it provides is less comprehensive than that of whole life insurance. And it is only available to people aged 45 and older. You will not have to undergo a medical exam if you apply for this type of policy. Instead, you will answer a few questions pertaining to your health. Because the health evaluation isn't as in-depth with this policy, insurers will charge you a higher premium for a lower coverage amount. The shorter application process will get you coverage almost immediately. But you should know that, even with simplified issue policies, there are still conditions that can bar you from obtaining a policy.
Guaranteed Issue Whole Life Insurance
Guaranteed issue life insurance is a type of permanent life insurance that does not require any sort of medical underwriting. In other words, you will not need to either undergo a medical exam or answer any health history questions. There is one catch, though. You will have to pay higher premiums for a lower death benefit with this type of life insurance. 
In addition, with this type of policy, you will have a waiting period after you purchase the policy. During which benefits will not be paid out if you pass away. And if you pass away from certain causes (such as suicide) during the first few years after you purchase the policy, you will not be covered. 
This is not to say that guaranteed issue policies are without merit. Since these policies are guaranteed issue, they can be a lifeline if you're over a certain age or have health issues that make traditional insurance policies unaffordable. But be aware that, in most cases, $25,000 is the maximum coverage amount with these policies.
Variable
A variable life insurance policy works in the same way as any other life insurance policy in that you pay a premium and your beneficiaries receive a benefit when you die. Since variable life is a form of permanent life insurance, your policy will remain in effect as long as you continue to pay your premiums. 
Variable life insurance also has a cash value element that you can use to pay for other things. Such as a major expense in your life. But the cash component of variable life insurance is unique in that you can invest it in asset options, primarily mutual funds. The value of your account is determined by the premiums you pay, the performance of your investments, and the associated fees and expenses. You can also put money into a fixed account to earn a fixed rate of interest while reducing overall risk.
The Cost 
Whole life insurance premiums are influenced by factors like your age, gender, health, and the amount of coverage you want. Different insurance providers will use different criteria to determine your risk level. The premium that they charge you will be based on that risk level. In general, though, the younger you are and the fewer preexisting conditions you have, the lower your premiums will be. For example, the monthly premium for a $500,000 whole life policy could be anywhere from $350 to $1,500 or more. You can get a whole life policy that fits your budget with the help of an EZ agent.
How to Use Your Cash Value
Many people choose whole life because they like the cash value aspect of these policies. There are a few things you should know about this cash value, in order to maximize its potential. For example:
You can increase your cash value by paying more than your regular premium (known as paid-up additions or PUA).

The cash value of a policy can increase by reinvesting dividends. You can expect a positive return on investment from dividends and interest earned on the cash value of your policy. Which, over time, will grow to be greater than the total amount of premiums paid into the policy.

You can make a loan withdrawal or borrow money from the policy's cash value upon request. Loans incur interest, the rate of which varies depending on the insurer. You can also make withdrawals up to the value of the premiums paid without incurring any taxes. The amount of any outstanding loans will be subtracted from your beneficiaries' payout. In addition, when you make a withdrawal or take out a loan against your policy, the cash value drops. Withdrawing from a life insurance policy's cash value could reduce or eliminate your death benefit. Depending on the policy's type and its remaining cash value. Withdrawals from some policies reduce the death benefit by the same amount each time. While withdrawals from others, like some traditional whole life policies, may reduce the death benefit by more than what was withdrawn.
FAQ
How long does whole life insurance last?
Unless you choose to cancel your policy or stop making payments, your whole life coverage will be in effect for the rest of your life. Some policies, known as 10 Pay or 20 Pay, allow you to spread out the total cost of the policy over 10 or 20 years in exchange for significantly higher premiums. Other policies can be set up so that they mature and pay out in full at a certain age, say 65.
What is the difference between whole life and term life insurance?
Term life insurance, as its name suggests, provides coverage for a specific time frame, or term. Unlike with whole life policies, the premiums for term life insurance do not last your entire life. A term policy will expire when the term is up. Although some insurance companies will let you extend your term policy or convert it to whole life. On the other hand, a whole life policy lasts for the duration of the policyholder's life. The savings portion of a whole life insurance policy can also accumulate cash value.
How long does it take to build cash value?
Whole life insurance policies take at least five to ten years to accumulate a sizable cash value. When purchasing a whole life policy, it is important to discuss the specifics of how and when cash value will build with your EZ agent.
If you would like to explore other types of life insurance policies we also have guides on:
How EZ Can Help
Everyone has their own needs, priorities, and budgets. At EZ, we understand that you want the best coverage for you and your family. But we also understand that you have other bills to pay and a budget to stick to. We are dedicated to making the insurance purchasing process as simple as humanly possible. So, EZ agents are always available to assist you. Every one of our services is completely free of charge. And we will assist you with everything from basic questions to plan selection, completion of the enrollment process, and assistance after you enroll at no additional cost to you. To start, enter your zip code in the box below or call us at 877-670-356.