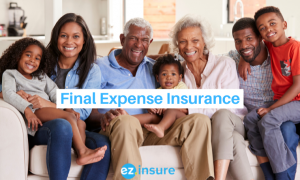 Do you have a life insurance policy? If you don't – possibly because you worry about your health being a barrier to getting a policy – there is a policy out there that might be the solution for you: a final expense policy.
Final expense is a type of whole life insurance with a smaller death benefit than most other types of policies. But with a more streamlined application process. Also known as funeral insurance, burial insurance, simplified issue whole life insurance, and modified whole life insurance. These policies are all associated with low-value whole life insurance policies between $2,000 and $35,000. 
Jump To:
The death benefit from a final expense insurance policy pays for things like a funeral or memorial service, embalming, and a casket/burial or cremation. But your beneficiaries can actually use the death benefit for anything they need or want. Such as taxes or a vacation.
How Final Expense Works
Final expense life insurance policies operate in the same manner as any other life insurance policy. You will pay premiums to maintain your policy. And your chosen beneficiary (or beneficiaries) will receive the agreed-upon death benefit when you pass away. They are free to put the money toward anything they want. Including covering the costs of your end-of-life care and other final expenses. 
If you want a final expense insurance, consider the following aspects of this type of policy before making your decision. And if you have any more questions or need help finding the right policy for you, speak to an EZ agent.
Easy Application

– The application for final expense insurance is simple, and it is not difficult to be approved for coverage. Final expense life insurance doesn't require a medical exam. So, the process of applying is quick and straightforward, and coverage is typically approved within a few days. It's even possible to get approval on the same day you apply. 

Higher Cost

– The main drawback of final expense insurance, other than the lower death benefit, is the cost. These policies can be expensive next to other types of life insurance, especially considering its lower death benefit. Instead of using the results of a medical exam to determine how much of a risk you are to insure, your insurance company will simply use high-risk rates for your policy. So, in exchange for an easy application process, you'll pay more.

Cash Value

– Because it is a type of whole life policy, final expense insurance accumulates a cash value over the life of the policy. It accrues tax-deferred money, which can be accessed even while you are still alive. If you accrue enough money, you won't have to pay your premiums out-of-pocket. Because you will be able to either borrow against your cash value or use your cash value to pay them. If you choose to do this, your insurer will reduce the amount of the death benefit that your beneficiary(s) receive by the amount of any outstanding loan balance.

Fixed Premiums

– The premiums of a final expense policy are guaranteed to remain the same from the moment the policy is issued. You will never have to pay more for your coverage. Regardless of how old you are, as long as the policy is still active and in effect. Once you reach a certain age (usually 100), the policy might pay out to you in full, depending on the policy and the insurance company, but this is typically what happens when you reach a certain age.
Types of Final Expense Insurance
Aside from the traditional final expense insurance that we have been talking about, there are two other types of final expense you can look into:
Guaranteed Issue Final Expense
Guaranteed issue final expense insurance is a great choice if you have significant health problems, but still want to leave money behind to help your loved ones with your final expenses. This is because, with this type of policy, you will not be required to answer medical questions, undergo a medical exam, or provide medical records. 
But be aware that before any benefits are paid out with a guaranteed issue policy. There is always a waiting period that ranges from two to three years. If you pass away while the waiting period is still active, your beneficiaries will not receive the death benefit. But they will be entitled to a return of the premiums that you paid, in addition to interest. Which is typically calculated at a rate of 10% per year.
Graded Benefit Final Expense
Graded benefit final expense insurance is a third option if you have health conditions. But they are not severe enough for you to need a guaranteed issue policy. This type of policy comes with a gradated waiting period for its benefits, as the name implies. This means that, if you pass away within the first year that the policy is active, your beneficiaries will most likely get between 30 and 40% of the policy's death benefit. If you pass away during the second year that the policy is active, the policy may pay anywhere from 70% to 80% of the face value of the policy. In the event that you pass away after the initial two years of the policy, the policy will pay out the full death benefit.
You may be eligible for a graded benefit policy if your health conditions are not very severe. These health conditions include entering remission from cancer within the past 24 months, recovering from congestive heart failure within the past 24 months. As well as having treatment for alcohol or drug abuse within the past 24 months.
But if you have a condition that is more serious, such as a terminal illness, are currently undergoing treatment for cancer, or have had heart surgery within the past year, you will only be eligible for a guaranteed issue policy.
The Cost of Final Expense Insurance
The cost of a final expense life insurance policy depends on your gender, age, state of health, the amount of coverage you're looking for. As well as the state you live in. But to give you some idea of the typical price of a policy. If you are 60, you can anticipate paying an average monthly premium of $31 to $75 for a coverage amount of $10,000. The premiums for a policy with a death benefit of $25,000 would range between $62 and $98 per month on average. And if you're over 80, a coverage amount of $10,000 would cost approximately $98 to $240 per month. And you would most likely pay between $198 and $400 per month for $25,000 of coverage.
Benefits of Final Expense Insurance
When deciding whether or not to purchase life insurance, you should think about your age, health, and financial situation. Final expense insurance could be the best option if you think you might have difficulty getting a larger traditional policy. But still want to leave something behind for things like:
End-of-life expenses

– The payout from final expense insurance can be used to cover things like hospital bills, nursing home care, caskets, and funeral services. That makes this type of policy a good option for seniors to think about when making funeral arrangements. So, that their family are not financially struggling.

Paying debts

– Your beneficiary can use the money from your final expense policy to pay off any other debts you leave behind. Including mortgage payments, tuition, credit cards balances, and vehicle loans.

An inheritance

– If you want to simply leave something behind for your loved ones as an inheritance, you can purchase life insurance to do so.

Income replacement

– The money that comes from a final expense policy can also be used to help support a surviving spouse. Final expense insurance can help ease the financial burden of maintaining your spouse's current standard of living in the event of your death.

Charity donations

– You can name a charity as the beneficiary of your estate if you don't want to leave an inheritance and have enough money to cover your final expenses. Doing so will ensure that the charity of your choice benefits from your legacy.
FAQ
Do I need final expense insurance?
You probably don't need final expense insurance if you have substantial savings, investments, and a more traditional life insurance policy. Given the rising costs of funerals and related expenses, final expense insurance may be a good option for providing your loved ones with extra financial security. And if you can't afford traditional life insurance, final expense insurance may be a good alternative. 
What costs should I consider when choosing a coverage amount?
If you're unsure how much coverage you should look for, consider the following estimates of the costs often left in the wake of a death in the family:
Funeral home service fee (required): $2,300

Transport of departed to funeral home: $350

Embalming: $775

Preparations, such as makeup and hair styling: $275

Facilities and staff needed for a viewing: $450

Facilities and staff needed for a funeral: $515

Hearse: $350

Is final expense the same as burial insurance?
Burial insurance is the same as final expense life insurance. It often goes by that name since most beneficiaries use the death benefit to cover funeral and burial expenses.
If you would like to explore other types of life insurance policies we also have guides on:
How EZ Can Help
Each individual has their own requirements, priorities, and financial constraints. At EZ, we understand that you want the best coverage for you and your family. But that you also have other financial obligations and a budget to stick to. We are dedicated to making life insurance as straightforward as possible. So, we're here to help you with whatever you need. And we will never charge you for any of our services. We will assist you with everything from basic questions to the selection of a plan, completion of the enrollment process. And even assistance after the plan has been implemented at no additional cost. To start, enter your zip code in the box below or call us at 877-670-356.