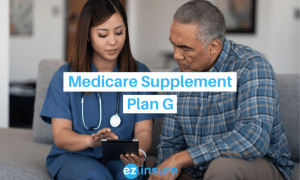 If you're a Medicare beneficiary, or about to become one, you might have noticed that Original Medicare (Parts A and B) doesn't actually provide comprehensive coverage for your medical expenses. That means you'll probably need a Medicare Supplement Plan to assist in covering out-of-pocket expenses that you would otherwise be responsible for. 
Enrolling in a Medicare Supplement Plan allows you to keep all of the great benefits of Original Medicare while also having predictable healthcare costs. You can receive care from any medical professional who accepts Original Medicare, regardless of your Medicare Supplement Plan carrier. This is because the government standardizes all plans. A practitioner can never refuse you service because of your Medicare Supplement Plan insurance company.
Jump To:
While there are 10 Medicare Supplement Plans available to most Medicare beneficiaries, one of the best ones on the market today is Plan G. Plan G is the most comprehensive plan available for newly eligible Medicare beneficiaries. If you choose Plan G, your out-of-pocket expenses will generally be a fraction of what they would be if you only had Original Medicare. Since you will only be paying one low premium price. Then, once you meet your annual Part B deductible, you insurer will cover the rest of your medical expenses at 100% for the remainder of the year.
What Plan G Covers
Plan G covers a wide range of services. It also helps you save money when you access Medicare-approved medical services. As pointed out above, one of the most notable advantages of Plan G is that it covers all Medicare-related costs after your Part B deductible is met. In contrast, many other Medicare Supplement Plans require you to pay additional out-of-pocket expenses after you have met your Medicare Part B deductible.
All of this means that Medicare Supplement Plan G helps you keep your out-of-pocket expenses to a minimum including:
Part A coinsurance and hospital costs up to an additional 365 days after you exhaust your Medicare benefits

Part A deductible

Part A hospice care coinsurance or copayment

Part B coinsurance or copayment

Part B excess charges (if a provider is permitted to charge more than Medicare's approved amount and does so)

Blood transfusion (first 3 pints)
Medicare Supplement Plan G is second only to Plan F in coverage. However, Plan F coverage is not available to all Medicare beneficiaries, only to those who became eligible for Medicare before 2020. If you like Plan F, though, Plan G is an excellent alternative. Plus, you will most likely pay less in premiums for it than you would have for Plan F.
What Isn't Covered?
The Medicare Part B deductible is the only Original Medicare out-of-pocket expense that Medicare Supplement Plan G does not cover. You will have to meet this deductible before your Medicare Supplement Plan benefits kick in, but you will not have to worry about any additional copayments or unexpected medical bills once you have met the Medicare Part B deductible.
Like all Medicare Supplement Plans, and like Original Medicare, Medicare Supplement Plan G also does not cover routine dental, vision, hearing, or prescription drug benefits. Medicare Supplement Plan G only covers the benefits that Original Medicare covers, and your plan will only pay after Original Medicare has paid. As a result, if Original Medicare does not pay its share, neither will Medicare Supplement Plan G.
The Cost of Medicare Supplement Plan G
The cost of Medicare Supplement Plan G varies depending on where you live, your age, tobacco use status, and gender. For example, monthly Medicare Supplement Plan premiums are generally more expensive in areas with a higher cost of living. With that being said, Medicare Supplement Plan G premiums generally cost between $100 and $300 per month.
If the benefits of Medicare Supplement Plan G appeal to you, but you are unable to pay the monthly premium, you have another option. Medicare Supplement High Deductible Plan G provides the same benefits as Plan G, but with a lower monthly premium. But, in order to receive 100% coverage, you must first meet a higher deductible in exchange for the lower monthly premiums.
Enrolling in Medicare Supplement Plan G
In order to enroll in Plan G, you must first enroll in Medicare Parts A and B. The best time to enroll in Plan G is during your Medicare Supplement Open Enrollment Period. Since doing so will allow you to qualify for guaranteed issue rights, meaning any pre-existing conditions you may have will have no bearing on your enrollment. Insurance carriers cannot deny you coverage for any reason during this time.
If you enroll at any other time, you may be asked health-related questions. Additionally, carriers may deny you coverage if you provide answers to underwriting health questions.
However, specific state rules may allow you to enroll without answering these questions. So, knowing what your state allows is essential.
If you currently have a Medicare Advantage plan and want Plan G, you must first switch back to Original Medicare. You can make this change during the Annual Enrollment Period in the fall. As well as during the Medicare Advantage Open Enrollment Period in the first quarter of each year.
FAQs
Does Plan G have an out-of-pocket limit?
Original Medicare has no out-of-pocket maximum. Meaning there is no cap on the amount you will have to pay for medical expenses each year. Similarly, Plan G does not have an out-of-pocket limit to keep you from spending too much on covered healthcare in a year. Consider Plan K or Plan L if you want an out-of-pocket maximum. Plan G's coverage is most similar to Plan F's.
Does Plan G have a copay?
After you meet your $226 Medicare Part B annual deductible, Plan G will cover nearly all out-of-pocket costs for services. This means you won't have to pay any copays or coinsurance if you have this plan.
Is Plan G available for Medicare recipients under 65?
There are no federal mandates requiring Medicare Supplement Plans to be available to people under the age of 65 who are on Medicare due to a disability. Nonetheless, some states require insurers to offer at least one option to those under 65. These carriers may occasionally allow you to enroll in Plan G.
Plan A is the plan most commonly available to those under the age of 65. Plan A only provides the most basic benefits. Some carriers, however, recognize the value of widespread plan availability, and will allow those on disability to enroll in Plan G.
But if you enroll in a Medicare Supplement Plan before the age of 65, your premium may be double or even triple that of someone over 65. Carriers may raise the price to account for the high medical costs associated with your disability. 
Does it matter which insurance company I choose?
The benefits of Medicare Supplement Plans are completely standardized, so they will be the same from company to company. All Medicare Supplement Plans, including Plan G, follow the following guidelines:
Benefits

– You don't need to be particularly worried about which company provides the best or most benefits. Plan G's coverage will be the same regardless of which insurance company you choose.

Network

– Medicare Supplement Plan insurers do not have their own provider networks, like a private HMO or PPO plan would. Their plans merely supplement your primary Medicare Parts A and B coverage, so you don't have to worry about whether one company has a better network than another, because your network will be the nationwide Medicare network.

Claims

– Medicare Supplement Plan claims are highly automated. The coverage is simple to use, and most people never see any paperwork. Once Medicare has approved your claim, they will pay their portion and notify your insurer of the amount owed. Your insurance company must then pay the amount owed in accordance with Medicare's instructions. Because of automation and standardization in this area, every company's claims-paying history is equal.
But, while the coverage offered by Medicare Supplement Plans will always be the same regardless of insurance company, the one thing you will need to compare between insurers is price. That means it is actually important to look at plans from different insurance companies – and EZ can help with that!
EZ Can Help!
Comparing both benefits and costs of Medicare Supplement Insurance Plans is important. That means you'll need to do a lot of research, but calling multiple insurance companies to get rate quotes can take a long time. But if you work with one of EZ's agents, you can cut your cost comparison time in half. 
When you work with a licensed agent, you will have access to multiple carriers and plans in one spot. Your agent will be able to explain the differences between each plan. As well as compare all prices from all insurers. Furthermore, your agent will assist you in weighing out-of-pocket costs versus premium costs. This will help you determine which plan will be the most cost-effective for you in the long run. Give us a call at 877-670-3602 today to start shopping for the Medicare Supplement Plan that's right for you.