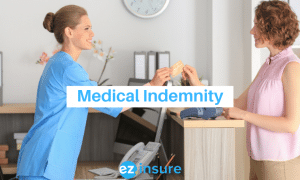 Medical Indemnity plans, also referred to as fee-for-service plans, are a type of self-managed healthcare plan. These were once the main type of plan category before the development of HMOs, PPOs, and other managed-care type plans. They provide you the freedom to choose the healthcare practitioner or facility of your choice. They usually cover set portions of medical services or care, making them fairly simple to understand.  
Jump To:
How Medical Indemnity Plans Work
As mentioned above, indemnity plans allow you the freedom to go to any provider, unlike some other types of health insurance (like managed-care plans). No matter what provider you see, your insurance company will pay a portion of what they deem the "usual, customary, and reasonable" rates for covered services. Typically, you will first have to meet an annual deductible, though, before your insurance company begins to cover your medical expenses.
Once you meet your annual deductible, your insurer will usually still only cover a percentage of your bill, typically 80%. That means you'll be responsible for the remaining 20%, known as coinsurance. In addition, you will be responsible for both the coinsurance and the difference if the provider charges more than the "usual, customary, and reasonable" rates.
Indemnity plans will cover the costs of doctor and hospital visits, medical tests, and prescriptions. These plans might not have coverage for some preventive care, like checkups. But, as pointed out above, your insurer will only cover a portion of your doctor and hospital fees when you have an indemnity health plan. In most cases, you would pay:
A Premium

– A monthly fee to maintain coverage

A Deductible

– The deductible is the annual dollar amount that must be paid out-of-pocket before insurance begins to pay. For example, a family plan might have a $250 deductible for each member of your family, with a $500 family deductible once at least two members of the family have met the individual deductible. You will need to meet this deductible each year for the plan to begin covering services. Additionally, not all medical costs you incur count toward your deductible. 

Co-insurance

– You split the payment with the insurance provider once you have paid your deductible for the year. For instance, the insurer might pay 80%, and you would pay 20%.
You might need to fill out paperwork and send it to your insurer in order to be reimbursed for fee-for-service claims. Your doctor's office may occasionally take care of this for you. You should also keep the receipts for the purchase of medicines and other medical expenses. It is your responsibility to keep track of your medical costs with these plans.
The Cost 
Like the price of individual health insurance, the cost of an indemnity plan will vary greatly. Although it's not always the case, these plans' premiums often cost more than those for HMO and PPO policies. There are certain indemnity health insurance plans with less expensive premiums. Remember that indemnity insurance offers a variety of choices, not just one particular kind of coverage.
For indemnity plans, costs depend on all the same variables that also have an impact on costs for other healthcare plans. For instance, the price of an indemnity plan can change depending on a number of variables, including age, geography, coverage options, and more.
What Are Usual, Customary, and Reasonable Rates?
Because indemnity plans are self-managed health insurance plans, there is no network that dictates the rates that your chosen doctors will charge. Instead, your coverage will be based on "usual, customary, and reasonable" (UCR) rates, or the amounts that medical care providers in your area typically charge for services.
To prevent unforeseen charges, you should get familiar with the costs that your plan specifies as UCR versus what your preferred provider charges for services. Most providers generally meet the requirements of UCR rates, but when using a self-managed plan, such as an indemnity health insurance plan, it is crucial to be informed.
Types of Medical Indemnity Plans
The two types of indemnity plans available are traditional indemnity health insurance plans and fixed-benefit insurance plans. Both give quite distinct forms of coverage and are very different from one another.
Traditional indemnity health insurance

– These policies cover doctor visits, hospital stays, outpatient procedures, prescription medications, and preventive care. They are available for hospital and surgical coverage, major medical coverage, or a combination of the two. You do not have to choose from a list of in-network providers or get a referral before choosing where you receive care. The amount covered is a predetermined proportion (such as 80%) of what is typically charged in your area for the same service (the UCR rate), and the remaining amount is your responsibility to pay.

Fixed indemnity health insurance – These policies are a supplement to major health insurance policies. Fixed indemnity plans assist you with paying out-of-pocket expenses not covered by primary insurance. But they are not full insurance plans and do not offer the coverage required by the ACA. To give an additional level of coverage, you can select general fixed indemnity coverage or specific categories of benefits. Like accident fixed indemnity, critical illness coverage, and hospital coverage.
After each specific covered expense has been reported to and paid by your primary insurer, you will get your fixed indemnity health insurance benefits. There is no deductible and you do not have to use facilities or caregivers in a particular network. Additionally, unless acquired through a cafeteria plan offered by an employer, there is no enrollment period.
How Medical Indemnity Plans Differ from Other Plans
Indemnity plans differ significantly from HMO and PPO plans in a number of ways, including:
Indemnity policies do not restrict the healthcare facilities, doctors, and specialists you can use. There are no restrictions on where or from whom you can receive care based on "in-network" or "out-of-network" status. These plans offer a lot of control and independence. But they do not have pre-negotiated discounts for services from in-network suppliers.

Indemnity policies do not have a requirement for a referral to see a specialist.

Both in terms of premium prices and the price you pay for medical services or care, indemnity plan coverage is often more expensive than it is for a HMO or PPO.

There are no geographical restrictions on the services or coverage area. You can seek medical attention while traveling without worrying about whether your insurance will pay for your treatment.

Preventive care including mammograms, yearly physicals, and vaccinations might not be part of the indemnity plan coverage.

Not everyone will be eligible because there will normally be health requirements and underwriting standards.

Indemnity plans can have pre-existing condition clauses. The fine print of these programs should always be examined because various conditions may not be covered.
Advantages and Disadvantages
When trying to decide if a medical indemnity plan is right for you, you should think about the providers you want to see, your medical conditions, and your budget. Indemnity health insurance is typically the most expensive option. But it offers a level of control and choice that HMO or PPO plans do not.
Pros
You can select any doctor or healthcare provider under an indemnity health insurance plan. There are no network restrictions, and traveling for care is not a problem.

A referral is not necessary in order to see a specialist with an indemnity health insurance plan.

The choice of a PCP or preferred provider network is optional.
Cons
Although fixed indemnity may be more affordable, traditional indemnity health insurance is typically more expensive than PPO or HMO plans.

You may need to submit claims for payment when using an indemnity health insurance plan. Which necessitates more paperwork than a standard health insurance plan.

Indemnity insurance policies might not cover annual physicals, preventive care, including mammograms, and other services that PPO and HMO plans do cover.

You will have to pay the difference between the "usual, reasonable, and customary" charge and your provider's fee. Because there is no agreement between the indemnity health insurance plan and the healthcare provider. You will consequently pay a portion of the normal and appropriate rate. You might also receive a balance bill.

You will undergo underwriting and might not be accepted or might have to pay more for your plan.

Pre-existing conditions may be excluded.
Although there are several disadvantages, indemnity plans are most beneficial to those who prefer not to commit to a PCP. And those who don't mind paying a little more for the freedom to choose what doctors you see and when you see them. 
The Bottom Line
Some medical indemnity plans might be more expensive than other plans. But in return for the higher rates, you get freedoms other insurance plans might not provide. The ability to pick your providers, getting medical care while you travel, and no requirement for referrals or a PCP are all great benefits. When looking into these types of plans it's best to really weigh the coverage you need versus the extra costs these plans tend to have. To get started, simply put your zip code into the box below or give one our licensed agents a call at 877-670-3557.