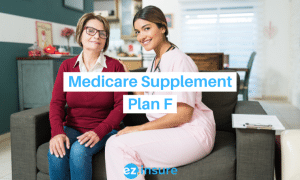 Medicare Supplement Plan F is one of the most popular Medicare Supplement Plans because. That is because out of all the Medicare Supplement Plans, it offers the most comprehensive coverage. Unfortunately, it is no longer available to all Medicare beneficiaries. 
When compared to the other Medicare Supplement Plans currently available, Medicare Supplement Plan F includes the most benefits, and most fully fills the coverage "gaps" left by Medicare Parts A and B. For the price of a low monthly premium, this plan will allow you to go to a doctor's office or hospital and receive approved treatment, and walk out without paying anything, effectively eliminating all out-of-pocket expenses.
Plan F also covers other Medicare-approved expenses that are not related to Parts A or B. This includes coverage for foreign travel emergencies, as well as skilled nursing facility coinsurance. In addition, Plan F is notably one of only two plans that covers Medicare Part B excess charges.
Jump To:
You can't buy Plan F unless you were eligible for Medicare before December 31, 2019. Even if you qualify, it can be considerably more expensive than other Medicare Supplement Plans. So, you may end up spending more than the extra coverage you'd receive. If you are not eligible for Plan F, you can purchase another Medicare Supplement Plan that provides comparable coverage.
What Medicare Supplement Plan F Covers
Plan F covers all of the services that Medicare Parts A and B cover, but with fewer out-of-pocket costs. If your doctor accepts Original Medicare and Medicare is your primary insurance, your Medicare Supplement Plan F will cover everything that Original Medicare doesn't. This includes:
Medicare Part A is hospital insurance, and covers expenses typically associated with a hospital stay. And while Part A is usually premium-free, it does have out-of-pocket expenses associated with it. Plan F pays for these Part A out-of-pocket expenses, including things like your Part A deductibles. 
Plan F includes coverage for major Part A out-of-expenses, including:
Part A hospital deductible and coinsurance

Hospital costs up to an additional 365 days after you exhaust your Medicare benefits

Part A hospice care coinsurance or copayment

Blood (the first 3pints)

Other Medicare-approved expenses associated with Part A hospitalization
Plan F also covers Medicare Part B costs. Which can really add up, since Part B covers all of your non-hospital-related medical care, including doctor visits and related charges. While Part B covers a lot, it only covers 80% of Medicare-approved expenses. Meaning you'll have to pay the remaining 20%. And, unlike Part A, Part B has a monthly premium in addition to an annual deductible.
Plan F will help you eliminate most of these out-of-pocket costs, since it covers:
Medicare Part B 20% coinsurance and copayments

Medicare-approved doctor's office fees

Part B deductible

Medicare Part B excess charges

Other Medicare-approved expenses associated with Part B coverage
Plan F is one of only two Medicare Supplement Plans that cover Medicare Part B excess charges (the other being Plan G).
Other Expenses
Medicare Supplement Plan F also covers a wide variety of other medical expenses. This includes 80% of approved foreign travel emergency costs, which is essential for those who enjoy traveling outside of the United States. After you meet a $250 deductible, Medicare Supplement Plan F will cover a lifetime limit of $50,000 in emergency foreign travel coverage.
This plan also covers Medicare-approved skilled nursing facility coinsurance costs, which could end up being essential for you, since hospitalization (among other things) can necessitate a lengthy stay in a skilled nursing facility for recuperation. Medicare will only cover the first 100 days of a skilled nursing facility stay, so if you worry that you might need this type of care, you should think about getting a Medicare Supplement Plan that includes this coverage.
It's important to note Plan F's benefits cannot be changed by any carrier. However, in some cases, you may be eligible for benefits associated with enrolling with specific carriers, such as gym memberships or discounts on eyeglasses or hearing aids. However, regardless of the plan, these additional benefits must be provided to all policyholders from the same carrier. 
What Isn't Covered by Medicare Supplement Plan F?
Medicare Supplement Plan F is the most comprehensive Medicare Supplement Plan available. There is no Medicare Supplement Plan that provides more coverage than Plan F, but you should be aware that no Medicare Supplement Plan covers everything. Medicare Supplement Plan F, just like any Medicare Supplement Plan sold to new Medicare members, does not cover the following:
Prescription medications

Long-term care services (like non-skilled care you get in a nursing home)

Dental treatment

Vision care

Nursing on a private basis
However, you can still get access to these benefits, but to receive additional coverage, you will need to purchase a separate policy. It is not uncommon for Medicare Supplement Plan policyholders to have additional plans.
The Cost of Medicare Supplement Plan F
Premiums for Medicare Supplement Plan F may be higher than those for other Medicare Supplement Plans, but this is because this plan offers the most benefits of any plan.
The average monthly cost of Medicare Supplement Plan F is around $230, but premiums can range from $150 to $400 per month or more. This is because a variety of factors can influence your premium price, including your zip code, gender, age, tobacco use, and other factors.
Keep in mind that, if you have Medicare Supplement Plan F, your monthly premium will be your only out-of-pocket expense for healthcare coverage. There will be no copays, coinsurance, or deductibles for your services. Paying a higher premium may therefore save you money in the long run.
FAQS
Why was Plan F discontinued?
Unfortunately, not every Medicare beneficiary can enroll in Medicare Supplement Plan F, since the plan has been phased out for many Medicare beneficiaries. You can only enroll if you began receiving any part of Medicare before January 1, 2020. 
This is because of a change to Medicare known as the Medicare Access and CHIP Reauthorization Act, or MACRA. This change to Medicare rules removed all first-dollar coverage plans for new Medicare beneficiaries. This means new Medicare members are unable to purchase any plan that covers the Part B deductible.
Those who enrolled in Original Medicare prior to the deadline are still free to enroll and disenroll in Medicare Supplement Plan F, just as they were before MACRA. Those new to Medicare, however, are unable to enroll in the plan.
What Is the best alternative to Plan F?
Plan G is the closest alternative if you are not eligible for Medicare Supplement Plan F, but want a similar option. Medicare Supplement Plan G includes everything Plan F covers, except the Medicare Part B deductible, which cannot be included in plans sold to new members. 
You can compare the coverage of all Medicare Supplement Plans to determine which one is best for you. To find out how much Medicare Supplement Plan G, or any of the other plans would cost you, check out our Plan G page.
Does Plan F include prescription drug coverage?
Plan F will only cover the costs of prescription drugs administered in the hospital that would be covered by Medicare Part A, but it will NOT cover prescription drugs taken at home. To receive prescription drug coverage, you must enroll in a Medicare Part D plan. Medicare Part D prescription drug plans supplement Original Medicare and can be used with or without a Medicare Supplement Plan.
Can I Keep My Plan If I Move to a New State?
You can keep your current Medicare Supplement Plan if you move to a new state. In most cases, you will simply have to notify your carrier of your new address, but your benefits will not change because Medicare Supplement Plans are standardized by the government. However, your premium may increase or decrease, depending on your new zip code. 
Plan F benefits are subject to some exceptions, most notably in the states of Massachusetts, Minnesota, and Wisconsin, where state laws allow for different versions of standardization in the plan. Because there are no standardized plans in these states, these states are often referred to as "a la carte" states. Beneficiaries of Medicare essentially "build their own" plans benefit by benefit. Individuals in these states, though, would be able to create a plan that is identical to Plan F.
EZ Can Help!
If you're looking for a Medicare Supplement Plan, it is essential that you compare the benefits and costs of each one. That means doing a lot of research. Which can take a long time, since you'll have to call multiple insurance companies to get rate quotes. 
But if you work with one of EZ's agents, you can cut the time it takes to compare prices in half. Working with a licensed agent gives you access to multiple Medicare Supplement Plan carriers and plans in one place. 
Your agent can explain the differences between each plan, in addition to offering your price comparisons. Furthermore, your agent can help you weigh out-of-pocket costs versus premium costs to determine which plan will be the most cost-effective for you in the long run. To begin shopping for a Medicare Supplement Plan, call us at 877-670-3602 today. Or add your zip code into the bar below for a free quote!