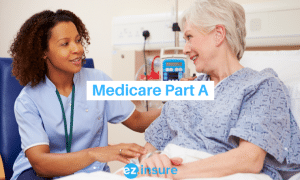 Medicare Part A is a component of Original Medicare. Which is the government-sponsored health insurance program for those who qualify due to age, disability, or certain health conditions. This part of Medicare, which works in tandem with Medicare Part B, is hospital insurance. The majority of those who qualify for Medicare Part A are automatically enrolled in the program.
Most beneficiaries do not have to pay a Medicare Part A premium. If you or your spouse worked for at least 10 years and paid Medicare taxes during that time, you will be eligible for Part A without paying a premium. If you do not qualify for premium-free Medicare Part A. However, you will still be able to purchase it, but you'll be required to pay a monthly premium.
Jump To:
What Does Part A Cover?
As pointed out above, Medicare Part A is hospital insurance. This part of Medicare generally covers inpatient care in hospitals, nursing homes, and skilled nursing facilities (SNFs). As well as critical access hospitals, but it does not cover long-term or custodial care. If you meet certain criteria, you may be eligible for hospice or limited home healthcare through Part A.
Inpatient hospital care
Medicare covers hospital stays as long as you meet two requirements: 
 A doctor has ordered your admission because your illness or injury needs that level of care

The hospital you are at accepts Medicare
When it comes to inpatient care, Medicare Part A will cover:
Semi-private rooms

Private rooms ONLY if medically necessary

Meals

General nursing

Medications

Other hospital services and supplies as part of your inpatient treatment
Skilled nursing facility care
Skilled nursing is services that can only be provided safely and effectively by or under the supervision of professionals or technical personnel. This care will be covered if you require skilled nursing or skilled therapy to treat, manage, and evaluate your condition. You have to meet certain requirements for your coverage to kick in:
You have Part A and days remaining in your 60-day benefit period 

You have had a qualifying 3-day inpatient hospital stay

Your doctor has ordered the stay 

The facility accepts Medicare
It's important to note that there are further requirements surrounding the qualifying 3-day hospital stay. Time spent in a hospital as an outpatient prior to admission, including time spent under observation, does not count toward the three inpatient days required for skilled nursing facility benefit purposes. 
In addition, you must enter the skilled nursing facility within a short period of time (usually 30 days) after leaving the hospital. If you leave the SNF and return within 30 days, you don't need another 3-day qualifying hospital stay to receive additional SNF benefits. This is also true if you discontinue skilled care while in the SNF and then resume skilled care within 30 days.
In a skilled nursing facility, Medicare-covered services include, but are not limited to:
A semi-private room 

Meals

Skilled nursing care

Physical therapy

Occupational therapy 

Speech-language pathology services 

Medical social services

Medications

Medical supplies and equipment used in the facility

Ambulance transportation (when other transportation endangers your health) to the nearest provider of required services that aren't available at the SNF

Dietary counseling
Home healthcare services
Eligible home healthcare services may include intermittent skilled nursing care, physical or continued occupational therapy, home health aide services, speech-language pathology, and other services. It may also include medically necessary in-home medical equipment (wheelchairs, hospital beds, walkers, and oxygen), as well as other medical supplies.
Hospice Care
Hospice care is provided to terminally ill patients who are expected to live for less than six months. Prescription drugs for pain relief and symptom control will be covered, as will medical and support services, grief counseling, and other services. A Medicare-approved hospice care provider will come to your home to provide care. Medicare also covers additional care for hospice patients so that the primary caregiver can rest. Medicare may not cover all services provided to patients receiving hospice care, so be sure to ask what is and isn't covered for your specific case.
The Cost
You most likely won't have to pay Medicare Part A premiums, as long as you or your spouse have paid Medicare taxes for at least ten years. Check your Social Security statement, which is available on the Social Security Administration's website, to see if you qualify. If you do not qualify for premium-free Part A, you should still be able to enroll in it, but you will have to pay a high monthly premium. For 2023, the premium for Part A is $506 a month. 
While Part A is generally premium-free, you will have some out-of-pocket costs, like a deductible and coinsurance. In 2023, Medicare Part A has a $1,600 deductible for each 60-day benefit period (more on this below), which is the amount you'll have to pay out-of-pocket for hospital services before Part A will start covering your bills. 
When it comes to coinsurance, you will pay nothing for the first 60 days of inpatient hospital care, but you will typically pay $400 per day for the 61st through 90th days of hospitalization, and more after that. 
There is also coinsurance for skilled nursing care. The first 20 days will be covered entirely by Medicare Part A. You will pay $200 a day for days 21-100, and Medicare will take care of the rest. You will be responsible for all costs for each day after 100 days.
Unlike with private insurance or Medicare Part B, with Part A, you will pay a deductible and coinsurance for each benefit period, which begins the day you are admitted as an inpatient to a hospital or skilled nursing facility. If you don't receive any inpatient hospital care (or skilled care in a SNF) for 60 days in a row, your benefit period will end. If you enter a hospital or a skilled nursing facility after one benefit period has ended, a new benefit period will begin, meaning you will once again have to pay the inpatient hospital deductible. There is no maximum number of benefit periods.
With that being said, Medicare Part A does allow you lifetime reserve days. These are extra days that Medicare will pay for if you are in a hospital for more than 90 days under Original Medicare. You have a total of 60 reserve days that you can use throughout your life. Except for a daily coinsurance of $800 as of 2023, Medicare will pay all covered costs for each lifetime reserve day.
Medicare Part A Eligibility
You will generally be eligible for Medicare Part A if you meet one of the following requirements:
You are at least 65 years old

You've been receiving Social Security or Railroad Retirement Board disability benefits for 24 months

You are receiving disability benefits due to Amyotrophic Lateral Sclerosis, also known as ALS or Lou Gehrig's disease

You have end-stage renal disease and meet specific criteria
When to Enroll in Medicare Part A
If you begin receiving Social Security or Railroad Retirement Board benefits before the age of 65, you will automatically enroll in Original Medicare. Which includes both Medicare Parts A and B coverage, the month you turn 65. However, if you are not yet eligible for Social Security benefits, you can enroll yourself in Part A, Part B, or both. If you qualify for premium-free Part A you can enroll at any time after you become eligible. 
If you need to enroll in premium Part A, there are three enrollment periods to be aware of:
Initial Enrollment Period (IEP)

– This is the seven-month period beginning three months before your 65th birthday, including your birthday month, and ending three months after your 65th birthday. If you have a birthday on the first of the month, your IEP will begin and end one month earlier.

General Enrollment Period (GEP)

– The GEP runs from January 1 to March 31 each year. If you did not sign up for Medicare when you first became eligible, and are not eligible for a Special Enrollment Period, you will have to wait until the General Enrollment Period to sign up. Coverage will begin the month after you sign up, and late enrollment penalties may apply.

Special Enrollment Period (SEP)

– This is an eight-month period that begins the month after your or your spouse's or partner's employment ends, or the month after you or your spouse or partner lose your qualifying employer insurance, whichever comes first. If you or your spouse have health insurance through an employer you may be eligible for a Special Enrollment Period. This is only possible if the company has more than 20 employees when you turn 65,
FAQs
Is there a limit to how much of a service Part A will cover?
In general, there is no cap on how much a service can cost. As long as you use Medicare-covered services that are medically necessary you can get as many as you need, no matter how much they cost.
What doesn't Part A cover?
Part A won't cover most eye, dental, and hearing care. It also won't cover daily foot care, cosmetic surgery, long-term care or dentures.
Will Part A cover elective procedures?
Most of the time Part A will not pay for services unless they are medically necessary. For example it won't cover a breast augmentation for cosmetic reasons but if you have a mastectomy due to breast cancer it will cover reconstructive surgery. Another example is lasik surgery, if you're only interested in it to avoid wearing glasses you won't be covered. However if you have a chronic condition like cataracts or glaucoma you may be covered.
How EZ Can Help
When it comes to Medicare coverage, don't be afraid to ask questions. Speak to an EZ agent who can explain everything to you and tell you what you need to do to sign up. EZ can assist you in enrolling in Medicare, purchasing a Medicare Supplement Plan, or simply weighing your options. Our agents work with the best insurance companies in the country. They can provide you with a free comparison of all available plans in your area. We will go over your medical and financial needs with you and help you find a plan that works for you. To get started, simply give one of our licensed agents a call at 877-670-3602.