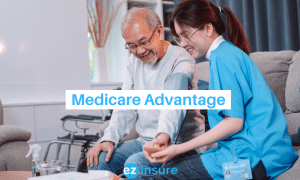 Medicare Advantage, sometimes called Medicare Part C, is a type of plan offered by private insurers who have signed a contract with the Medicare program. This contract ensures that private insurance companies who offer Medicare Advantage Plans follow the rules set by Medicare. 
So, what is Medicare Advantage, and what does this type of plan cover? Well, if you enroll in a Medicare Advantage Plan through a private insurer, you will still be enrolled in Medicare, but most of your Parts A and B coverage will come directly from your plan, rather than from your Original Medicare plan. Additional coverage, like vision, hearing, dental, and health and wellness programs, may also be available through your Medicare Advantage Plan. The majority of these plans also include Medicare Part D (prescription drug coverage). 
Jump To:
How Medicare Advantage Works
Medicare pays Medicare Advantage Plan insurers a fixed fee for each enrolled plan participant. You'll pay your medical bills directly to your insurance company, as well. And while your insurance company has to follow Medicare's rules, you should be aware that they will be allowed to set their own rules about out-of-pocket costs. As well as about whether or not you need a referral to see a specialist. 
Medicare Advantage Vs. Original Medicare
There are pros and cons to choosing a Medicare Advantage Plan instead of sticking with Original Medicare. For example, one disadvantage is that your plan's network may limit your care provider options. Whereas with Original Medicare you can generally use any doctor or medical facility that accepts Medicare. If you go outside your network, your care may be denied or be significantly more expensive than if you stay in-network. 
With that being said, there is one big advantage to the aptly named Medicare Advantage. In exchange for having fewer provider options, you will frequently pay less for your care out-of-pocket. With these plans, you will still have to pay a monthly premium for Part B. However, the cost of a Medicare Advantage Plan may be less than that of the Medicare Supplement Plan you would need to have to fill in Original Medicare's gaps. 
Not only that, but you may also have a maximum out-of-pocket limit for covered care included in your plan. This is the maximum amount you will have to pay in addition to your premiums.
What Medicare Advantage Plans Cover
Medicare Advantage Plans cover all of your Parts A and B benefits, with the exception of clinical trials and hospice services. Plans have to cover all emergency and urgent care services. As well as nearly all medically necessary services that Original Medicare covers. Although, Medicare Advantage Plans might not pay for services that Medicare does not consider medically necessary. Your provider can tell you if a service is covered before you decide on it. 
It's important to note that if you have a Medicare Advantage Plan, your Original Medicare will still help pay for hospice care and some clinical research study costs.
In addition, these plans sometimes cover things that Original Medicare does not. Such as gym memberships or discounts, as well as some vision, hearing, and dental services. Plans can also include additional benefits. Such as coverage for services like transportation to doctor appointments, over-the-counter drugs that Part D does not cover, and services that promote your health and wellness. 
Plans can also tailor their benefit packages to provide extra benefits to chronically ill enrollees. These packages will include benefits tailored to specific medical conditions.
Types of Medicare Advantage Plans
There are several types of plans that you can choose from. We've highlighted the more common types below:
Health Maintenance Organization (HMO)
HMO Plans require you to get your care and services from doctors, other healthcare providers, and hospitals in your plan's network. The only exception is in the cases of emergency care, out-of-area urgent care, and temporary out-of-area dialysis. Prescription drugs are usually covered by HMO plans. However, make sure you check your plan, because you'll have to join an HMO plan that offers prescription drug coverage if you want Medicare drug coverage (Part D). You cannot join a separate Medicare drug plan if you join an HMO plan without drug coverage.
Preferred Provider Organization (PPO)
With a PPO plan, if you use providers and services in your plan's network, you will pay less. But you can also use out-of-network providers for covered services if the provider agrees to treat you and has not opted out of Medicare. You will always have access to emergency and urgent care with a PPO. Prescription drugs are also typically covered, as well. Just like with HMO plans, if you enroll in a PPO plan without drug coverage, you won't be able to join a separate Medicare drug plan.
Private Fee-For-Service (PFFS)
PFFS plans are not the same as Original Medicare or Medicare Supplement Plans. These plans set their own rates when it comes to charging providers and hospitals, as well as you, the beneficiary, when you receive care. In some cases, PFFS plans allow you to receive healthcare from any doctor, other healthcare provider, or hospital. PFFS Plans may cover prescription drugs. If your PFFS Plan does not provide drug coverage, you can enroll in a separate Medicare Drug Plan (Part D).
Special Needs Plan (SNP) 
Medicare SNPs restrict membership to people who have certain medical conditions or needs. Medicare SNPs customize their benefits, provider options, and drug formularies to best meet the needs of the populations they serve. They also usually include a network of specialists in the conditions that affect their clients. Some SNPs cover out-of-network services, while others do not. Check with the plan to see if they cover out-of-network services and, if so, how this affects your costs. All SNPs are required to provide Medicare drug coverage.
The Cost of Medicare Advantage
The cost of a Medicare Advantage Plan is determined by the level of coverage you want. Some Medicare Advantage Plans have $0 premiums, while others have premium costs that are significantly higher than the national average. 
It's important to remember that premiums aren't the only expenses when it comes to a Medicare Advantage Plan. When calculating the cost of your plan, your annual deductible and copayments must also be considered.
Your out-of-pocket costs for all Medicare Parts A and B services will have an annual cap if you have a Medicare Advantage Plan. Once you reach this limit, you will not be charged for services covered by Parts A and B.
How to Enroll
When you're looking for a Medicare Advantage Plan, you can use Medicare's online plan finder tool to find and enroll in a plan in your area. 
If you know which insurer you would like to work with, you can check their website to see if you can enroll online. If they don't allow online enrollment, you can request a paper enrollment form, which you can fill out and return to the insurance company to begin the enrollment process. 
You can also enroll by calling your preferred insurance company directly, or by calling Medicare at 1-800-MEDICARE (800-633-4227).
Once you've decided on a plan, keep the following in mind:
You must be enrolled in Medicare Parts A and B before you can purchase a Medicare Advantage Plan.

You will need your Medicare number, as well as the start date of your Medicare Parts A and B coverage.

You can enroll in a plan during your Initial Enrollment Period, or during the Medicare Open Enrollment Period, which runs from October 15 to December 7. 

After enrolling, you can change plans during Medicare Open Enrollment in the fall. Or the Medicare Advantage Open Enrollment from January 1 to March 31 each year.
FAQs
If you want to switch Medicare Advantage Plans, you can do so once a year. Either during Medicare's fall Open Enrollment Period (October 15 to December 7), or during the Medicare Advantage Open Enrollment Period (January 1 to March 31).
You can also switch back to Original Medicare during these times. However, it may be difficult to obtain a Medicare Supplement Plan if you switch back after the first year that you've had a Medicare Advantage Plan. Most states only require insurers to issue you Medicare Supplement Plans during your Initial Enrollment Period. This is typically the six months following your 65th birthday and enrollment in Medicare Part B. Following that, insurers may refuse you a Medicare Supplement Plan if you have health problems, or they may impose a waiting period before covering your preexisting conditions.
Can I enroll if I have a pre-existing condition?
Yes. Individuals with preexisting conditions can get coverage through Medicare Advantage.
What if I need a service that isn't covered?
If you require a service that your Medicare Advantage Plan determines is not medically necessary, you may be required to pay the full cost of the service out-of-pocket. You do have the option to appeal your bill, though.
To file an appeal, you should first obtain an oral or written organization determination to see if the service, drug, or supply should have been covered. To get this determination, contact your plan. They will provide you with the instructions to file an appeal in a timely manner.