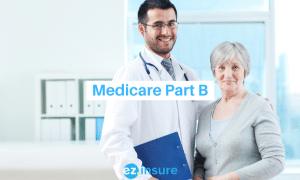 Turning 65 means that you'll be able to enroll in Medicare, the federal government's healthcare program for older adults and those with disabilities and take advantage of all of the benefits it has to offer. However, there is a lot you need to know about Medicare Part B. So, you can get the most out of it, and so you can decide on whether you need extra coverage. 
One of the first things you'll need to be aware of is all of the "parts" of Medicare, including Part B. Original Medicare contains Medicare Parts A and B; Part B is the medical insurance portion of Original Medicare. So, it is vital that you understand how it works, what it covers, and what it cost.
Jump To:
What Does Part B Cover
Medicare Part B is medical insurance, meaning it covers doctor visits as well as other medically necessary services and supplies. It also covers preventive services or healthcare to prevent illness and ambulance services. As well as durable medical equipment, mental health coverage, and a few types of outpatient prescription drugs.
Here's a closer look at what Part B covers:
Medically necessary services

– These are services or supplies required to diagnose or treat your medical condition and that meet accepted medical practice standards.

Preventive services

– This includes healthcare to prevent illness (such as the flu) or detect it early, when treatment is most likely to be effective. Most preventive services come at no cost, but make sure to check with your doctor before accepting these services.

Clinical research

– Clinical research studies evaluate various types of medical care, including new treatments, to determine how well they work and whether they are safe. A clinical research study, for example, could assess the effectiveness of a new cancer drug. Clinical research studies may involve diagnostic tests, surgical treatments, medicine, or novel patient care methods. Depending on the treatment, you may be required to pay 20% of the Medicare-approved amount. You might also have to first meet your Part B deductible.

Ambulance services

– If you require medically necessary services from a hospital (or other facility), and traveling in any vehicle other than an ambulance could endanger your health, Medicare Part B will cover ground ambulance transportation.
If you require immediate and rapid transport that ground transportation cannot provide, Medicare may pay for emergency ambulance transportation in an airplane or helicopter.
If you have a written order from your doctor stating that the transportation is medically necessary, Medicare may pay for limited, medically necessary, non-emergency ambulance transportation in some cases. Someone with end-stage renal disease, for example, may require medically necessary ambulance transport to a kidney dialysis facility.
Mental health services at a general or psychiatric hospital

– Medicare Part B will cover mental health treatment at a general or psychiatric hospital if you are receiving it on an outpatient basis. Otherwise, Part A will take over, and cover up to 190 days of inpatient treatment. But there is no cap on the number of benefit periods you can have if you are receiving outpatient mental health care in a general or psychiatric hospital.

Mental health outpatient services

– Mental health services aid in the diagnosis and treatment of mental health disorders such as depression and anxiety. They also usually include counseling or psychotherapy. Medicare Part B covers services like:

One depression screening per year, which must be performed in a primary care doctor's office or primary care clinic that can provide follow-up treatment and referrals

Individual and group psychotherapy with licensed professionals or doctors

Family counseling

Psychiatric evaluation

Medication management

Durable Medical Equipment (DME)

– Medicare Part B pays for medically necessary DME ordered by a Medicare-enrolled doctor or other healthcare provider for use at home.
Medicare covers the following DME:
Blood sugar meters and test strips

Canes 

Commode chairs

Continuous passive motion devices 

Continuous Positive Airway Pressure (CPAP) devices

Crutches

Hospital beds

Home infusion services

Infusion pumps & supplies

Lancet devices & lancets

Nebulizers & nebulizer medications

Oxygen equipment & accessories

Patient lifts 

Pressure-reducing support surfaces

Suction pumps

Traction equipment

Walkers

Wheelchairs & scooters 
As you can see, Part B covers a wide range of outpatient medical services, but it does not cover everything. For example, if you are enrolled in Original Medicare, routine dental care is not covered. However, some Medicare Advantage plans may provide this coverage. Whatever healthcare coverage you choose, make sure you understand the coverage options and costs.
What Isn't Covered by Medicare Part B
Again, there are several services that Medicare Part B does not cover. Unless you have other insurance that covers these services, you will be responsible for paying for them out-of-pocket. Here are a few examples of services that Medicare Part B does not cover:
Nursing home care

Most dental care and dentures

Routine eye exams

Hearing aids

Care while traveling abroad.

Cosmetic surgery
The Cost
Medicare Part B is fairly comprehensive, but it is not free. You will have some out-of-pocket expenses, including an annual deductible, a monthly premium, and coinsurance for covered services. 
As of 2023, the monthly premium for Medicare Part B starts at $164.90; this amount usually changes each year. Individuals with adjusted gross incomes (AGIs) of more than $97,000, and married couples filing jointly with AGIs of more than $194,000, will have to pay higher premiums. 

The deductible for Medicare Part B is $226 in 2023. 

After you've met your deductible, you will typically be required to pay 20% of the Medicare-approved amount for services and supplies. This is your coinsurance.
As pointed out above, you will most likely have to pay a premium for Medicare Part B. Unless you qualify for financial assistance. Because of this, you have the option of declining it, though you may face a late-enrollment penalty if you later decide to enroll in Medicare Part B. 
Does Part B Work with My Employer-Sponsored Insurance?
If you're still working, you can choose to have both Medicare Part B and employer-sponsored insurance. In addition, in some cases, you can postpone Part B enrollment while you have coverage through your employer's plan.
If you choose not to enroll in Medicare Part B right away, and are covered by employer-sponsored insurance (yours or your spouse's) from a company with 20 or more employees, you will not be penalized for waiting to enroll. In those cases, unless you are already receiving Social Security or Railroad Retirement Board benefits, you are not required to do anything when you reach the age of 65.
If you choose to continue with employer-sponsored coverage rather than enroll in Medicare Part B, make sure you understand when your coverage will expire. When your employer-sponsored insurance expires, you must take action. You will have eight months to sign up for Part B before the penalty kicks in.
If you choose to have both Medicare Part B and your employer-based insurance, your two types of coverage can work together. Which coverage kicks in first is determined by your plan and your employer. So, check with your plan for details on how it works with Medicare.
How to Enroll in Medicare Part B
If you begin receiving Social Security or Railroad Retirement Board benefits before turning 65, you will automatically be enrolled in Original Medicare.
Otherwise, there are three enrollment periods to be aware of:
Initial Enrollment Period (IEP)

– This is the seven-month period beginning three months before your 65th birthday and ending three months after your 65th birthday (plus your birthday month). If you have a birthday on the first of the month, your IEP will begin and end one month earlier.

General Enrollment Period (GEP)

– The GEP runs from January 1 to March 31 each year. If you did not sign up for Medicare when you first became eligible, and were not eligible for a Special Enrollment Period, you must wait until the General Enrollment Period to sign up. Coverage begins the month after you sign up, and late enrollment penalties may apply.

Special Enrollment Period (SEP)

– This is an eight-month period that begins the month after your or your spouse's or partner's employment ends, or the month after you or your spouse or partner lose your qualifying employer insurance, whichever comes first. If you or your spouse have health insurance through a large employer (20 or more employees) when you turn 65, you may be eligible for this Special Enrollment Period.
It is critical to sign up for Medicare Part B on time. If you do not enroll in Part B when you reach the age of 65, and later change your mind and enroll, you will be charged an additional 10% above the standard premium cost for each 12-month period you delay.
Furthermore, you will have to pay a late enrollment penalty for the duration of your Medicare coverage. That extra amount added to your premium can quickly add up over the course of your retirement.
FAQs
Will my social security pay for Part B?
Most enrollees won't get a premium bill for Part B because their premium is immediately taken out of their social security benefit.
If I'm still working at 65 do I have to enroll in Part B?
No. You can wait until you leave your or your spouse's employer's plan. When you do, you'll be able to sign up for Part B during a Special Enrollment Period that will last 8 months. It starts whenever your coverage or employment ends whichever happens first.
If I enroll, is my spouse automatically covered as well?
No, unlike with regular or group health insurance your spouse does not get covered by your policy. Every person must enroll in their own plan.
How EZ Can Help
Medicare is great, but it can also seem complicated, and there are choices you'll need to make when it comes to your healthcare, even after you enroll. Don't be afraid to ask questions! Speak to an EZ agent who can explain everything and tell you what you need to do to sign up. EZ can also assist you in enrolling in Medicare, purchasing a Medicare Supplement Plan, or simply weighing your options. Our agents work with the best insurance companies in the country. Additionally, they can also provide you with a free comparison of all available plans in your area. We will go over your medical and financial needs with you and help you find a plan that meets all of your requirements. To get started, simply give one of our licensed agents a call at 877-670-3602.