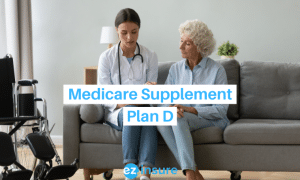 If you currently have Medicare, you are probably aware that if you do not have additional insurance, you may be responsible for large out-of-pocket expenses. But fortunately, you have options for getting help with these expenses! There are ten Medicare Supplement Plans that can assist you in managing the costs that are not covered by Original Medicare. These plans work in conjunction with Medicare Parts A and B to provide you with full coverage. One of these ten plans is Medicare Supplement Plan D, which we will take an in-depth look at below, so you can decide if it might be right for you.
Jump To:
Medicare Supplement Plan D is one of the less popular options available as it's not the most comprehensive. But if you want to be covered in the event of an emergency and live in a state that does not permit Part B excess charges, this is an excellent choice for you.
Medicare Supplement Plans vs. Medicare Parts
You may have noticed that Medicare Supplement Plans and Traditional Medicare both label their components with letters. Some of these components share the same letter, which can be confusing. To avoid confusion, when we refer to 'parts' such as Part A, Part B, Part C, and Part D, we are referring to traditional Medicare. These 'parts' provide your core coverage. Plans A, B, C, and D are Medicare Supplement Plans. The 'plans' are add-ons that you can purchase to help fill the gaps in traditional Medicare. 
What Medicare Supplement Plan D Covers
Plan D covers the majority of the major out-of-pocket medical expenses that you'll be responsible for if you only have Original Medicare, including:
Part A hospital coinsurance and hospital costs –

Part A only fully covers your first 60 days of inpatient hospital stays in a benefit period, after that you are required to pay a portion of your bills for each day after your initial 60 days. Days 61-90 have a coinsurance of $400 a day. If your stay is between 91 and 150 days, and you use your Lifetime Reserve days, your coinsurance will be $800 a day. Plan D covers 100% of these costs.

 
Part A hospice care coinsurance or copayment –

Hospice care is for patients who are nearing the end of their lives. These services are covered by Medicare, but copayments are required. These copayments include $5 for each symptom and pain relief medication prescription, as well as 5% of the Medicare-approved amount for inpatient assisted living. Plan D covers all expenses related to hospice care.

Part B coinsurance –

You'll typically have to pay Medicare Part B coinsurance for doctor visits and other outpatient care. That means Medicare Part B pays 80% of the Medicare-approved amount for covered services. Leaving you to pay the remaining 20%. For example, if your doctor charges $100 for a service, Medicare Part B will only pay $80, and you'll have to pay the other $20. This coinsurance can really add up, so any plan that covers this is incredibly helpful.

First 3 pints of blood –

Original Medicare only pays for the fourth and subsequent pints of blood if you need blood during treatment. Plan D will pay for the first three pints.

Skilled nursing facility (SNF) care coinsurance

– After the 20th day of your stay as an inpatient in a skilled nursing facility, Medicare Part A requires you to pay coinsurance. Part A coinsurance for skilled nursing facility care is $200 per day in 2023. Plan D will pay this daily fee.

Part A deductible –

You'll have to pay a Part A deductible of $1,600 for each 60-day benefit period (as opposed to annually, like the Part B deductible), and Plan D will cover each deductible you have to pay.

80% of foreign travel emergency costs
Because of all of the above coverage, you could save thousands of dollars in medical expenses by enrolling in a supplemental plan like Plan D.
What Isn't Covered?
Medicare Supplement Plan D offers its beneficiaries a comprehensive range of benefits. But it does not cover:
The Medicare Part B deductible –

You will have to meet an annual deductible of $226 (as of 2023) before Medicare Part B will begin covering your medical care. The only plans that cover this deductible are Plans C and F. Since no plan available to new beneficiaries cover this.

Medicare Part B excess charges – If your doctor does not accept Medicare assignment, they might charge you up to 15% more than Medicare allows for a service. If they do so, you will be responsible for the difference between what your doctor charges and what Medicare will pay. This difference is known as an excess charge. A few select Medicare Supplement Plans cover these excess charges, but Plan D is not one of them. That means if you think you might want to see providers who don't accept Medicare assignment, you should look elsewhere.
In addition to these out-of-pocket expenses, Medicare Supplement Plan D does not cover dental, vision, or hearing care. Nor does it cover prescription drugs (other than those administered in a hospital or other inpatient setting). You will need to obtain additional coverage to get these benefits no matter which Medicare Supplement Plan you choose.
The Cost of Medicare Supplement Plan D
Monthly premiums for Medicare Supplement Plan D typically range anywhere from $110 to $340. But keep in mind that even though the government determines what is covered by Medicare Supplement Plans, private insurance companies sell them, and are allowed to set the rates for them. Premium rates are determined by factors such as age, location, and smoking status.
That means the above-mentioned prices are only an average of the typical prices. They may also differ from one insurance provider to the next depending on who is providing the coverage and where you live. 
You should also be aware that there are three distinct methods that Medicare Supplement Plan insurers use to price their policies. Community-rated, issue-age-rated, and attained-age-rated.
Community-Rated

– With this type of pricing, everyone who has the same Medicare Supplement Plan pays the same monthly premium, regardless of age. Premiums might rise due to inflation and other factors, but not due to your age.

Issue-Age-Rated

– In this case, your premium is determined by the age you are when you purchase the Medicare Supplement Plan. Premiums will be lower the younger you are, but will not increase as you get older. Premiums may rise due to inflation and other factors, but not due to your age.

Attained-Age-Rated

– With this type of pricing, your premium is calculated based on your current age, with the premium increasing as you get older. Premiums will be lower when you are younger, and they will continue to rise as you get older. Premiums may also rise as a result of inflation or other factors.
Enrolling in Medicare Supplement Plan D
Your Medicare Supplement Open Enrollment Period is the best time to sign up for a Medicare Supplement Plan. If you sign up during this period, your health status will not effect your eligibility for coverage or your premiums.
This opportunity will only present itself once, so seize it while you can. Once you turn 65 and enroll in Medicare Part B, you enter your Open Enrollment Period. Which lasts for six months. If you continue to work after age 65, your six-month period will begin when you stop working or lose insurance through a qualified group employer plan.
So, Medicare Supplement Plans are the most affordable and easiest to obtain during your Open Enrollment Period. This is because insurance companies are not allowed to consider your health or medical history when determining your premium.
If you do not apply for a Medicare Supplement Plan during this time, or if you wait too long after your OEP, you may be subject to a medical exam or review of your medical history (underwriting). So, your application may be denied due to pre-existing health conditions.
FAQs
What's the difference between Medicare Part D and Medicare Supplement Plan D?
It's easy to confuse Medicare Part D and Medicare Supplement Plan D, since they have similar names. But there is a big difference between the two of them. Medicare Supplement Plan D is a supplemental policy that helps fill the gaps in Original Medicare. And Medicare Part D is a stand-alone prescription drug policy. Prescription medication is not covered by Medicare Supplement Plan D (or any Medicare Supplement Plan). So, you will need separate coverage for this. A Medicare Part D drug plan can easily cover these benefits.
Original Medicare, Medicare Part D, and Plan D can all work together to give you comprehensive medical coverage.
What are alternatives to Plan D?
Medicare Supplement Plan D offers an adequate level of protection, but it is not very many insurance companies offer it. If you are looking for a plan that has comparable coverage to Plan D, you should look into the Plan G or Plan N instead. 
Selecting a plan may seem overwhelming but ensuring that you have adequate coverage will give you peace of mind. EZ can help you to compare every plan available to you in your area!
How EZ Can Help!
If you're looking for a Medicare Supplement Plan, it is essential that you compare the benefits and costs of each one. That means doing a lot of research. Which can take a long time, since you'll have to call multiple insurance companies to get rate quotes. 
But that's where EZ can help! If you work with one of EZ's agents, you can cut the time it takes to compare prices in half. Working with a licensed agent gives you access to multiple Medicare Supplement Plan carriers and plans in one place. Virtually eliminating the need for you to do any extra research on your own. 
Your agent can explain the differences between each plan. They can also help you weigh out-of-pocket costs versus premium costs to determine which plan will be the most cost-effective for you. To begin enter your zip code in the box below to compare plans online or call us at 877-670-3602 today or.