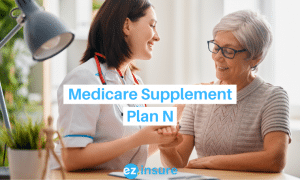 If you are on Medicare, you are probably aware that if you do not have additional insurance, you may be responsible for large out-of-pocket expenses. But there are ten Medicare Supplement Plans that work in conjunction with Original Medicare to help you manage these expenses. One of these plans is Medicare Supplement Plan N.
Like all Medicare Supplement Plans, Plan N assists in covering out-of-pocket Medicare expenses. This plan provides you with the same excellent Original Medicare health coverage at a fraction of the cost. Because your plan covers the majority of your financial obligations for the price of low monthly premium.
Jump To:
Plan F and Plan G are the most popular Medicare Supplement Plan options. However, Plan N ranks third among the plans that provide the most coverage, and so it is also a popular choice. Plan N is typically the most affordable of the three. But it does not cover the Part B deductible or copayments for doctor and emergency room visits.
Plan N is not the most comprehensive Medicare Supplement Plan available. But it is an ideal choice for those who have Original Medicare and want to supplement their coverage but are willing to pay copayments and other small fees. Plan N may be the right plan for you if you only receive care a few times per year during preventive care appointments and want coverage in case of an emergency situation.
What Medicare Supplement Plan N Covers
Medicare Supplement Plan N fills the majority of coverage gaps left by Original Medicare. The only exceptions are the Medicare Part B deductible ($226 in 2023) and any Medicare Part B excess charges. Which are parts of doctor bills that exceed the Medicare-approved amount. This means that Medicare Supplement Plan N covers all of the following:
Medicare Part B coinsurance

– Medicare Part B requires that you pay a coinsurance for each approved service. This means that Medicare Part B will pay 80% of the Medicare-approved amount for covered services. And you have to pay 20% of the bill, or coinsurance (after you meet your Part B deductible for the year). Plan N will cover your Part B coinsurance costs in full. With the exception of a copayment of up to $20 for some office visits. For emergency room visits that do not result in an inpatient admission, you may have a second copayment of up to $50.

Blood

– If you need a blood transfusion as part of a medical procedure, Original Medicare will only cover the fourth pint and beyond. If you require blood while in the hospital, Medicare Supplement Plan N will cover the first three pints.

Part A hospice care coinsurance or copayment

– Medicare Part A partially covers hospice care. However, you will have to pay copayments for this type of care if you don't have a Medicare Supplement Plan. Certain prescription drugs have a $5 copayment, and you will have to pay 5% of the Medicare-approved amount of inpatient respite care. Plan N pays your hospice care coinsurance and copayments in full.

Skilled nursing facility care coinsurance

– If you are admitted to a skilled nursing facility for more than 20 days, Medicare Part A will require you to pay a daily coinsurance. In 2023, your skilled nursing facility coinsurance could reach $200 per day. Your skilled nursing facility coinsurance will be fully covered by Medicare Supplement Plan N.

Part A deductible

– If you are admitted to the hospital for inpatient care, you will have to meet a Part A deductible of $1,600 per each 60-day benefit period in 2023. Since this deductible is not an annual deductible, you may have to pay the Part A deductible more than once in a single year. Medicare Supplement Plan N pays your deductible in full for each benefit period.

Foreign travel emergency care

– Original Medicare typically does not cover medical care received outside of the United States. If you need emergency care while traveling outside of the United States, Medicare Supplement Plan N will cover 80% of the costs of qualified emergency medical care.
What Isn't Covered?
Plan N covers almost everything that Parts F and G do. Except for the Part B deductible, excess charges, and co-payments of $20 per doctor visit and $50 per emergency room visit. The lack of coverage for excess charges will not be a problem, though, for most people. Doctors rarely charge excessive fees. And you can ask your primary care physician whether they charge more than the Medicare-approved amount. So, even though you'll still have to meet your Part B deductible and pay copays, Plan N has the potential to reduce your monthly expenses by up to 25%.
The Cost of Medicare Supplement Plan N
In 2023, the average monthly cost of Medicare Supplement Plan N is around $120-$180. But, while the government standardizes the benefits of Medicare Supplement Plans, private insurance companies can choose the premiums. Additionally, the price of your premiums will be determined by a variety of factors, including age, location, and gender. Thus, the monthly premium for Medicare Supplement Plan N can be as high as $400 in some areas. Or as low as $70 in others.
In general, Medicare Supplement Plans are priced in three ways: community-rated, issue-age-rated, and attained-age-rated.
Community-rated

– With this type of pricing, everyone who has the same Medicare Supplement Plan, regardless of age, pays the same monthly premium. Premiums may rise as a result of inflation and other factors, but not as a result of your age.

Issued-age-rated

– In this case, your premium is based on the age you are at the time you purchase the Medicare Supplement Plan. Premiums will be lower the younger you are and will not increase with age. Premiums may rise as a result of inflation and other factors, but not as a result of your age.

Attained-age-rated

– Your premium is calculated based on your current age and rises as you get older with this type of pricing. Your premiums will be lower when you are younger, but they will continue to rise as you get older. Premiums may also increase due to inflation or other factors.
Enrolling in Medicare Supplement Plan N
The best time to enroll in a Medicare Supplement Plan is during your Medicare Supplement Open Enrollment Period. This is because, if you enroll at this time, you will be given guaranteed issue rights. Meaning you can't be denied a plan or charged more for a plan because of your health. You only get one Medicare Supplement Plan Open Enrollment Period, so it's important to take advantage of this time. 
Your OEP begins when you turn 65 and enroll in Medicare Part B, and it lasts for six months. If you continue to work after the age of 65 and have a credible group healthcare plan, your six-month period begins when you stop working or lose that insurance.
Insurance companies cannot consider your health or medical history when determining your premium during this Open Enrollment Period. So, Medicare Supplement Plans are the most affordable and easiest to obtain at this time. After your trial period expires, prices may rise, or you may be denied coverage based on your medical history.
If you do not apply for a Medicare Supplement Plan during this time period, or if you wait too long after your OEP, you may have to have a medical exam or a review of your medical history (underwriting). This can also cause your application to be denied due to any pre-existing health conditions. 
Not all insurance companies offer all ten standardized Medicare Supplement Plans. So, check with different insurance companies in your area.
FAQs
Who will benefit the most from Plan N?
Medicare Supplement Plan N is a good choice for those who like Plans F and G but want a less expensive option.
It depends on your healthcare requirements and financial objectives. Those who choose Plan N over Medicare Advantage plans frequently want a safety net in case of a medical emergency. The low premium and out-of-pocket costs of Medicare Supplement Plan N make it an appealing option. But a Medicare Advantage plan may be a better option for people who do not need to see doctors frequently. Or those who find Medicare Supplement Plan premiums to be too expensive.
If you don't want to deal with limited provider networks, though, a Medicare Supplement Plan like Medicare Supplement Plan N will be a better fit.
How can I find the best price on a Medicare Supplement Plan N?
While all Medicare Supplement Plan benefits are standardized, each individual insurance company determines the cost of each plan. This makes it critical to shop around for the best deal for your budget.
How EZ Can Help!
If you're looking for a Medicare Supplement Plan, it is essential that you compare each one. That means doing a lot of research. Which can take a long time, since you'll have to call multiple insurance companies to get rate quotes. 
But if you work with one of EZ's agents, you can cut the time it takes to compare prices in half. Working with a licensed agent gives you access to multiple Medicare Supplement Plan carriers and plans in one place. 
Your agent can explain the differences between each plan, in addition to offering your price comparisons. Furthermore, your agent can help you weigh out-of-pocket costs versus premium costs. This can help you choose which plan will be the most cost-effective. To begin comparing Medicare Supplement Plans, call us at 877-670-3602 today. Or enter your zip code in the box below to check plans online.