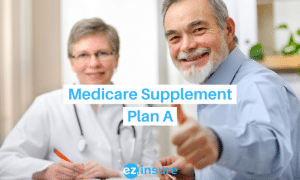 Medicare Supplement Plans were created to help you fill the gaps in your Original Medicare coverage. With a Medicare Supplement Plan, you can keep the advantages of Original Medicare, and get additional coverage for some, or even almost all, of your out-of-pocket expenses. There are 10 Medicare Supplement Plans to choose from, each offering slightly different levels of coverage, and each labeled with a letter of the alphabet. We're going to start here with Plan A, the most basic Medicare Supplement Plan available. 
Jump To:
This plan provides the bare minimum of coverage, and is usually not the best value for Medicare beneficiaries over the age of 65. However, this plan might be a good choice if you are under 65 and receiving Medicare because of a disability. If this is the case for you, you will not have access to as many plan options as those who qualify for Original Medicare because of age, and might only have only Plan A as a choice. Some states, though, do offer protections that allow people under 65 to purchase other Medicare Supplement Plans. To find out if your state is one of them, check out our state-by-state Medicare Supplement Plan pages. 
So, if you are a Medicare beneficiary over the age of 65, you should know that, as pointed out above, Plan A is a bare bones plan. There are most likely plans out there that provide more coverage for the same price that you should also consider. So, let's take a closer look at Plan A, what it covers, how it works, and what you can expect to pay for it. 
Medicare Supplement Plans vs. Medicare Parts
You may have noticed Medicare Supplement Plans and Traditional Medicare both label their components with letters. Some of these components use the same letter which can be confusing. So to clear the confusion, when we refer to 'parts' such as Part A, Part B, Part C, and Part D we are speaking of traditional Medicare. These 'parts' provide your base coverage. When we're speaking of 'plans', such as Plans A,B,C, and D these refer to Medicare Supplement Plans. The 'plans' are the add-ons that you can purchase to help fill the gaps in traditional Medicare. 
What Plan A Covers
As we noted above, Medicare Supplement Plan A offers the bare minimum of coverage. But it does cover one of the biggest gaps in Original Medicare, and one of the most important things that Medicare Supplement Plans can cover: the 20% Part B coinsurance you have to pay for all outpatient care.
In addition to this, Plan A also covers:
Part A coinsurance and hospital costs

– With Medicare Part A, only your initial 60 days of inpatient hospital stays during a benefit period are fully covered. After that, you will be responsible for paying a portion of the bills for each day after your initial 60 days, known as coinsurance. Coinsurance for days 61 through 90 is set at $400 per day; for days 91 through 150, you will have to pay $800 per day, and you will have to use some of the days from your Lifetime Reserve. Plan A takes care of all of these coinsurance expenses in full.

First 3 pints of blood –

In the event that you require blood during treatment, Original Medicare will only pay for the fourth pint of blood and any subsequent pints. Plan A will cover the cost of the first three pints.

Part A hospice care coinsurance and copayment

– Patients who are in the final stages of their lives are eligible to receive hospice care. These services are considered medically necessary and are therefore covered by Medicare, but you will have to pay copayments for certain aspects of your care. These copayments include $5 for each prescription for symptom and pain relief medication, as well as 5% of the Medicare-approved amount for inpatient assisted living. Plan A will take care of any and all costs associated with hospice care.
What Isn't Covered
Since Plan A offers very basic coverage, it does leave some gaps. For example, Plan A doesn't cover:
Skilled Nursing Facility coinsurance

Part A deductible, which is $1,600 per 60-day benefit period in 2023

Part B annual deductible, which is $226 in 2023

Part B excess charges

Foreign travel emergency services
You might have to pay a significant amount of money out-of-pocket as a result of some of these gaps in coverage. For instance, the $1,600 Medicare Part A deductible is not charged on an annual basis. Instead, it's based on 60-day benefit periods. So, you might have to pay it more than once in a given year, which can really add up. 
And even though they are uncommon, Part B excess charges also have the potential to result in significant out-of-pocket expenses for you. If your healthcare provider doesn't accept Medicare assignment and decides not to accept what Medicare is willing to pay for a service, that provider has the right to charge you up to 15% more than the Medicare-approved amount. You will be responsible for the difference in price. Which can also add up if you don't have supplemental coverage.
The Cost of Plan A
Although the federal government is responsible for regulating the benefits of Medicare Supplement Plans, private insurers set the premiums. Because of this, it's difficult to accurately say how much each plan will cost. Especially since prices for plans differ depending on the state, the insurer, and the plan you choose. With that being said, though, Plan A premiums can cost anywhere from $84 to $1,631 per month on average.
When to Enroll
The best time to enroll in a Medicare Supplement Plan, like Plan A, is during your Medicare Supplement Open Enrollment Period. Which is the six-month window that begins when you turn 65 and enroll in Medicare Part B. At this time, you'll get the best price for your plan. This is because insurance companies cannot consider your health or medical history when determining your premium. You only get this guaranteed-issue period once. Once it's over, prices could go up, or you could be denied coverage due to the current state of your health or your past medical history.
One thing to note, though, is that if you are still working after the age of 65 and are covered by a group employer-based plan that is considered creditable coverage, your six-month period starts after you've ended active employment or no longer have that insurance.
If you are under 65 and are eligible for Medicare due to a disability, you might be able to purchase a Medicare Supplement Plan – usually Plan A – in certain states.
FAQs
Who will benefit most from Plan A?
It's possible that Medicare Supplement Plan A is the plan that will work best for you. For example, Plan A could be a good option in the following scenarios:
You're on disability

You don't travel

Your doctor doesn't charge excess fees

You don't need inpatient care
You need to think carefully about each of your options. As well as your specific medical and financial situation, before settling on the plan that will fit all of your unique needs.
Are Medicare Supplement Plan A and Medicare Part A the same?
Original Medicare (Parts A and B), Medicare Advantage (Part C), and Medicare Part D drug plans are all "Medicare Parts". Which are different from Medicare "Plans". If the word "Plan" is used, followed by a letter, this always refers to a Medicare Supplement Plan.
Medicare Part A is provided by the government, and covers a portion of inpatient hospital care, while Medicare Supplement Plan A is supplemental insurance sold by private insurance companies that helps with the costs that Original Medicare (Parts A and B) don't pay for.
Medicare Part A and Medicare Supplement Plan A are not the same. Despite the fact that they are often confused with one another.
Plan A may be one of the few options available if you qualify for Medicare due to a disability. Unfortunately, though, premiums for Medicare Supplement Plan A for those under the age of 65 will typically be twice as high. And in some cases even three times as high, as it would be for someone 65 or older. This is because Medicare recipients under the age of 65 typically accrue greater medical expenses than Medicare enrollees of the same age.
You will also most likely not have the same Open Enrollment Period as people over 65. Only people who are eligible for Medicare because of a diagnosis of end-stage renal disease (ESRD) or amyotrophic lateral sclerosis (ALS) are granted a second Medicare Supplement Open Enrollment Period. And can sign up for Medicare Supplement Plan coverage without answering any health questions. 
What is the difference between Plan A and Plan B?
The only thing Medicare Supplement Plan B covers that Part A doesn't is the hospital deductible. Aside from that, the benefits of Plans A and B are identical.
It is not possible to have both a Medicare Supplement Plan and a Medicare Advantage plan at the same time. 
When deciding which is right for you, keep in mind that Original Medicare covers approximately 80% of your medical expenses. For the price of a monthly premium, a Medicare Supplement Plan will cover the "gaps" in Original Medicare coverage. You can also add a standalone Part D plan to cover the costs of their prescription drugs.
When you opt for Medicare Advantage, you get coverage for both Parts A and B. As well as Part D, which pays for the costs of prescription drugs.
EZ Can Help!
It is important to assess Medicare Supplement Plans in terms of both their costs and their benefits. This means that you will need to do a lot of research. But calling multiple insurance companies to get rate quotes can take a long time and can be frustrating. That's what EZ agents are here for, though – to make the whole process faster, easier, and more convenient for you. In fact, if you work with an EZ agent, you can cut the amount of time it takes to compare prices in half.
If you work with one of our agents, you will get instant access to all carriers and plans available to you. And your agent will not only compare the prices, but also explain the differences between the various plans.
In addition, your insurance agent can help you weigh the costs of out-of-pocket expenses against the costs of monthly premiums. Which will help you in deciding which plan will be the most cost-effective for you. Simply enter your zip code in the bar below or give us a call today at 877-670-3602 to start.