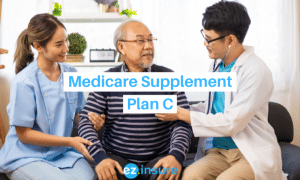 Original Medicare (or Medicare Parts A and B) is an essential program for keeping older adults healthy and financially stable. But it does come with out-of-pocket expenses, so many beneficiaries choose to purchase a Medicare Supplement Plan to cover the gaps in Original Medicare. There are 10 different types of Medicare Supplement Plans. Each named with a different letter; here we're going to take a look at a very popular Medicare Supplement Plan: Plan C. 
Medicare Supplement Plan C is a Medicare Supplement Plan that provides first-dollar coverage. That means if you have this plan, you will not have to pay any copays or out-of-pocket expenses before coverage begins. Instead, your insurer would handle all payments for insurable events. This is one of the most comprehensive Medicare Supplement Plans available, second only to Medicare Supplement Plan F.
Jump To:
Unfortunately, though, like Medicare Supplement Plan F, Plan C is no longer available to Medicare beneficiaries who became eligible for Medicare after January 1, 2020. If you had Plan C prior to that date, you can keep it, and if you were eligible for Medicare before Jan. 1, 2020, but haven't yet enrolled, you may still be able to purchase it.
Medicare Supplement Plans vs. Medicare Parts
You may have noticed Medicare Supplement Plans and Traditional Medicare both label their components with letters. Some of these components use the same letter which can be confusing. So to clear the confusion, when we refer to 'parts' such as Part A, Part B, Part C, and Part D we are speaking of traditional Medicare. These 'parts' provide your base coverage. When we're speaking of 'plans', such as Plans A,B,C, and D these refer to Medicare Supplement Plans. The 'plans' are the add-ons that you can purchase to help fill the gaps in traditional Medicare.
What Plan C Covers
Medicare Supplement Plan C provides coverage for all of the services covered by Original Medicare, as long as the doctor accepts Medicare. This plan also covers most out-of-pocket expenses associated with Original Medicare, including:
Medicare Part A is hospital insurance. While it doesn't usually have a monthly premium, it does have a lot of out-of-pocket expenses. Plan C covers most out-of-pocket Part A expenses, such as deductibles, coinsurances, and copays. 
It includes coverage for the following Part A out-of-pocket expenses:
Part A hospital deductible and coinsurance

Hospital costs up to an additional 365 days after you exhaust your Medicare benefits

Part A hospice care coinsurance or copayment

Blood (the first 3 pints)

Other Medicare-approved expenses associated with Part A hospitalization
For example, if your doctor admits you to a hospital for inpatient care, Medicare Part A will help cover your hospital costs. This coverage starts once you have met your Medicare Part A deductible. Which in 2023 is $1,600 per 60-day benefit period. You do not have to pay any Part A coinsurance for the first 60 days of your hospital stay.
On days 61 through 90 of your stay, you will have to pay $400 per day Medicare Part A coinsurance. After your 90th day, you will have to pay $800 per day if you use your lifetime reserve days. After 150 days in the hospital, you will be responsible for all costs.
These coinsurance costs can quickly add up. So, having a Medicare Supplement Plan like Plan C is vital if you think you might need to access inpatient hospital care, since this plan fully covers Part A coinsurance.
Medicare Part B Expenses
Medicare Part B covers general healthcare, like doctor visits and related charges. It is fairly comprehensive, but also has a lot of out-of-pocket expenses. Like an annual deductible, a monthly premium, and 20% coinsurance. This coinsurance means that Medicare Part B only covers 80% of eligible Medicare expenses. You'll also be responsible for the remaining 20%. That 20% can really add up, so you should consider a Medicare Supplement Plan that covers this, like Plan C. 
For example, if you have a foot injury and need to use a wheelchair. Part B will pay for 80% of the cost of your wheelchair (after you meet your Part B deductible). So, if the wheelchair costs $800 and Medicare Part B covers it as durable medical equipment (DME), your Part B coinsurance cost would be $160. However, your $160 Part B coinsurance would be fully covered by Medicare Supplement Plan C.
When it comes to Part B, Plan C covers:
Medicare Part B coinsurance and copayments

Part B deductible

Other Medicare-approved expenses associated with Part B coverage
Other Expenses
Medicare Plan C also covers 80% of approved foreign travel emergency costs. Which is important for those who enjoy taking trips outside of the US. There are plan limits, but this coverage can help offset the costs of becoming ill or injured while traveling overseas.
It also includes Medicare-approved skilled nursing facility coinsurance costs. This coverage is essential because hospitalization, among other things, can necessitate a lengthy recuperation stay in a skilled nursing facility. Medicare only covers the first 100 days of a skilled nursing facility stay. So, if you think you'll need coverage for more than 100 days, you should consider a plan like Plan C that covers this service.
What Isn't Covered By Plan C?
The only out-of-pocket expense that Plan C does not cover is Medicare Part B excess charges. You will be billed for excess charges if you receive healthcare from a provider who does not accept the Medicare-approved amount as full payment. A provider may charge you up to 15% more than the Medicare-approved amount in these cases. That extra charge is your excess charge. Only two plan options cover Part B excess charges: Plan F and Plan G.
Besides that, neither Plan C nor any Medicare Supplement Plans sold to new Medicare members cover the following:
Prescription drugs

Long-term care (like non-skilled care you get in a nursing home)

Dental care

Vision care

Private-duty nursing
The Cost of Plan C
Private insurance companies that offer Medicare Supplement Plans set monthly premiums based on age, health status, gender, and a variety of other factors. Insurance companies may charge different premiums for the same Medicare Supplement Plan C depending on these factors, including location. 
However, the average cost of Medicare Supplement Plan C in 2023 is around $140-$420 per month.
But, since fewer beneficiaries will be enrolling in Medicare Supplement Plan C as the plan is phased out, premium costs will continue to rise year after year to compensate for lower plan enrollment. In other words, anticipate an increase in your premiums over time if you have Plan C.
FAQs
Why was Plan C discontinued?
Unfortunately, Plan C is no longer available to all Medicare beneficiaries because the government chose to phase it out. You can only enroll if you received (or were eligible for) Medicare benefits before January 1, 2020. This change came about because of the Medicare Access and CHIP Reauthorization Act (MACRA). For new Medicare beneficiaries, this Medicare change eliminated all first-dollar coverage plans. As a result, new Medicare beneficiaries will be unable to purchase any plan that covers the Part B deductible.
Those who enrolled in Original Medicare prior to the deadline can still enroll in and disenroll from Medicare Supplement Plan C, just as they could before MACRA. However, new Medicare beneficiaries are unable to enroll in the plan.
Is there an alternative to Plan C?
If you are not eligible for Medicare Supplement Plan C but want a similar option, Plan G is the closest alternative. Except for the Medicare Part B deductible, which cannot be covered by plans sold to new members, Medicare Supplement Plan G covers everything else Plan C does. 
Plan N is also another comprehensive alternative. With a few exceptions, Plan N covers all of your costs. The Part B deductible is not covered, and you will be required to make some copayments (up to $20 for some office visits and up to $50 for ER visits that do not result in hospitalization).
Compare the coverage of all Medicare Supplement Plans to see which one is right for you. Check out our individual plan pages to see how much Medicare Supplement Plan G or any of the other plans would cost you. 
What is the difference between Plan C and Plan F?
Medicare Supplement Plan C and Plan F are similar. The only difference between the two plans is that Plan F covers excess charges while Plan C does not.
Both Medicare Supplement Plans C and F were phased out at the same time in order to discourage people from making unnecessary trips to doctors' offices. It was thought that requiring new Medicare enrollees to pay out-of-pocket until they met their Part B deductible — $226 in 2023 — would discourage people from seeking medical attention for minor issues.
Yes, the basic benefits are the same regardless of where the plan is sold or by which carrier.
EZ Can Help!
Comparing both benefits and costs of Medicare Supplement Plans is important. That means you'll need to do a lot of research, but calling multiple insurance companies to get rate quotes can take a long time. But if you work with one of EZ's agents, you can cut your cost comparison time in half. 
When you work with a licensed agent, you will have access to multiple Medicare Supplement Plan carriers and plans in one spot. Your agent will be able to explain the differences between each plan, as well as compare all prices from all insurers. 
Furthermore, your agent can assist you in weighing out-of-pocket costs versus premium costs, to help you determine which plan will be the most cost-effective for you in the long run. Give us a call at 877-670-3602 today to start shopping for the Medicare Supplement Plan that's right for you.