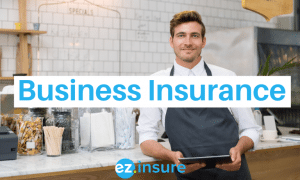 If you're a small business owner, insurance is a big part of the cost of doing business. But the price of the different types of insurance that you need to have will add value to your business as well. They keep both your business and your employees safe. 
When it comes to insurance for your business, your first thought might be group health insurance. Depending on the size of your business, you might not need to offer a healthcare plan to your employees. But offering health insurance to your staff is beneficial in a lot of ways. For example, doing so can help bring in and keep top talent. And help you save you money through tax incentives. 
While insuring your employees is important, you also have to think about the insurance your business itself needs. You'll need everything from workers' compensation, which protects you and your employees in case of an injury at work. To the different types of liability coverage that protect your assets from potential losses or lawsuits. You can even find policies that bundle everything you need together under one policy. 
Jump To:
Figuring out insurance for your business can be challenging. Since there are so many options to choose from, and so many regulations to follow. If your business doesn't have a full HR department, you will have to navigate all of this without much help. So, to help you better understand your options and get you started, we've created a guide to everything you need to know about the types of health insurance your business can offer your employees. As well as the types of insurance you can buy to protect yourself and your business.
Types of Business Insurance You Need
There are several types of insurance you'll need to consider for your small business. Along with a group policy for your employees, there are also business owner's policies, general liability, professional liability, and workers' compensation. 
Group health insurance covers groups of people, like employees. But there are also small business health insurance plans and group health insurance plans for union, professional, fraternal, and advocacy group members as well.
A Business Owner's Policy (BOP) is a combination of business property and liability insurance. BOP insurance helps financially protect your company in case of fire, theft, and other covered events. Claims that might result from your business operations are also covered by business owners' insurance, such as allegations of physical harm or property damage.
General liability, sometimes called commercial general liability, is insurance to protect your business against bodily injury or property damage claims. You can buy this type of policy either on its own or in a bundle through a BOP. 
Professional liability, aka "errors and omissions", is insurance that covers a portion of the costs that would arise from negligence claims or lawsuits. For example, if you or an employee makes a costly mistake like giving someone bad advice, or improperly handling private information, professional liability will cover you.
Workers' compensation insurance will cover your employees' medical bills and lost wages if they or get injured at work or become ill because of workplace conditions. Every state has its own set guidelines for this type of insurance, so make sure you check out our state pages to see what the rules are in your area.
How Business Insurance Works
Small business insurance protects your company. Every type of business insurance protects a different facet of your company, and they all work together to make sure no matter what happens you are covered, and your business can continue to grow. 
Small business insurance policies can financially protect you and your business against claims including: 
Bodily injury

Property damage

Car accidents

Lawsuits
If you do not have the right types of small business insurance, you could have to pay for these kinds of claims out-of-pocket. Many small businesses lack the resources and capital to cover these kinds of claims, meaning uncovered businesses often go under as a result of claims. 
Are Small Businesses Required to Offer Health Insurance?
According to the ACA, if your business has more than 50 full-time or full-time equivalent employees, you must offer affordable group health insurance. If you don't, you will face a tax penalty. But if your business has less than 50 full-time employees, you are exempt from this requirement. Just because you're not required to offer health insurance doesn't mean you shouldn't, though. There are numerous benefits to doing so; in fact, there are numerous benefits to all types of commercial insurance.
The Benefits of Business Insurance
Every type of business insurance has its own unique benefits. And together all of your policies will give you the best protection for every situation. And commercial insurance doesn't just benefit you, it also benefits your employees. 
For example, offering group health insurance to your employees:
Often gives you tax breaks

Promotes employee recruitment and retention

Gives your employees a more affordable way to access healthcare, so they can stay healthy, happy, and productive
It's not hard to see how beneficial general liability insurance is for your business. This type of policy covers a broad range of common business risks. Such as customer injury, customer property damage, and advertising injury. But it might be impossible for your small business to absorb the cost of these claims. So it's clear that you'll need general liability. Not only that, but general liability insurance is usually required to qualify for a lease, loan, or to meet the terms of certain contracts. 
Professional liability might also be vital for your business, especially if you offer advice or other professional services. This type of policy protects you from lawsuits and will actually save you money, since it's all about risk management. You will pay a small amount up-front to avoid having to pay a much larger and crippling sum later on.
Finally, workers' compensation insurance is another important type of policy. In fact, it is a requirement in most states. But even if it wasn't, its benefits far outweigh the costs. For your employees, it will keep them financially stable if they get injured and allow them to fully recover from a workplace injury. And for you, the employer, it will keep you from having to pay out-of-pocket for their medical costs. It will also save you from facing lawsuits, since without coverage you would be liable for their medical bills, and you could face fines from the state for not carrying workers' comp.
Frequently Asked Questions
Is business insurance tax deductible?
Yes, business insurance is generally tax deductible. If you run a for-profit business, you can deduct your "ordinary and necessary" business expenses from your taxable income. Most business insurance policies fall under the IRS's "ordinary and necessary" rule, since state laws, industry regulations, and terms of contracts usually mean you are required to have coverage, so they are deductible.
Do I have to offer group health insurance?
It depends on how big your business is. If you have less than 50 full-time employees, there is no law that requires you to offer a group plan. On the other hand, if you do have more than 50 full-time employees then yes, you have to offer health insurance to your employees.
Is workers compensation insurance required?
Workers' compensation insurance is generally required in most states. Each state has its own requirement guidelines, some only require this policy if you have more than a certain number of employees, and some require it even if you only have one employee. Check out our state-by-state workers' compensation page to get information about your state's requirements.
General liability is not usually a state requirement, but it is sometimes required by landlords if you're renting office or warehouse space. Clients can also require it before you begin a project for them depending on your type of business. So no, it's not a legal requirement, but it is highly recommended.
It depends on your industry. Some states require lawyers and certain medical professionals to carry legal or medical malpractice insurance. Other service-based jobs are not required by law to have professional liability insurance, but as pointed out above, it is important to have for many businesses.
Except for New Hampshire and Virginia, every state requires commercial auto insurance for company-owned vehicles, and all states require your business to have the ability to compensate someone if you or an employee cause an accident.
Currently there is now law that requires businesses to carry cyber liability insurance. But more and more, businesses have started putting cyber liability coverage requirements into their business contracts. So, while you might not legally need to have it, your client may require it before they'll do business with you.
Finding Business Insurance
Whether you're looking for group health insurance for your employees, or looking for commercial insurance to protect your business, EZ can help. Our agents work with the top insurance companies nationwide to make sure you find the best insurance for your business and your employees. In fact, we can save you hundreds of dollars a year by working with your budget to find you the best coverage. If you have questions, feel free to give us a call at 877-670-3531 for group health insurance help, and 877-670-3538 for commercial insurance.