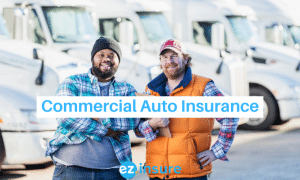 If you use a vehicle for business purposes, you'll need commercial auto insurance. With this type of policy, any costs associated with injuries, fatalities, or property damage caused by your vehicle are covered. Some people confuse commercial auto insurance with rideshare insurance, which is normally necessary if you work as a delivery or rideshare driver, but these are distinct types of policies. It's also important to note that a standard auto insurance policy will not cover you if your vehicle is being used for business purposes.
Jump To:
What Does Commercial Auto Insurance Cover
Similar to a personal auto insurance policy, business auto insurance covers things like liability, accidents, medical bills, personal injury protection, and uninsured motorists. However, the eligibility requirements, coverage, exclusions, and limits are different for commercial auto insurance.
A commercial auto policy can typically provide coverage for the following:
Liability –

If a motorist causes an accident while at work, commercial auto insurance with bodily injury and property damage liability will cover any resulting injuries, fatalities, or property damage. This coverage may also cover legal fees.

Medical Bills

– Regardless of who is at fault, no-fault or personal injury protection will cover the driver's and any passengers' medical costs.

Uninsured Motorists

– This provision covers medical expenses and occasionally property damage caused by uninsured or hit-and-run drivers. If the at-fault driver doesn't have enough auto insurance coverage to cover all costs, this policy may also include underinsured motorist coverage.

Comprehensive and Collision

– This provision covers vehicle damage resulting from theft, vandalism, flood, fire, as well as damage if a work vehicle is struck by something or another vehicle.
Commercial auto insurance packages may offer additional protections like towing and labor, rental reimbursement, and lease gap insurance.  But they typically exclude coverage for tools and other goods you may be transporting in the vehicle. Tools owned by your business can be covered by a business owner's policy, which also offers safeguards for commercial property, while personal items in the car can be covered by a home or renters insurance policy.
The Difference Between Commercial Auto and Personal Auto
There are several differences between commercial and personal auto insurance. Even though commercial auto includes many of the same policy features as a standard auto insurance policy. A commercial auto insurance policy and a personal auto insurance policy primarily differ in the following ways:
Coverage levels 

Cost

Ability to deduct commercial policies from taxes

Who the policies cover
Due to their size, the potential damage they could inflict in an accident, and the value of their cargo, commercial vehicles frequently require more coverage than would a standard car or truck. Because of this, commercial insurance policies typically cost more than standard auto insurance.
With that being said, you might be able to deduct the cost of your commercial auto insurance from your taxes. And you might be able to deduct the cost of your insurance along with car maintenance, garage rental fees, lease payments, new tires, and tolls as required business costs.
Additionally, unlike standard auto insurance, a commercial auto policy can cover a range of drivers. Including your family, employees, and anybody else you specify on your insurance contract. Unless they have non-owners coverage, members of your household and individuals who occasionally drive your car are covered by your regular auto insurance.
Who Needs Commercial Auto Insurance?
If your business owns any vehicles, or if you use your own vehicle for work, you need commercial auto insurance. Personal auto insurance will not cover any accidents that happen while you're using the vehicle for business. You'll want to consider a commercial auto policy if you:
Drive for a rideshare

– If you drive for a service that transports people or if you deliver food, your personal auto policy will not cover you.

Have high mileage

– Driving between work sites or to meet clients can add up quickly, and the more you drive, the more chance for an accident to occur.

Transport goods

– If you transport your company's products from site to site in either your personal or work vehicle, you'll need commercial auto insurance.

Have employees who drive for you

– If your employees operate company vehicles, you need to make sure they're covered in case of an accident. Even if those employees are driving their own vehicles. You are responsible for their coverage if they are driving for work on your behalf.

Your vehicle is a certain size or type –

You might need to purchase commercial insurance if your vehicle's gross weight exceeds 15,000 pounds. States may also demand that a vehicle be classified as commercial if it has undergone specified modifications. Such as the removal of the seats behind the driver.
For some personal reasons, such as getting to and from work, you might be protected by your personal policy. But unless you've bought additional coverage, your personal coverage won't cover any use of your car for business purposes.
For example, your personal insurance won't cover any claims if you work for yourself and are in an accident. For example, if you are a painter or carpenter and get into an accident while traveling to a project. In addition, if you drive your own car for deliveries or own a food truck, a commercial vehicle policy may offer the best protection.
When it comes to rideshare drivers, most locations do not require rideshare drivers to have a commercial auto policy. Instead, to have complete protection if you drive for a company like Uber or DoorDash, you might have to add rideshare coverage to your own policy.
The Cost of Commercial Auto Insurance
While prices differ, the typical commercial auto insurance policy usually costs between $142 and $200 a month. Of course, a number of factors. Some of which you can control and others that you cannot, may affect your costs.
Cost Factors
A wide range of factors influence policy pricing for commercial auto insurance. Which is what causes the vast differences in average and median prices. To get a realistic price, you'll need to take into account a number of factors related to your company and the vehicles you are insuring. Just like you would when choosing any sort of business insurance.
Some elements that impact the cost of commercial auto insurance include:
Location

– Given that some states have higher insurance rates than others, where you live will have a big impact on your rates.

Vehicle type

– The price of your policy will vary depending on the commercial vehicle's year, make, and model. In general, the bigger and heavier the vehicle you insure, the higher the premium will be.

Mileage

– Your costs will also vary depending on how much the vehicles you insure are driven during the course of the policy. Your premium will increase when you increase your driving, because the likelihood of an accident rises as you drive more.

Driving history

– Your premiums will be impacted by both your and your workers' driving records. Lower rates are an incentive for better driving records.

Industry

– The type of business your insured vehicles engage in affects your rates as well. Higher risk industries will mean higher rates.

Amount of vehicles

– The more vehicles you insure, the higher your premium will be.
How to Keep Costs Down
Commercial auto insurance can be much more expensive than personal auto insurance. But there are still ways to reduce your rates as much as possible without sacrificing coverage.
Vet drivers

– Hire only drivers with a clean driving record. Conduct routine drug tests to ensure that staff aren't operating a vehicle while intoxicated. Which can result in penalties and accidents and raise your insurance rates.

Driving trackers

– Companies that employ driving trackers to monitor speed and erratic driving may be eligible for discounts from some insurance carriers. These devices might also have be GPS, allowing you to monitor whether cars are taking unnecessary detours. 

Limit mileage

– In general, your insurance costs decrease the less you drive. You can cut down on mileage with GPS route planning and arranging deliveries according to proximity.

Business use policy

– You might not require a commercial auto insurance plan; in some circumstances, a personal auto insurance plan with a "business pursuits" exclusion will be sufficient. Your rates will be cheaper if the car is more of a personal vehicle with a few business uses.

Bundle your fleet

– If you own more than one company vehicle it is considered a fleet. Bundling insurance for each of the vehicles into one policy can lower your insurance rates. This isn't always an option. Because certain carriers will have a minimum amount of vehicles required for a fleet of cars.
FAQs
What is the difference between commercial and business auto insurance?
The difference between the two is what vehicles the plans cover. Commercial auto insurance covers cars that are driven for specific jobs such as shipping trucks or oil trucks. Whereas business auto covers vehicles that are just for transportation, such as a contractor's truck that he drives from job site to job site. Another difference is the price, commercial auto is typically more expensive since the insured vehicles have higher risks.
Is commercial auto insurance required by law?
Every state, except New Hampshire and Virginia, has a law that says commercial auto insurance is mandatory. Even in states where it's not mandatory drivers can still be responsible for damages.
Do independent contractors need commercial auto insurance?
Commercial auto insurance protects independent contractors if they get into an accident while driving their business vehicle. Regardless if you are self-employed or not almost every state requires for a vehicle owned by a business to have coverage.
What if I buy a policy but then decide I need more coverage?
It's easy to add on more coverage later. You just ask your agent to extend your coverage to the amount you need. This will give you a higher premium once the changes are made though.
Choosing the Best Coverage
Don't make your decision based on price alone when selecting a commercial auto insurance policy. Even if you want to get the lowest price, it's essential to protect your company from the various dangers that can come with operating commercial vehicles.
It's important to get the right insurance policy. One that includes sufficient liability, comprehensive, and collision coverage. Makins sure that it will cover damages to your vehicles and, if necessary, replace them. Additionally, you should purchase rental coverage to prevent a halt in your business operations while your commercial vehicle is in the shop.
Purchasing your commercial auto insurance policy through an EZ agent is the best option. We focus on each individual customer and create a welcoming environment throughout the shopping experience. You'll get immediate results in addition to personalized service. We want to help you make the best decision and save the most money. There is no hassle, no purchase obligation, and no more headaches, and all of our services are completely free. To start call one of our agents today at 877-670-3538.