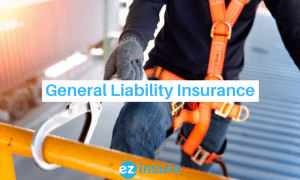 If you're a small business owner, there are multiple types of commercial insurance that you'll need in order to protect your business. For example, general liability insurance is important to have because it covers a wide range of common business hazards. Including customer injury, customer property damage, and advertising injury. In addition, you'll also usually need general liability insurance in order to qualify for a lease, loan, or to satisfy the terms of certain contracts. When you sign a commercial lease, for instance, a landlord can request to see a copy of your insurance certificate.
Jump To:
General Liability Coverage
General liability insurance covers common liability claims made by third parties (people outside your business). If someone sues your business for physical harm, property damage, or advertising injury, this type of commercial insurance policy will pay for the defense costs. This includes everything from hiring a lawyer to paying for court-ordered judgements and settlements. Your commercial general liability (CGL) policy specifically offers protection for:
Third-party bodily injury

– General liability insurance can assist in covering medical costs if a customer is injured in an accident at your place of business. If a customer files a lawsuit because of their injury, your policy will also pay your legal fees.

Third-party property damage

– A general liability insurance policy will generally provide financial coverage in the event that your business or one of your employees unintentionally destroys or damages someone else's property.

Product liability

– Not all consumer or property damage takes place inside of a place of business. A company that produces, sells, or distributes goods may be held liable for any damage their products cause. The damage could be to people or property. Product liability insurance is a common feature of commercial general liability (CGL) policies, and aids in covering legal fees and other financial damages brought on by defective goods, incorrectly labeled products that cause harm to consumers, and other product risks.

Personal and advertising injuries

– General liability insurance can assist in covering the costs of your legal defense, as well as any settlement or judgment that may be reached, in the event that you or your employee is sued for slander, libel, or copyright infringement.
What General Liability Doesn't Cover
On the other hand, there are several things a general liability policy won'tt cover, so you will need to purchase other insurance policies to fully cover your business. The list of things that general liability will not cover includes:
Professional errors – Legal actions arising from professional errors, such as unfulfilled services and missed deadlines, aren't covered by general liability, but should be covered by professional liability insurance, aka errors and omissions insurance (E&O).
Employee injuries – When an employee is hurt at work, their medical bills and disability payments are covered by workers' compensation insurance, not general liability. In most states, any business with employees is required to have workers' comp. For more information on workers' compensation insurance, check out our workers' compensation state-by-state pages.
Lost or damaged property – General liability will not cover lost, stolen, or damaged property, but you can bundle general liability with commercial property insurance in a business owner's policy (BOP) and get coverage for the cost of replacing company property. Commercial property insurance also covers damage to commercial property caused by a fire or specific weather conditions.
Employee discrimination lawsuits

– Employee claims of harassment, discrimination, and wrongful termination will not be covered by general liability but should be covered by employment practices liability insurance (EPLI), which also pays court costs.

Company vehicles – Business use is almost always excluded from personal auto insurance policies. The majority of states mandate that commercial auto insurance be carried on any vehicles owned by businesses.
Liquor Liability

– Legal expenses resulting from situations involving customers who drank at your establishment are covered by liquor liability insurance. This can include reckless driving, physical violence, and vandalism. Businesses that serve alcohol must have this policy. You can either buy it alone or combine it with your general liability policy.
The Benefits of General Liability Coverage
The majority of businesses need this insurance, particularly if they rent or own office or commercial space. And even if that doesn't apply to you, small businesses that interact directly with clients and consumers will also benefit from general liability insurance, since this type of policy can keep your business alive if you're sued by a client or competitor.
And it's not just small business owners who should consider general liability insurance: independent contractors also benefit from general liability coverage. Independent contractors may be held legally responsible for customer accidents, customer property damage, or advertising injuries, just like any other small business owner, even if they don't have a physical site or expensive equipment that would require a full business owner's policy with commercial property insurance.
If you're an independent contractor, you can also ask your clients to add you to their general liability policies as an additional insured if you don't want to buy your own general liability coverage. As long as you continue to work for the client who purchased your insurance, you are covered.
Remember that if your clients add you to their general liability policies, they may pay a higher insurance premium, and that your insurance coverage will terminate when the contract expires.
The Cost of General Liability
According to a recent Hiscox survey, the average monthly cost of a commercial general liability policy is $30. According to the report, only 1% of business owners pay more than $100 each month. And 95% pay less than $50. The cost generally varies based on five factors:
Policy terms

– Your general liability insurance premium is impacted by the policy's coverage limits, deductibles, and other specifics.

Your expenses

– The higher your operating expenses, the higher your premium.

Building size

– Larger structures increase the likelihood of accidents occurring. Therefore, you might pay more if your business is located in a bigger building with higher foot traffic.

Location

– Businesses that are located in high-crime areas may have to pay more for liability insurance.

Claims history

– If you've previously made general liability claims, your premiums can go up. The more claims you've made, the higher your premiums.
Frequently Asked Questions
Does the law require small businesses to have general liability insurance?
Generally speaking, no, but particular businesses, including those in the cannabis and construction industries, may be subject to state mandates. You might also be required to have this type of insurance in order to apply for a professional license in your state, depending on the nature of your business. But it's important to note that, although commercial general liability (CGL) insurance isn't normally required by law, your landlord, mortgage lender, business partners, or clients may nonetheless require it. 
An ACORD certificate of insurance may be requested by a landlord or client to verify your company's general liability insurance coverage. This document attests to your company's capacity to manage any claims for property damage or personal harm. This certificate most importantly gives your property manager, bank, and clients peace of mind that they won't be forced to foot the bill for a lawsuit against your business.
How much coverage do I need?
You'll need to make sure your general liability coverage satisfies the necessary policy limits if you need to comply with the conditions of a contract or lease. In any case, you should aim for a level of coverage that corresponds to your company's needs. Essentially, if you want to be sure that your coverage will cover legal expenses if you are sued. To evaluate your exposures and risk of financial loss, take into account the size of your business, the number of employees, and its business processes.
To give you a better idea of specific figures, most businesses choose a policy limitation of $1 million per incident and $2 million total. This means that the policy will pay up to $1 million to cover a single claim, with a lifetime (usually annual) limit of $2 million. With commercial umbrella insurance, you can expand your general liability insurance coverage if your company faces significant risks. And with umbrella insurance, your maximum policy limit is higher, allowing your insurance carrier to cover more expensive claims. With all that being said, you also need to make sure you can easily afford the deductible for your policy. In an emergency, your insurance won't kick in to pay for your liability claim if you can't afford to meet your deductible.
What differentiates general liability insurance from professional liability insurance?
Customer injuries, customer property damage, and advertising injuries are all covered by general liability. Disputes over the quality of professional services are covered by professional liability insurance. Almost all businesses require general liability insurance. But those that offer professional services require additional security against errors and dissatisfied customers. This includes professionals like accountants, attorneys, consultants, and insurance agents. All of which who can avoid costly lawsuits relating to the quality of their work thanks to this professional liability insurance.
Libel, slander, and other advertising-related injuries are not covered by general liability insurance for particular professions. Such as those in the media and advertising. Instead, these businesses need professional liability insurance, specifically media liability insurance.
What types of businesses benefit from general liability?
The following business categories frequently purchase general liability insurance:
Small businesses/shops

Landscaping businesses

IT consultants

Real estate agents

Consultants

Marketing companies

Cleaning services

Independent contractors
Why Your Business Should Have General Liability Coverage
Without general liability insurance, dealing with judgements, settlements, and legal costs can be exceedingly expensive and can bring a company to its knees. Consider this: just an hour with a lawyer can cost more than $100. Additionally, court costs could approach $75,000 if the case goes to trial. But you might still have to shell out a few thousand dollars even if the judge dismissed the case.
Your business runs the risk of going bankrupt if you don't have general liability insurance. Additionally, if you don't have general liability insurance, you can lose clients. Since they won't do business with you without the proper protections.
Working with an EZ agent is the best way to buy your general liability policy. Our service focuses on each customer and creates a supportive environment throughout the shopping experience. Along with our personalized service, we provide immediate results. You will see your agent's info. As well as your free quotes based on your needs, as soon as you submit your form. We want to help you make the best decision and maximize your savings. There is no hassle, no obligation to buy, and no more headaches, and it's all completely free. To get started call one of our agents today at 877-670-3538.