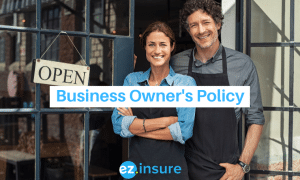 If you're a small business owner, you'll need multiple types of commercial insurance to protect your business. But there are ways to simplify things: for example, you can purchase a business owner's policy. A business owner's policy (BOP) is an insurance package that combines two (or more) essential types of insurance, commercial property and general liability. 
A BOP is a great choice for small business owners.  Purchasing these two types of policies separately typically costs more than purchasing a business owner's policy. And beyond the financial security that a BOP will give you, you'll also get more leverage with landlords and important clients, since they'll know that a lawsuit won't force you out of business. They'll have more faith in your longevity if you can produce proof of insurance. 
There are some things you should know about these types of policies, but importantly, know that they are easy to purchase. Just talk to an EZ agent!
Jump To:
How a Business Owner's Policy Works
As pointed out above, a business owner's policy is basically a bundle of two types of commercial insurance: general liability and commercial property insurance. A BOP will cover you for any claims that would fall under those two types of policies and protect your business from losses. This type of policy covers a number of significant legal hazards your small business might experience in one easy package.
The first line of protection for a small business owner is general liability insurance, which business owner's policies always include. General liability covers things such as:
Third-party bodily injuries

– If the public frequently visits your business, you'll need to be protected against claims of bodily injury, since you are responsible if someone slips and falls or is hurt while on your property. A business owner's policy will cover the legal fees and other costs associated with the claims made against you if any accidents occur at your place of business.

Third-party property damage

– You are liable for the expense of repairing or replacing any damage If you or one of your employees causes damage to another person's property. These expenses will also be covered by your business owner's policy.

Product liability claims

– Your business can be held legally responsible for any harm that your products cause to other people or their property. A business owner's policy will offer a financial safety net if your business sells or manufactures physical products.

Advertising injuries

– You could face legal repercussions if you or a member of your staff slanders a third party, violates a company's copyright, or engages in other types of libel. Your legal representation, as well as any court settlements or awards, will be covered by your business owner's policy.
Any small business owner who doesn't have general liability insurance is taking a chance: any lawsuit you face could make a huge dent in your profits, or even bankrupt you. You might even need to have this type of insurance: when you sign a contract or apply for a small business loan, you could be required to provide evidence of liability insurance.
Commercial Property Insurance
The other major type of policy bundled into a BOP is commercial property insurance. This coverage offers financial assistance in the event that your facility or commercial property sustains damage or loss. Typically, this policy covers fire, theft, vandalism, and various weather-related incidents. 
You would be responsible for paying for these damages out-of-pocket without commercial property insurance, or a business owner's policy. Your insurance policy will cover the costs of repairs, the replacement of any broken equipment, and assist in the recovery of your business.
Commercial property insurance is a necessity for any company that owns or rents commercial real estate. Typically, landlords anticipate that their tenants will be covered by their own commercial property insurance. This insurance is also a must if you produce goods, hold stock, or keep equipment.
Business Interruption Insurance
You can also add business interruption insurance to your BOP bundle. This type of policy covers losses that arise as a result of your company temporarily slowing down or ceasing operations due to theft, vandalism, or another insured event.
Every business with recurring expenses like payroll should consider purchasing a BOP that includes business interruption insurance. Business interruption insurance will assist you in keeping up with your obligations if your company is unable to generate revenue for a period of time.
Additional Coverages
In addition to the major types of coverage described above, there are numerous extra coverages that can be added to a BOP that might be right for your specific business. For instance, a small business will frequently benefit from the following endorsements:
Employee Dishonesty

– Hopefully all of your employees will be trustworthy and honest, but this isn't always the case. Employee dishonesty coverage will cover claims made by a customer if your employee steals from them.

Money and Securities

– There is a chance that cash will be stolen, either on or off the premises, from your business. With this endorsement, your business will be compensated up to the insured amount.

Business Expense Income and Extra Expense

– This add-on covers the loss of revenue and additional expenses that arise if a small business relocates due to structural damage brought on by a covered hazard.

Equipment Breakdown

– Most businesses rely on equipment like pricey HVAC systems to maintain a comfortable environment for clients and staff. Your equipment breakdown insurance will cover the pricey repairs or replacement if these systems malfunction.
Each of the above endorsement's prices are determined by your insurance company. And will either be a flat rate premium or a percentage of the policy premium. Additionally, the cost of these endorsements is determined by the limitations of coverage for each individual policy. It's also important to remember that an endorsement normally cannot cover things like vehicle insurance, workers' compensation, or floods, which are covered by other policies.
Depending on your business, you may need to purchase other insurance policies that BOPs generally don't include. This can include: 
Workers' compensation insurance

– Workers' compensation insurance will cover medical bills and lost wages for employees who get injured or fall ill on the job.

Professional liability insurance

– Professional liability insurance, often called errors and omissions insurance, will protect you from accusations of negligent behavior or mistakes made by you or your employees when rendering your professional services. 

Commercial auto insurance

– Commercial auto insurance is yet another important policy for companies that use cars and trucks in their everyday dealings. This policy will cover you if an employee is held accountable for a car accident.

Data breach coverage – Data breach insurance, also known as cyber liability insurance, can assist in covering costs incurred as a result of a data breach. These costs can include alerting impacted parties, engaging credit monitoring services where necessary, and public relations. If your company handles or stores confidential patient, employee, or customer information, this type of coverage is crucial.
Liquor liability

–

Businesses that sell, serve, or distribute alcohol are protected by liquor liability insurance. This kind of commercial insurance might assist in paying for claims of physical harm or property damage done by someone who has been served alcohol by your business.

Flood/earthquake coverage –

This coverage will cover losses associated with natural disasters such as floods or earthquakes. These policies are generally sold separately. This is because not all areas need both.
Which Types of Businesses Should Consider BOPs?
Businesses must typically meet requirements for both annual income and total number of employees in order to be eligible for a BOP. Here are a few examples of the types of companies that typically purchase a business owner's policy:
Self-storage facilities (storages facilities that offer outdoor vehicle storage are not eligible)

Retail, grocery, and convenience stores

Apartment buildings

Gas stations

Small office buildings (typically with less than 6 stories)

Small motels (typically with less than 3 stories)

Wholesalers

Contractors (though there are many restrictions, like yearly payroll caps and building size)
Additionally, very small businesses, typically those with less than 4 employees, may qualify for what's known as a micro-BOP. These policies are severely limited and usually only cover property loss. These policies are also not available through every carrier.
Eligibility Requirements
Not everyone needs a business owner's policy. Many insurers disqualify larger organizations from being eligible for a BOP plan. This is because they are more likely to find more comprehensive protection for their needs through other policy types. Additionally, BOP eligibility and the underwriting process may differ between insurance carriers. The majority of qualified businesses generally:
Operate in a low-risk industry

Do business anywhere besides the business owner's home

Have less than 100 employees

Generate less than $1million dollars in annual revenue 

Operate out of a smaller space

Conduct business primarily on-site
How Much Does a Business Owner's Policy Cost?
The cost of a BOP generally varies depending on your business's underwriting factors and any additional coverages needed. With that being said, the typical annual premium for a business owner's policy is $1200. But the cost can range from $500 to $3500. Your specific coverage limits, industry, claim history, amount of employees, total annual revenue, and building, contents, and equipment replacement costs are all factors that determine the cost of your BOP. 
Coverage Limits
Your BOP's coverage limits have a direct effect on the price of your premiums. Many small businesses buy a BOP with a coverage limit of $1,000,000/$2,000,000. Meaning that over the course of the policy, the insurer will offer $2 million in total coverage and $1 million in coverage per claim per year. But there are BOPs available that come with limits starting at $300,000/$600,000 and going all the way up to $2 million/$4 million. Depending on your insurer, larger limits might also be available.
Industry
Industries with higher risk factors will have to pay a higher premium.
Property value and type
The price of the commercial property insurance element of your BOP will vary based on the type and value of the assets you're covering. The cost will increase in direct proportion to the value and difficulty of replacing your property.
Location, size, and age of your business
Costs will also vary depending on your business's location and length of operation. In general, premiums for newer enterprises are higher. In addition, you are more exposed to risk and more likely to spend more for a BOP the more employees you have.
Claims history
When providing you with a quote for a premium, insurers pay close attention to your claims history. If you have previously made a lot of claims related to your business operations, you will likely pay higher premiums.
FAQs
Is a Business Owners Policy required by law?
A BOP is made up of two types of insurance: general liability and business property insurance. There is no law requiring either one. However, a lot of commercial landlords will require you to buy commercial property insurance aka business renter's insurance. Before you're allowed to sign a lease your landlord might need to see proof of this coverage. Additionally most of your client's contracts might also require you to have general liability insurance. So to meet either of those needs you still need to have both of these plans and the easiest way to get both in one go is with a BOP.
Does a Business Owners Policy cover independent contractors?
A BOP usually only covers you and your employees, independent contractors are typically not considered your employees. You can add contractors as temporary additional insured on your policy, or you can even require them to buy their own general liability insurance in their contract.
Is a Business Owners Policy right for me?
If you own a small business that makes less than $1million a year, you might benefit from a BOP. A BOP is a great way to protect your business with the basic insurance coverage. It helps keep your business running and protects you from potential financial disaster in case of an emergency.
How to Buy a Business Owner's Policy
Ask your current insurer if they offer a business owner's policy if you currently have general liability insurance, property insurance, or another type of commercial policy through them. You could end up paying less by bundling your policies with them.
Various insurance companies offer business owner's policies, so it might feel overwhelming to do all the research. And that's where EZ comes in. We can help you compare policies from the top insurers in the nation. Our highly trained agents can save you hundreds of dollars a year by working with your budget to get you the policy your business needs. To get started give one of our agents a call at 877-670-3538.