Do you really love spending money? Ok, that's kind of a silly question! The answer is almost surely no, and that might be why you're holding back on getting the health insurance you need. But we think it's more likely that you don't realize all of the benefits of health insurance and how much it can really save you. 
In that case, let us tell you that you'll probably be surprised to find that having the right health insurance can save you hundreds to thousands of dollars a year. Of course, exactly how much you'll save depends on things like where you live, your household size, and your general health. But regardless of the variables, you're wasting money when you choose to skip health insurance, not to mention that having a plan can also help you get and stay healthy. Let us show you some of the savings and health benefits you could be missing out on. 
Jump To:
Health Benefits
Above all, the biggest benefits of health insurance is access to the healthcare you need. Health insurance gives you access to an entire network of doctors, specialists, hospitals, and labs. This network works with you, and with each other, to help you focus on prevention and wellness. In fact, the majority of healthcare plans cover free preventative services, including various immunizations and tests, to help you stay healthy and avoid illnesses and their repercussions.
And due to the Affordable Care Act, Marketplace plans are required to cover pre-existing conditions. This means that even if you already have a diagnosis, you can receive care without being denied coverage or charged extra solely because of your pre-existing condition. So your healthcare plan will also help you manage your care for any chronic illnesses that you are living with, since you'll have regular access to the doctors and specialists you need. 
Your health insurance gives you all of the best ways to stay on top of your health. Essentially, having access to this kind of continuous care can lead to a longer and healthier life. In fact, according to the National Library of Medicine, adults between 17 and 64 without health insurance had a mortality rate 40% higher than those with insurance!
Financial Benefits
Health insurance doesn't just protect your health, it also protects your finances. You'll be spending less out-of-pocket for your healthcare with an insurance plan, since your insurance will cover your medical services for the price of a monthly premium. You'll also stay healthier, which will also keep your out-of-pocket expenses lower. And just think of how much you'd spending out-of-pocket for an unexpected medical crisis, which could easily end up costing thousands of dollars.
We get it: if you're young and healthy, you may assume you don't need health insurance, or that you won't use it. While being healthy is great, maintaining that good health throughout your life is the goal here. And unfortunately, disease and accidents are not things you can predict. Without health insurance, you are entirely responsible for every medical expense you have. Which can pose a significant risk to your financial stability.
Let's take the cost of a broken arm, for example. With a simple break that doesn't require surgery you'll be spending around $2,500 without insurance. Moreover, if you need surgery, that price jumps to around $16,000. But with health insurance, you'd only pay a fraction of that, depending on your plan's metal tier. Let's look at how much you'd pay in this hypothetical situation with each type of plan:
Bronze

– This type of plan covers 60% of your bill, meaning you'd have to pay 40%, or $1,000 without surgery, and $6,400 with surgery. This would save you between $1,500 and $9,600.

Silver

– Silver plans cover 70% of your bill. So if you had to cover 30%, you'd pay $750 without surgery, and $4,800 with, saving you between $1,750 and $11,200.

Gold

– Gold plans cover 80%. You're responsible for 20%, meaning you'd pay $500 without surgery and $3,200 with surgery, so you'd save between $2,000 and $12,800.
Even when you factor in your monthly premium, that's still a huge savings. And that's just for a broken arm! Health insurance has an even higher impact on more serious illnesses and accidents. For example, a three-day hospital stay can easily cost around $30,000, which would be unaffordable for most uninsured individuals.
Health insurance will also help you save money on medications. The majority of insurance policies cover prescription medications. Making them affordable for millions of individuals, since nearly 45% of Americans rely on prescription medications in one way or another. And because many of these medications manage or slow down the progression of a disease, your health insurance will continue to help you avoid medical complications and hospital stays that can get expensive.
How Much Can You Save? 
To illustrate how much you can save by having health insurance, we have some more estimated comparisons below, showing how much certain medical situations can typically cost with and without health insurance. This will give you an idea of how much you could be spending if you don't have coverage.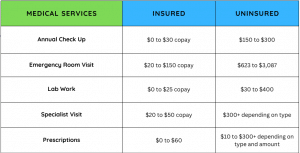 Although, these figures all vary depending on where you live, what specific services you need, and what kind of coverage you do or don't have. But it's clear that having insurance keeps your expenses down, especially in the case of an emergency. As they say, "better safe than sorry"!
There's Help!
Health insurance should be accessible to everyone. And there are actually ways for you to get the healthcare you require, even if you are having financial difficulties. For example, there are subsidies available to assist you if you have a lower to moderate income.
Insurance Subsidies
A subsidy is essentially a discount on health insurance. There are two different types of subsidies for plans offered on the Health Insurance Marketplace that you may qualify for: 
Premium tax credits

– Overall, these subsidies, which are sent directly to your insurance carrier, help reduce your monthly premium and set a maximum amount for how much you can be charged for health insurance. Additionally, these credits depend on your income: the lower your income the higher your credit.

Cost-sharing reductions

– Deductibles, copayments, and coinsurance are all forms of insurance cost-sharing. Since these types of payments mean you pay some of the bill and your insurance pays some of it. So, if you qualify for a cost-sharing reduction you'll be spending less on your out-of-pocket-maximum, deductibles, coinsurance, and copays.
Insurance Agents
There's another way to save money when it comes to health insurance: working with an EZ agent! Working with an EZ agent can save you hundreds of dollars every year on health insurance. We can compare every health insurance plan that is available to you both on and off the Health Insurance Marketplace.  We will take your financial situation into account and find plans that fit into your budget. Additionally, we can find out if you qualify for any subsidies or government programs. Then apply them to your plan for you. This way you get all of the benefits and none of the hassle.
Benefits of Your Peace of Mind
Having health insurance also gives you peace of mind. Knowing that you won't be caught in a financially draining medical emergency. You'll also know that if you're not feeling well, you can go see your doctor and get care without worrying about a huge bill. 
Additionally, if you purchase a Marketplace plan during the Open Enrollment Period (OEP) you will have the extra protections of an ACA-compliant plan. Additionally, ACA-compliant plans have to offer coverage for the "10 essential benefits":
Ambulatory patient services (outpatient services)

Emergency services

Maternity and newborn care

Mental health and substance use disorder services, including behavioral health treatment

Prescription drugs

Rehabilitative and habilitative services (those that help patients acquire, maintain, or improve skills necessary for daily functioning) and devices

Laboratory services

Preventive and wellness services and chronic disease management

Pediatric services, including oral and vision care
These protections also mean that you are guaranteed coverage for all of your basic needs at an affordable price. The insurance companies that offer Marketplace plans are also not allowed to deny you due to pre-existing conditions. Which means even if you have a diagnosis prior to enrollment, you'll be spending the same amount for the same coverage as someone without any pre-existing conditions.
The Value of These Benefits
While health insurance might seem expensive, it's important to look at the value of a plan. And how much you'll save in the long run. If you break down the overall price of health insurance versus not having a plan and facing a medical emergency, it definitely pays to have the protection. Medical emergencies can bankrupt a family – and that is the last thing you'll want to worry about in that situation! Knowing that your loved ones are protected, and can seek care instead of trying to "ride it out" because they don't have insurance is 100% worth it.