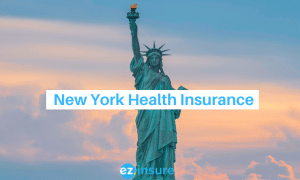 There are numerous reasonably priced health insurance options in New York for you to choose from. The majority of the plans available in your state will allow for the addition of dental and vision insurance. The lowest-priced health insurance plans start at $520 per month, dental add-ons at $52 per month, and vision plans at $7 per month. Rates and coverage depend on your age, region, household size, and other circumstances, but a full-coverage health insurance plan will cost people on average $710 a month. But some residents of New York are eligible for free plans!
Jump To:
New York Health Insurance Companies
There are over a dozen insurance companies to choose from in New York. These are some of the most popular options in your state:
Fidelis Care
If you need inexpensive health insurance in New York, and you are eligible for Medicare or Medicaid, Fidelis Care might have a suitable plan option for you.
With nearly no out-of-pocket expenses, Fidelis Care's Dual Advantage plan assists policyholders in seamlessly bridging the Medicaid and Medicare coverage gaps. Because of this, it's a great option for anyone who has a disability or relies on a fixed income.
Fidelis Care is also a popular option for cheap health insurance in New York because it also provides some of the most affordable private plan options in the state.
Univera Healthcare
Univera Healthcare, which offers individual, family, and Medicare plans, is another excellent choice for affordable health insurance policies in New York.
The Essentials plan from Univera Healthcare has monthly costs as low as $0 and offers additional deductible discounts to low-income families.
No matter where you are in New York, Univera Healthcare has plans available. Additionally, free preventative care, including vaccinations, exams, and screenings, is included with every Univera plan.
EmblemHealth
EmblemHealth offers high-quality, reasonably priced health plans, practical neighborhood resources, and online tools that can support your ongoing good health. They offer private health insurance plans, Medicare Advantage, Medicaid, Medicare Supplement Plans, group plans, and even labor union plans. Their large variety of plan types and prices gives you plenty of options to choose from.
Health Insurance Marketplace in New York
If you're looking for health insurance in New York, the health insurance Marketplace is a great place to start. Marketplace health insurance, which was created by the Affordable Care Act, offers certain consumer protections, guarantees coverage for pre-existing conditions, and includes coverage for what are known as the "10 essential health benefits":
Ambulatory patient services (outpatient care)

Emergency services

Pregnancy, maternity, and newborn care (both before and after birth)

Mental health and substance use disorder services, including behavioral health treatment (including counseling and psychotherapy)

Prescription drugs

Rehabilitative and habilitative services and devices

Laboratory services

Preventive and wellness services and chronic disease management

Pediatric services, including oral and vision care (but adult dental and vision coverage aren't essential health benefits)
The ACA-compliant plans offered on the Marketplace are divided into different types, known as metal tiers: Bronze, Silver, and Gold. These tiers do not signal a difference in quality of care, though. The tiers differ in your out-of-pocket costs versus what your plan covers. 
It's important to remember that the Marketplace only offers the plans of participating providers. So unfortunately, while the Marketplace is a great tool, you may not be able to compare every plan available to you.
Whether you want a Marketplace plan, or a plan from a private insurer, an EZ agent can help. We work with all carriers in your state in order to compare all options available.
Over half of the uninsured in New York who qualify for Marketplace insurance coverage could get a Bronze plan for FREE.
If you've missed the health insurance Open Enrollment Period (OEP), or if you need health insurance for a short amount of time, short-term plans are a great option. It's important to note, though, that these policies tend to only cover the basics, and you can be denied one of these plans if you have a pre-existing condition. 
There are some rules around short-term plans, both at the federal and the state level. Some states choose to have their own guidelines separate from federal guidelines, or not offer short-term plans at all. New York is one of the few states that have banned the sale of short-term plans. The large variety of other health insurance plans available in the state make up for this though, so don't worry – you can still find plenty of coverage.
New York Health Insurance Resources
There is no perfect approach to finding the right health insurance for you, but if you are aware of your options, you can find the right plan for you and your family without going over budget. You can look into a range of resources to help make your decision.
One excellent resource for affordable health insurance could actually be your employer. While employers in New York are not required to offer their employees' health insurance, the majority of employers do. Talk to your employer about signing up for a group plan, since these plans are frequently less expensive than individual plans. It's important to note, though, that options or coverage can be limited with group plans.
Programs funded by the government are another option that are worth looking into to see if you might be eligible. The low-cost programs offered by Medicare are available to residents 65 and over, as well as adults of any age with specific disabilities. Families and individuals with low incomes may be eligible for free or very low-cost coverage through the Medicaid program. You must, though, meet certain requirements in order to be qualified for these programs.
Finally, the best resource available to you is an insurance agent. Speaking to an EZ agent is your best option if you want to ensure that you make the right decision. We will evaluate all of your options and even see if you are eligible for any assistance programs. Working with us will ensure that you find policies that are affordable and still have the coverage you need.
Get free instant quotes by entering your zip code in the bar below. No hassle. No obligations.
How to Get the Most Savings
New York is one of the states with the most expensive healthcare in the country. It ranks 11th among the 50 states in terms of the amount spent on healthcare per capita, with an average annual cost of healthcare of $13,012. There are many strategies you can employ to lower your health insurance costs, though.
One thing you can do is take care of your health and maintain a healthy weight. Health insurance providers evaluate your risks after taking into account your physical condition, and your body mass index (BMI) plays a significant part in this. In New York, 27.1% of adults are obese, so if you are among this group, you might end up paying more for your health insurance. 
You can also look after your health in other ways, like avoiding tobacco use, since smoking and using other forms of tobacco is a red flag for insurance companies. 10% of adults in New York smoke, so if you're among them, you could be paying up to 50% more for your premiums than a nonsmoker would.
But working with an agent is still the simplest way to save money on your health insurance. By working with an EZ agent, you can actually save hundreds of dollars every year. How do we do it? We can look for all of the plans in your area that are within your price range, as well as find any available local discounts. And we charge nothing for any of our services!
New York Health Insurance FAQS
Does New York require you to have health insurance?
New York defers to the ACA when it comes to health insurance mandates and tax penalties. That means you are not required to have coverage in your state, since there is no longer a federal mandate.  
What is the cheapest health insurance in New York?
The cheapest health plan will be a Bronze plan, which can start as low as $520 a month. Remember, though, health insurance plan prices can vary depending on age, zip code, gender, and other factors. 
How much does health insurance cost in New York?
The average monthly premium for health insurance in New York is $710, or $8,520 per year, with plans as low as $520 a month to as high as $2,100.
Which insurance companies offer plans in New York?
The top 12 insurers in New York are Capital District Physicians' Health Plan, Emblem, Excellus Health Plan, Fidelis, Healthfirst PHSP, Health Plus HP, Highmark Western and Northeastern New York, Independent Health Benefits Corporation, Metro Plus Health Plan, MVP Health Plan, Oscar, and UnitedHealthcare of New York.
How to Enroll in Health Insurance in New York
There are various ways to enroll in a health insurance plan. You have the option of contacting your chosen insurance company directly, or you can enroll in your employer's group plan, if they offer one. Using the New York State of Health exchange is another option. This is the state-run health insurance Marketplace, where you can shop and compare plans from participating insurers. Not all insurers participate in the exchange, though, so it's a good idea to talk to an agent, who can show you every available plan in your area. 
EZ is here to help, no matter how you wish to enroll. To ensure you have access to all of your options, we will first compare all plans, including those offered outside of the exchange. After reviewing all the data, you submit, we will assess each of those possibilities and assist you in choosing the best one. Then our agent can walk you through the enrollment process step-by-step, to get you covered as quickly and easily as possible. 
If you still have questions, feel free to give us a call at 877-670-3557. When you call, you will be directly connected to a local insurance agent who can answer all of your questions and help you find the health insurance plan that works best for you.
Looking For A Different Type Of Insurance In New York?