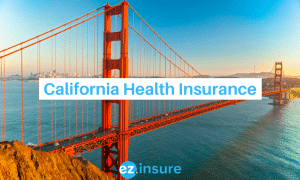 There are plenty of affordable health insurance plans available in California that will fit your needs. Finding affordable coverage in your state is easy, since plans for California residents start as low as $275 a month. You can also add a dental or vision plan to supplement your policy, as well. Dental add-ons start at $60 a month and as low as $11 a month for vision. Generally, residents of California can expect to pay around $487 a month for a full-coverage health insurance plan, and some might even find that they're eligible for free plans! Keep in mind your coverage and rates are dependent on your age, gender, household size, and more, but EZ can help you find the best plan for you.
Jump To:
There are around 12 companies in California that provide private health insurance. Here's a list of the top 5:
Anthem Blue Cross of California
Anthem insures 8.3 Californians, more than any other insurance company in the state. They offer Bronze, Silver, and Gold insurance plans. Additionally, they also offer:
Benefits – A healthcare portfolio with an educational site for small business owners

Dental, vision, life, and disability insurance policies

360 Health Management Program – A program with tools and resources to help policyholders take charge of their health
Blue Shield of California 
Blue Shield of California was actually the first company in the country to offer coverage for preexisting conditions, all the way back in 1943, long before the Affordable Care Act (ACA) required insurers to do so. And their HMO policy holders have access to a network of 29,700 doctors, and their PPO network includes access to 49,700 doctors. Both have over 300 hospitals in their networks.
Kaiser Permanente
Kaiser is made up of several health groups, Kaiser Foundation Health Plans, Kaiser Foundation Hospitals, and the Permanente Medical Groups, making them the largest nonprofit healthcare organization in the country. And they don't just serve California, they offer plans in 9 states!
Their full-coverage plans offer coverage for such vital services as:
Preventive care

Well-baby and prenatal care

Immunizations

Emergency care

Screening diagnostics

Hospital and medical services

Pharmacy services
Sharp Health Plan
Sharp is available in San Diego and southern Riverside counties. They offer individuals, families, and businesses a range of health insurance choices that offer high-quality healthcare and personalized service. Members have access to beneficial plan upgrades like Sharp Nurse Connection, dental discounts, interactive wellness initiatives, and their specialized international emergency services program.
Sutter Health Plus
Sutter Health Plus offers HMO health plans with a range of options designed to meet the needs and fit the budgets of their customers. They offer plans with no or low deductibles, as well as high deductible health plans (HDHPs) that are health savings account (HSA)-compatible. Among other things, their plans include coverage for hospitalization, outpatient care, prescription drugs, and preventive services with no out-of-pocket expenses. Dental, vision, acupuncture, chiropractic, and infertility services can also be covered as optional benefits.
Sutter Health Plus offers coverage in Alameda, Contra Costa, Sacramento, San Francisco, San Joaquin, San Mateo, Santa Cruz, Solano, and Stanislaus. They also offer coverage in El Dorado, Placer, Santa Clara, Sonoma, Sutter, and Yolo but only in some zip codes, so make sure to check their service area maps for details.
Health Insurance Marketplace in California
If you're looking for a quality, affordable healthcare plan in California, you can look to Marketplace health insurance, which was created by the Affordable Care Act. Marketplace plans offer certain consumer protections, guarantee coverage for pre-existing conditions, and include coverage for the "10 essential health benefits":
Ambulatory patient services (outpatient care)

Emergency services

Pregnancy, maternity, and newborn care (both before and after birth)

Mental health and substance use disorder services, including behavioral health treatment (including counseling and psychotherapy)

Prescription drugs

Rehabilitative and habilitative services and devices

Laboratory services

Preventive and wellness services and chronic disease management

Pediatric services, including oral and vision care (but adult dental and vision coverage aren't essential health benefits)
With all of the options available for residents, finding health insurance in California is no problem. To help you navigate all of these options, EZ's agents will compare all available plans and give you all the guidance you need for free!
Over half of the uninsured in California who qualify for Marketplace insurance coverage could get a Bronze plan for FREE.
In some states, short-term health insurance plans are available to fill the gap if you can't get traditional insurance (for example, if you've missed the health insurance Open Enrollment Period). Federal laws regulate short term health insurance, but states can also decide on their guidelines surrounding them. California has chosen not to offer these plans. In fact, they banned the sale of them in 2019, and so it's illegal for insurers to offer them in California.
California Health Insurance Options
As stated above, California offers a wide range of healthcare coverage options, from public programs like Medicare and Medi-Cal, managed-care health plans (HMOs), and other types of individual health insurance. Each of them adheres to their own set of rules, and each is supervised by various governmental organizations.
Individual policies – An individual policy is a plan you purchase on your own instead of going through an employer. These plans can be purchased from any of the companies listed above. You can get coverage for only yourself or add members of your family to the plan. 
Medi-Cal – This is California's version of the federal Medicaid program. Low-income residents, including families and individuals, are typically covered by this program. And the majority of managed-care organizations that offer Medi-Cal provide coverage for a variety of medical procedures. Such as doctor visits, and other healthcare-related services. Medi-Cal is a free program if you qualify for its benefits.
Medi-Cal Access Program (MCAP) – This program offers low-cost coverage to middle-income pregnant women. To qualify you must be pregnant, a resident of California, not be receiving free Medi-Cal or Medicare, and meet certain income requirements.
Covered California – This is California's health insurance Marketplace, where you can shop for state-run exchange plans. The ACA required states to provide residents with a Marketplace where they could shop for plans; some states default to the federal Health Insurance Marketplace, but California has created its own.
Get free instant quotes by entering your zip code in the bar below. No hassle. No obligations.
How to Get the Most Savings
California is one of the cheaper states when it comes to healthcare. In fact, they rank 33 out of 50 on the list of most expensive healthcare per capita, with the average cost of health care for an individual at $9,665 a year. But there are still things you can do to save money on your health insurance. 
The best place to start is your health. For example, keeping your BMI in a healthy range can help ensure you get the best prices on health insurance. Tobacco use is another factor that affects health insurance premiums. Smokers might find that their health insurance premiums can be up to 50% more expensive than those of non-smokers. 
But the quickest way to ensure you find the most savings is by working with a trained agent. EZ agents specialize in helping you find plans that fit your budget, as well as any local discounts available. You can even save hundreds of dollars a year by working with an EZ agent! All of our services are free and there's no obligation to buy.
California Health Insurance FAQS
Does California require you to have health insurance?
California is one of a handful of states that adopted a state mandate in the wake of Congress lifting the federal tax penalties for people without coverage. As of January 1, 2020, California residents must have qualified health insurance or pay a state tax penalty.
What is the cheapest health insurance in California?
The cheapest health plan will most likely be a Bronze plan, which can start as low as $275 a month. Remember, though, that health insurance plan prices can vary depending on age, zip code, gender, and other factors.
How much does health insurance cost in California?
The average monthly premium for health insurance is $487, or $5,844 per year, with plans costing as low as $275 a month to as high as $1,178. But do not let these numbers scare you. More than half of uninsured people in California qualify for a $0 Bronze plan and don't even know it.
Which insurance companies operate in California?
The 12 insurers that offer coverage in California are Anthem Blue Cross of California, Bright HealthCare, Blue Shield of California, Chinese Community Health Plan, Health Net of California, Kaiser, L.A. Care Health Plan, Molina Healthcare of California, Oscar Health Plan of California, Sharp Health Plan, Valley Health Plan, and Western Health Advantage.
How to Enroll in Health Insurance in California
With all of the healthcare options available to California residents, enrolling in a plan doesn't have to be difficult. You can sign up for an employer-sponsored plan if one is offered to you, purchase a policy on your own, or use Covered California. 
No matter how you choose to do it, enrolling is made easier by using an agent. An EZ agent can help guide you through the process. We will take all of your medical and financial needs into account, along with any possible subsidies you may qualify for. Once we have the full picture, we can go over your options with you within minutes and steer you towards the best plan for you.
If you still have questions, feel free to give us a call at 877-670-3557. When you call, you will be directly connected to a local insurance agent who can answer all of your questions and help you find the health insurance plan that works best for you.
Looking For A Different Type Of Insurance In California?