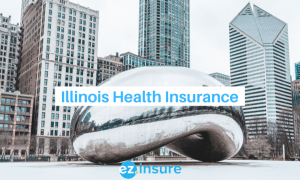 There are plenty of affordable health insurance plans available in Illinois. On average it costs $507 a month for a full-coverage health insurance plan if you live in Idaho, but rates start as low at $335 a month with dental and vision add-ons available, as well. Dental plans start around $52 a month and vision start as low as $16! Of course, rates and coverage all vary depending on things like your age, gender, and household size, among other factors. And some residents will even find that you qualify for certain plans free of charge.
Jump To:
Illinois Health Insurance Companies
There are around 13 different companies that offer health insurance in Illinois. Here's a look at some of the most popular ones:
Aetna
Aetna is one of the top health insurance carriers in the state. They offer a few types of plans:
HMOs

– HMO plans are generally the least expensive kind of health insurance. They have affordable rates, low- to no deductibles, and set copays for doctor visits. When enrolling in an HMO, you will have to choose a primary care physician from their network and will usually need a referral to see other in-network specialists.

But Aetna does offer an Open Access HMO plan that offers policyholders more freedom. You can choose from any doctor in their network for covered services without a referral. The benefits of these plans also include no deductible, full coverage for in-network preventive care, and basic dental. They even have vision benefits, like reimbursement for eyewear every 2 years.
CDHP – A consumer driven health plan, or CDHP, gives members more control over how their money is spent towards their healthcare needs. With this type of plan, you will get an annual medical fund of either $1000 for an individual or $2000 for a family, as well as a dental fund of $300 for yourself and $600 for your family, to pay for your medical expenses. These funds roll over each year, up to $5,000 for individuals or $10,000 for families. 
QCHP – Members of a Quality Care Health Plan (QCHP) are free to select any doctor or facility for their medical care but enjoy more benefits and fewer out-of-pocket expenses when using QCHP in-network providers. Through Aetna PPO, QCHP members have access to a global provider network.
Assurant
Assurant provides health insurance for individuals, families, and employers in Illinois. Customers who qualify for subsidies can receive comprehensive plan options from this insurer, which also has a large provider network.
BlueCross BlueShield of Illinois
The biggest health insurer in Illinois is BlueCross BlueShield of Illinois, which provides over 7 million members with group and individual health insurance, managed-care products, Medicare Supplement Plans, and prescription drug coverage. Over 91% of Illinois' primary care physicians, over 92% of its hospitals, and over 87% of its specialists are part of the BCBSIL network.
Health Insurance Marketplace in Illinois
If you're looking for health insurance in Illinois, a great place to start is the health insurance Marketplace. Marketplace health insurance, which was created by the Affordable Care Act, offers certain consumer protections, guarantees coverage for pre-existing conditions, and includes what are known as the "10 essential health benefits":
Ambulatory patient services (outpatient care)

Emergency services

Pregnancy, maternity, and newborn care (both before and after birth)

Mental health and substance use disorder services, including behavioral health treatment (including counseling and psychotherapy)

Prescription drugs

Rehabilitative and habilitative services and devices

Laboratory services

Preventive and wellness services and chronic disease management

Pediatric services, including oral and vision care (but adult dental and vision coverage aren't essential health benefits)
Each of the ACA-compliant plans offered on the Marketplace are divided into different levels, known as metal tiers: Bronze, Silver, and Gold. These tiers do not signal a difference in quality of care, though. The tiers differ in your out-of-pocket costs versus what your plan covers. 
It's important to remember that the Marketplace only offers the plans of participating providers. So unfortunately, while the Marketplace is a great tool, you may not be able to compare every plan available to you.
Whether you want a Marketplace plan, or a plan from a private insurer, an EZ agent can help. We work with all carriers in your state in order to compare all options available.
Over half of the uninsured in Illinois who qualify for Marketplace insurance coverage could get a Bronze plan for FREE.
If you've missed the health insurance Open Enrollment Period (OEP) or need health insurance for a short amount of time, short-term plans are a great option. It's important to note, though, that these policies tend to only cover the basics, and you can be denied one of these plans if you have a pre-existing condition. 
There are some rules around short-term plans, though, both at the federal and the state level. Each state is allowed to create its own guidelines for short term health plans as long as they don't exceed the federal guidelines. In Illinois, you can purchase a short-term plan for a maximum of 6 months, and you cannot renew your plan or buy another short-term plan from the same carrier within 60 days of your previous plan expiring. 
Illinois Health Insurance Resources
Finding the right health insurance plan for you can be stressful. But there are plenty of resources you can use to make the process easier.
First of all, you can speak to your employer. While they are not required to, most employers in Illinois offer some form of group health insurance benefit. These plans are generally cheaper than private health insurance and can cover you and your family. 
If you don't have access to employer-sponsored healthcare, consider looking into government-assisted programs to see if you qualify. Medicare offers low-cost plans to individuals 65 and older, or adults between 18 and 65 that are living with a qualifying disability. Medicaid is another government program, which offers coverage to people with low incomes. If you meet the income requirements, you can get coverage for free!
Finally, one of the best resources available to you is an agent. Agents have the knowledge and training to compare all of your plan options. They take all of your medical and financial needs into consideration, while comparing plans to make sure you get the coverage you need.
Get free instant quotes by entering your zip code in the bar below. No hassle. No obligations.
How To Get the Most Savings
Illinois is tied for 21st on the list of most expensive states for healthcare in the country. On average, $9,601 is spent on healthcare per person per year in your state. But there are ways you can keep your costs down. 
Staying healthy is a great way to save on your health insurance. One of the risk factors health insurance companies look at is your body mass index (BMI). With the obesity rate at 31.60% in Illinois, it's important to keep your health in mind, and maintain a healthy weight, so you can feel good and pay less! 
Another health risk that insurance companies look at is smoking and other forms of tobacco use. Smokers find that their health insurance premiums can be 50% more expensive than nonsmokers'! 12% of adults living in Illinois are smokers, so if you're among them, consider quitting to help keep you healthy and lower your premiums at the same time. 
But the easiest way to save is by working with an insurance agent. EZ agents can save you hundreds of dollars a year by thoroughly comparing all of the plans available to you. They can even find any local discounts you're eligible for and apply them to your plan. And our services are FREE!
Illinois Health Insurance FAQS
Does Illinois require you to have health insurance?
The Affordable Care Act requires that all citizens have health insurance coverage, but there is no longer a tax penalty for not having a plan. A few states do still have a tax penalty, but Illinois is not one of them.
What is the cheapest health insurance in Illinois?
The cheapest health plan will be a Bronze plan, which can start as low as $335 a month. Remember, though, health insurance plan prices can vary depending on age, zip code, gender, and other factors. 
How much does health insurance cost in Illinois?
The average monthly premium for health insurance is $507, or $6,084 per year, with plans as low as $335 a month to as high as $1,350. But do not let these numbers scare you. Many uninsured people in Illinois qualify for a $0 Bronze plan and don't even know it.
Which insurance companies offer plans in Illinois?
Besides the companies listed above, Celtic Insurance Company, CIGNA HealthCare of Illinois, Health Alliance Medical Plans, Health Care Service Corporation, MercyCare HMO, Oscar, Quartz Health Benefit Plans Corporation, and SSM Health Plan all offer health insurance in Illinois.
How to Enroll in Health Insurance in Illinois
When it's time to enroll in a plan, you've got some options. You can enroll through your employer if they offer a group plan, or you can buy an individual plan directly from an insurance company. You can use the carrier's website to enroll in your plan. 
In addition, you can enroll through Illinois' state-run exchange, Get Covered Illinois. Several insurance companies participate in the exchange, so you can shop multiple carriers and plans at the same time. But not every company that offers insurance in Illinois is on the exchange, so you should work with an agent to help you find the best options. 
EZ agents can shop through all plans and carriers on and off the Marketplace. This ensures that you're finding the best plan available to you. We take the time to make sure your plan covers all of your medical needs, and we can answer any questions you have throughout the enrollment process. You don't have to shop alone for insurance – EZ can help! 
If you still have questions, feel free to give us a call at 877-670-3557. When you call, you will be directly connected to a local insurance agent who can answer all of your questions and help you find the health insurance plan that works best for you.
Looking For A Different Type Of Insurance In Illinois?