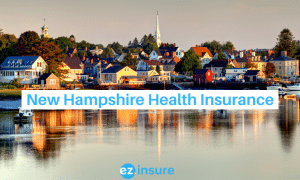 Your specific healthcare needs can be met by one of the many affordable health insurance plans available in New Hampshire. Most of these plans will offer the option to add on dental and vision insurance. With the lowest health insurance plan costing as little as $264 per month, dental add-ons costing as little as $41 per month, and vision plans costing as little as $14 per month, you're sure to find a plan that works for you. While coverage and costs vary depending on your age, location, family size, and more, a full coverage health insurance plan will typically cost people $350 per month, but certain residents may be eligible for free plans.
Jump To:
New Hampshire Health Insurance Companies
There are various affordable health insurance options available in New Hampshire, from three of the top insurance companies offering regional plans:
Celtic Insurance Company
Celtic Insurance is an insurer that offers both individual and family policies on the ACA Marketplace. Families and individuals who purchase a plan through Celtic have access to Ambetter's network of medical professionals.
The collaboration between Ambetter and Celtic enables a greater selection of plans, including unique plans for people who are self-employed. The majority of Celtic's plans are HMOs, which can be beneficial if you're looking for the least expensive kind of insurance.
Harvard Pilgrim Healthcare
Harvard Pilgrim, a nonprofit health insurance company, offers both individual and family policies on the New Hampshire state exchange. There are no copays for annual physicals and flu shots with many of Harvard Pilgrim's plans, and many plans also cover up to $300 of the cost of annual gym or fitness memberships.
Consider a plan from Harvard Pilgrim if you need coverage for certain specialist care, like acupuncture or chiropractic care. The majority of its plans cover these frequently excluded treatments.
Anthem Blue Cross Blue Shield
Anthem Blue Cross Blue Shield offers a variety of coverage options in New Hampshire. It offers Medicare Supplement Plans for people aged 65 and older and those on disability, in addition to the variety of HMO and PPO plans that are offered on the ACA Marketplace. There are both individual and family plans available that will pay up to 80% of your expenses after you meet your deductible.
Health Insurance Marketplace in New Hampshire
If you're looking for a health insurance plan in New Hampshire, the health insurance Marketplace is a great place to start. Marketplace health insurance, which was created by the Affordable Care Act, offers certain consumer protections, guarantees coverage for pre-existing conditions, and includes coverage for what are known as the "10 essential health benefits":
Ambulatory patient services (outpatient care)

Emergency services

Pregnancy, maternity, and newborn care (both before and after birth)

Mental health and substance use disorder services, including behavioral health treatment (including counseling and psychotherapy)

Prescription drugs

Rehabilitative and habilitative services and devices

Laboratory services

Preventive and wellness services and chronic disease management

Pediatric services, including oral and vision care (but adult dental and vision coverage aren't essential health benefits)
The ACA-compliant plans offered on the Marketplace are divided into different types, known as metal tiers: Bronze, Silver, and Gold. These tiers do not signal a difference in quality of care, though. The tiers differ in your out-of-pocket costs versus what your plan covers. 
It's important to remember that the Marketplace only offers the plans of participating providers. So unfortunately, while the Marketplace is a great tool, you may not be able to compare every plan available to you.
Whether you want a Marketplace plan, or a plan from a private insurer, an EZ agent can help. We work with all carriers in your state to compare all options available.
If you've missed the health insurance Open Enrollment Period (OEP), or you need health insurance for a short amount of time, short-term plans are a great option. It's important to note, though, that these policies tend to only cover the basics, and you can be denied one of these plans if you have a pre-existing condition. 
There are some rules around short-term plans, both at the federal and the state level. Some states choose to have their own guidelines separate from federal guidelines, or to not offer short-term plans at all. You can buy these plans in New Hampshire, but the state has guidelines that are stricter than federal guidelines. You can buy a 6-month short-term plan in New Hampshire, but you can't renew your policy (although you can purchase a new plan after your original one expires). Keep in mind that you can't have more than 18 months of short-term coverage in a 24-month period in your state.
New Hampshire Health Insurance Resources
There are multiple resources for health insurance in your state. Your employer is actually one of the resources. While employers in New Hampshire aren't required to offer health insurance to their employees, many employers in your state offer their staff health plans as part of a benefit package, so speak to your employer about your options.  Because your company receives discounts for purchasing group policies, these plans are generally cheaper than individual plans.
The federally run Health Insurance Marketplace is a wonderful resource, as well. New Hampshire is one of the states that declined to accept the funding to establish their own exchange, so you can use the federal exchange to compare the plans that are available to you. 
You can also look to the government as a resource and check your eligibility for a government-funded program. Medicare provides medical insurance to citizens 65 and older, or to adults with certain disabilities. Medicaid provides affordable or often free health insurance programs to low-income individuals and families. 
Your best resource, though, is an insurance agent. Your EZ agent can assist you in weighing all of your options, both on and off the Marketplace. They can ensure that you get a plan that meets all of your healthcare needs and fits your budget.
Get free instant quotes by entering your zip code in the bar below. No hassle. No obligations.
How to Get the Most Savings
When it comes to healthcare costs, New Hampshire ranks among the most expensive states. It is ranked 9th out of 50 in terms of the cost of healthcare per capita, with an average annual cost of $11,359. But there are steps you can take to reduce the cost of your health insurance.
Your health is the best place to start. New Hampshire's obesity rate is 31.8%, and if you're in this group, you'll probably end up paying more for your health insurance. But maintaining a healthy BMI can help you get the most affordable health insurance rates. 
Another factor influencing the cost of health insurance is tobacco use. Smokers' health insurance premiums can cost up to 50% more than non-smokers' premiums. 12.3% of New Hampshire's residents are smokers. If you are in this group quitting could be a great way to save on premiums.
But working with a qualified agent is the quickest way to make sure you find the most savings. EZ agents are specialists in identifying any local discounts you qualify for and locating plans that fit your budget. Working with an EZ agent can potentially save you hundreds of dollars a year. Furthermore, we don't charge you a dime for any of our services.
New Hampshire Health Insurance FAQS
Does New Hampshire require you to have health insurance?
No, health insurance is not required in your state, since there is no longer a federal tax penalty for not having a plan, and New Hampshire doesn't impose its own penalty.
What is the cheapest health insurance in New Hampshire?
The cheapest health plan will be a Bronze plan, which can start as low as $264 a month. Remember, though, health insurance plan prices can vary depending on age, zip code, gender, and other factors. 
How much does health insurance cost in New Hampshire?
The average monthly premium for health insurance in New Hampshire is $350, or $4,200 per year, with plans as low as $264 a month to as high as $1,454. 
Which insurance companies offer plans in New Hampshire?
The top 3 insurers in your state are Celtic Insurance Company, Harvard Pilgrim Health Care of NE, and Matthew Thornton Health Plan.
How to Enroll in Health Insurance in New Hampshire
When it comes time to enroll, you have options. You can enroll directly through your preferred insurance company's website, or you can enroll through your employer, if they offer a group plan. Another option is to use the federal Health Insurance Marketplace, where you can look at ACA plans available in your area. 
No matter how you choose to enroll, an EZ agent can help with the process. We will take all of the information you provide, compare the plans available to you, and present you with all of your options so you can choose the plan that is right for you.
If you still have questions, feel free to give us a call at 877-670-3557. When you call, you will be directly connected to a local insurance agent who can answer all of your questions and help you find the health insurance plan that works best for you.