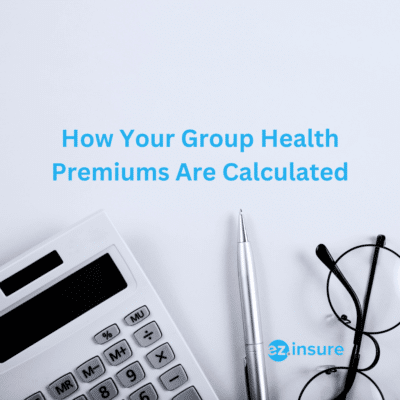 In 2023, group health plans for one person cost an average of $7,739 and plans for a family cost an average of $22,463. Those numbers are expected to have up to a 7% increase in 2024. However, there are ways to lower how much you pay for health insurance. It all depends on how your premiums are calculated. If you know what factors affect your bottom line, you can take steps to lower your total premium.
For group health insurance, premiums are calculated for each worker who signs up for the plan, plus the costs of adding a spouse or children. The total price for the group plan is calculated by adding all of the individual premiums up. Most companies have their employees pay a portion of their plan cost. Then the company takes those payments and then pays the rest of the cost to the insurance company every month.
Since the risk is spread out among more people. The cost of group health insurance is generally much lower than the cost of individual plans. Once the company decides on a plan, employees can choose whether or not to sign up for coverage. However, group health plans usually need at least 70% of a company's employees to partake, in order to be effective. Companies usually offer different levels of plans so that enrollees can choose between basic coverage or more advanced coverage with add-ons. Depending on the plan, the premiums are then split between the company and its employees. Businesses can offer further protection by allowing their employees to add their spouse or children to the plan. Although doing this typically means the plan becomes more expensive.
The Factors
Since every business is different, your premium could be higher or lower based on a number of factors that are used to figure out how much your plan will cost. It also depends heavily on the group being insured.
Fully insured with less than 50 employees –

Premiums are based on how many people in your area, not just from your business, are signed up for the same plan with the same insurance company. The cost of the insurance is also based on how old the enrollees are. So, everyone the same age with the same insurance plan from the same company will pay the same price. The rates go up every year based on their age. Some of the annual renewal increase at your company will come from the fact that your workers are getting older.

Fully insured with more than 50 employees –

Premiums are calculated based on the age, gender, location (zip code), and medical conditions (expected healthcare costs) of your workers and their dependents who are covered by the plan. 

More than 100 employees –

Groups with more than 100 workers are counted the same way as businesses with more than 50 workers. Rates are based on the age, gender, location (zip code). And medical conditions (expected healthcare costs) of your insured workers and their dependents.
Other factors are included in calculating your premiums such as:
Size of The Group
How much you pay can depend on how many people are on your group plan. This number includes both your employees who choose to join your plan and their family members who join through an employee. By spreading the health risks of a few people over a larger group, a bigger group can help you pay less for your insurance.
Health of The Group
Your rate is affected by how healthy the group as a whole is. Even though the Affordable Care Act says that insurers can't change premiums or refuse coverage based on a person's pre-existing conditions or general health. The American Academy of Actuaries says that the health of the group as a whole can play a role in figuring out premiums. If a risk group has a lot of people with higher expected claims, the average premiums will be higher. This can be good for your business, as the Academy also says that premiums will be lower if a risk group avoids people who are likely to make more claims. Or if it can cover the costs of people who are likely to make more claims by signing up a lot of people with lower costs.
Average Age
The Affordable Care Act (ACA) says that insurers can't change rates based on things like gender, but they can still take age into account. Rating by age is still legal as long as the ratio of the most expensive adult age band to the least expensive adult age band doesn't go above 3:1. This means that in a group plan, the average age of your group can affect how much you pay.
Claims History
Going to the doctor often can add up. Insurance companies make changes to your prices over time based on how many claims have been made and how much they cost. When it's time to renew your insurance, an insurer will look at how often your group has filed claims and make changes based on that. If a few of your employees had health problems that required them to go to the doctor often or spend a lot of money. That may be represented in your updated premium cost.
Tobacco Use
The Affordable Care Act (ACA) says that group health plans can charge people who smoke up to 50% more for their health insurance rates than people who don't smoke. This is called a "tobacco surcharge."
Industry
Different jobs have different amounts of danger. Your insurance company may change your rates based on what your workers do for a living. For example, office workers don't face the same health risks as people who work in factories, buildings, or offshore. So their insurance premiums may be lower than those of people in other jobs.
Coverage Amount
Group health plans are not all the same. How much you and your workers pay will depend a lot on how much coverage you get. When you have better coverage and lower out-of-pocket costs, your premiums may go up. Due to the extra covering, adding on extras like dental and vision plans can also raise your premiums.
Can My Employees Be Denied?
A person with a medical problem can't be kicked out of a group health plan. The health insurance must either cover everyone in the group or not cover anyone. They can't choose one or more people. A fully-funded health insurance plan cannot be turned down by a company with less than 50 workers. Carrier participation rates are based on a ratio of the number of employees who are insured to the total number of employees who are qualified. This number is different for each insurance company, so you should talk to your health insurance agent about it.
Saving on Group Health Premiums
For a small business owner, health insurance rates can be expensive, but you don't have to accept what your company is being charged. You might be able to use certain strategies to lower your costs and make your workers healthier.
Start a Wellness Program
Since the number of claims has a direct effect on your premiums. It can pay to make sure that all of your workers are in good health. Through health education and wellness practices, a customized workplace wellness program can help people choose to live healthier lives. This can lead to a healthier, more active workforce. And lower overall rates by reducing the number of doctor visits caused by diseases that could have been prevented. It can also help attract and keep good employees because they know their employer cares about their health and safety. 
Giving your workers access to a mobile doctor 24/7 is another way to cut down on the number of trips to the doctor. With telemedicine services, your employees can talk to a real doctor by phone, video chat, or online chat. This lets them get the answers they need without making an in-person visit with the doctor. This means they don't have to pay a copay and your plan doesn't have to pay for an extra claim.
Economy Scale
Depending on where you get your insurance, you might be able to use the "economy of scale" to your advantage. Larger businesses have more workers and more buying power. But smaller businesses don't have as many employees to save money through economy of scale.
How To Enroll
There are countless group health plan providers and plans to choose from so choosing can be difficult. But we're here to help! You can call EZ for a personal agent to help you sort through your plan options, get free quotes, or to simply find out more about group health insurance plans. Our experts can help you save hundreds of dollars a year by finding the best plan for your business. You can reach one of our highly trained agents at 877-670-3531, or enter your zip code in the box below for free instant quotes.