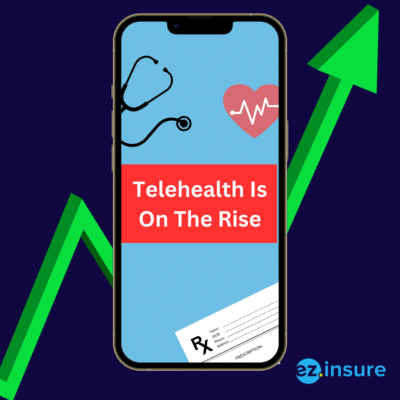 Most of the time, doctors and other health care workers see their patients in person at a place like a doctor's office, clinic, or hospital. However, doctors and nurses can now diagnose, treat, and keep an eye on their patients' care online. Thanks to computers, smartphones, and other new digital technologies. Using technology, telehealth is a way of providing health care services from a distance. It can be anything from doing medical visits over the computer to keeping an eye on a patient's vital signs from afar. 
The best part is telemedicine isn't an expensive luxury like some people believe. In fact, according to a study done by The American Medical Association 33.1% of adults living under 100% of the federal poverty level ($14,580 per year) have used telehealth in the last year. So why is telehealth so popular and how does it benefit you? We're glad you asked. Telehealth has a lot of treatment uses and benefits that virtually anyone can enjoy.
Telehealth Treatment
It may seem like a virtual treatment couldn't be as thorough as an in-person appointment. While to an extent that's true. Unless you need something like a shot or emergency care, a virtual appointment can do everything an in-person one can. All of the following things and services are possible with telehealth:
Recording vitals –

You can send your weight, food intake, blood pressure, heart rate, and blood sugar levels to your doctor either manually with at home equipment or a wearable monitor. 

Check test results –

Telehealth isn't just about appointments. You can also check your test results and prescription refills using the online portal. The online portal can also let you message your doctor directly or even schedule an appointment.

Coordinating care –

You can share information like your test results, diagnoses, medications and exam notes between your PCP and any specialists you see. Right from the comfort of your own home.

Reminders –

Telehealth includes being able to receive emails or texts as reminders for appointments, tests, or procedures.
Advantages Of Telehealth
Using technology to provide health care has many benefits. Such as saving money, being more convenient, and being able to help people who have trouble getting around or who live in distant areas without a nearby doctor or clinic. Because of these things, the use of telemedicine has grown significantly in the last ten years. Now, 76 percent of hospitals in the U.S. use telehealth to connect doctors and patients directly. Ten years ago, only 35 percent of hospitals did this.
During the COVID-19 virus outbreak, telehealth became even more important. People are more interested in and use technology to give and receive health care because they are afraid of sharing and getting the virus during in-person doctor visits. Other benefits include: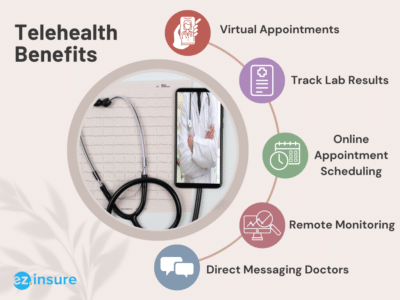 Improved access to providers
Most doctors who work in rural areas are family doctors or general practitioners. This means that they might not have access to or knowledge of more specialized kinds of medicine that rural patients need. Telehealth can help in this situation. Telemedicine software lets healthcare groups give patients in rural areas care that is more specialized. Or more up-to-date than they might otherwise be able to get. Patients are more likely to go to the doctor, now that it is easier for them since they can see providers without leaving their homes.
Flexibility
The main way that telehealth makes things better for patients is by making things easier for them. We all know that going to the doctor can be a pain. Taking time off work to drive 20–30 minutes to the doctor's office, then sitting in the waiting room for another 20–30 minutes, having a short visit, and then driving home again is a lot of time. This makes people less likely to come in to see their healthcare provider. Telehealth cuts out almost all of that time and reduces it to a scheduled meeting that can be taken anywhere with a smartphone. It's so much easier for patients, especially for appointments or checkups that don't involve a physical test.
Improved patient health
Patients are much more likely to make arrangements for regular checkups and preventive care because telehealth makes it easy for them to do so. You might not think it's worth the trouble to make an in-person meeting for something you think is small, but you could make a telehealth appointment instead. This means that you are living a healthier life generally and keeping an eye on how your health is going. Telehealth also has a lot of benefits for people who have long-term illnesses and have to follow a strict care plan. Routine checkups are much easier to do without having to go to the doctor's office.
Remote patient monitoring and other more advanced types of virtual care can help you with chronic conditions even more by keeping track of important health data in real time so that problems can be caught as soon as they happen. Remote patient monitoring tools, such as blood pressure cuffs, smart blood glucose monitors, and heart rate monitors, can help telehealth and telemedicine appointments be more effective and improve your general health.
Disadvantages
Telehealth makes it easy and cheap to see your doctor without leaving your house, but it does have a few drawbacks. Not every kind of visit can be done from afar. You still have to go to the office for things like imaging tests, blood work, and treatments that need a more hands-on approach. Cost is another slight downside. During the COVID-19 outbreak, insurance companies are paying for more and more telehealth visits. However, some services may not be fully covered, so you may have to pay for them yourself. Additionally, telehealth requires telecommunications equipment to function properly. However, in order to gain the benefits of telehealth, many patients must have access to laptops, mobile phones, and tablets.
People in remote locations suffer with limited internet bandwidth and unpredictable connectivity. To function efficiently and without latency, video conferencing requires high internet rates. Accessing telehealth services may be challenging if you do not have a constant, stable connection.
Is Telehealth Covered By Insurance?
Telehealth services are starting to be covered by some private insurance companies, but telehealth coverage is very different from one state to the next. This is because each state has its own way of defining telehealth and paying for it. Since insurance plans vary, it's important to check with your insurance company or the billing department of your health care provider for the most up-to-date information on how telehealth services are covered.
Preparing For A Telehealth Appointment
If you are fortunate enough to have access to the necessary equipment and internet, preparing for a telehealth appointment is fairly easy. Although, some people may find it hard to switch from in-person to online meetings, especially if they aren't used to the technology. By taking a few steps before your appointment to prepare, you can make sure your visit goes smoothly.
1.Add it to your calendar.
Add your meeting to your calendar so you don't forget once it's set.
2.Use the best camera.
This can be connected to your phone, laptop, tablet, or desktop computer. If you can give your doctor a clear picture of what's going on, he or she will be better able to understand what's going on and help you.
3.Test your camera and microphone.
Practice with a family member or friend before your online visit with your doctor to make sure you know how to use your camera and microphone. Most devices have microphones and speakers built in, but you may need to turn them on or allow the telehealth app or website to use them. Using headphones or earbuds may make it easier for you to hear your doctor and for your doctor to hear you, but you should try them out first to see what works best.
4.Check your internet connection.
If you aren't using Wi-Fi, try using a wired connection to your router with an ethernet cable to get the best signal. If you are using Wi-Fi, you can improve your link by being close to the internet router and having as few devices as possible connected to it.
5.Charge the device.
If you're using a phone, laptop, or tablet that doesn't have a cord, make sure the battery is charged enough to get you through your meeting. Try to charge it the night before your meeting.
6.Find a good spot.
Try to keep your area as clear as possible. Try to go somewhere with good lighting so that your doctor can see you well. Put your device on a stable surface so you can move around if you need to. Try moving your device so that the camera can see your head and shoulders.
7.Write down questions
If you are ready for your visit, you and your doctor will be able to talk about everything you need to. So, write out your questions or concerns and any symptoms you want to remember to bring up.
Working With EZ
This is just the beginning of how healthcare will change in the future, and many companies want to be a part of telemedicine so that more people will go to the doctor and hopefully catch a problem before it gets worse. The first thing you need to do is find the right health insurance that covers telehealth. No one likes to spend hours reading about different plan perks and costs. So, why not let a professional do all the hard work for free? There is a way to get cheap health insurance without having to go through a lot of trouble. A qualified EZ insurance agent can explain what each plan's pros and cons are, and help you come up with the plan that works best for you. 
Not to mention that EZ agents can save you hundreds of dollars a year on your health insurance bills. We do this by being able to look for the cheapest rates both on and off the market. We can also find and use any savings you might be able to get. Your agent won't just help you find a plan, though. We also help you keep it up to date. We can help you make claims with your insurance company and help you renew your policy when it's time. To get started, just type your zip code into the box below or call 877-670-3557 to talk to one of our certified agents.