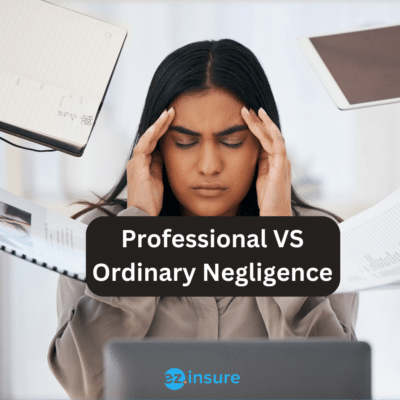 Any business can make mistakes, but companies that offer industry specific expert services or consulting are more vulnerable to negligence claims when they make a mistake. If your company gets sued due to a mistake or misleading information, it could hurt both your reputation and your bottom line. Negligence suits are one of the most common and expensive types of claims companies face. Negligence claims fall under two categories, ordinary, and professional. Knowing the difference between the two can help you avoid a costly lawsuit. 
Ordinary Negligence
Ordinary negligence is defined as a failure to use ordinary or normal care. It usually refers to a careless error that has caused harm to others. Ordinary negligence can be filed against any business or even individuals. And it is the basis for all personal injury lawsuits. Because they did not follow the duty of care, a person or business could be held accountable for physical or financial harm caused by the negligent mistake. Four things must be proven to establish ordinary negligence:
Duty of Care
The first thing a plaintiff has to prove is that you had a duty of care toward him or her. This usually means that you have a duty to take reasonable care not to hurt the plaintiff. However, states can change this standard of care by law for certain relationships, like a doctor-patient relationship. Usually, a person owes someone else a duty of reasonable care if they can see how their actions could hurt others. For example, a driver owes a duty of care to everyone else on the road by not texting and driving. A store owes a duty of care to their customers by putting a "Wet Floor" sign over a spill. In personal injury claims, duty of care is almost never disputed because it's just about proving that there was a duty of care owed to the plaintiff, not whether or not it was broken.
Breach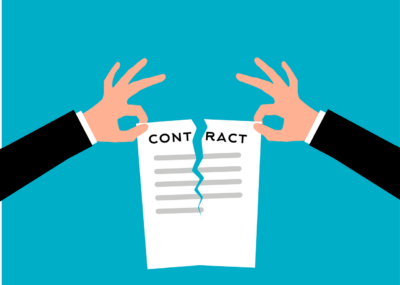 If the client can prove that you had a duty of care to him or her. The next question is whether or not you broke that duty. A breach happens when someone doesn't act with the same level of care that a normal person would in the same or similar situation. This is where someone needs to prove that you broke the duty of care. Using the examples above for instance, an ideal person wouldn't speed or drive while drunk. So, a driver who did either of these things would have broken their duty of care to other people on the road. For businesses you wouldn't ignore a fall hazard, you'd put up a caution sign or rope the area off. If you do ignore it then you've broken the duty of care.
Causation
Next, the complainant must prove that your breach caused him or her harm. That is, the harm would not have happened if you had fulfilled your duty of care. Also, the breach must be the direct cause of the injury. This means that the law must agree that the breach is linked enough to the injury to make you legally responsible.
Damages
The last step is for the plaintiff to prove damages. Lawyers and courts say that negligence without damages is "negligence in the air". For example, a driver who speeds may be guilty of a crime. But if the violation didn't hurt anyone else, the state can't hold him or her responsible for negligence. In personal injury cases, plaintiffs often try to get paid for their medical bills, lost wages, property damage, loss of quality of life, and physical and mental pain and suffering. So, say they slipped on the wet floor but had no injury from the fall. While you caused the fall you didn't cause any injuries that need compensation. 
Professional Negligence
Unlike ordinary negligence, the rules for professional negligence usually only apply to businesses that offer specialized skills and services to their customers or clients. When a professional doesn't do what they should for their customer or client. This can include not doing a job with the right amount of skill and care, giving bad advice, or not acting quickly enough. 
Professional negligence can happen in any job. Such as with doctors, lawyers, accountants, engineers, builders, and other people who provide professional services. Professionals are required by law to do their jobs with a certain amount of skill and care. If they don't, they could be held responsible for any harm that happens to their patients or clients. There are two common types of professional liability:
Breach of fiduciary duty
When you don't act in the best interests of your client, you break your fiduciary duty. This can include making bad decisions, not giving important information, not telling the client about conflicts of interest. Or pursuing opportunities meant for the company without telling the client, and using insider or non-public information in a stock market transaction.
For a client to make a legal claim for a fiduciary breach, they have to prove three basic things:
There was a fiduciary relationship and responsibility

A breach happened

The breach caused damages to the client
Misrepresentation
Negligent misrepresentation is when you say something that you should have known wasn't true but didn't with the intention that your client will rely on it and suffer losses because of it. Some examples of misrepresentation are making false statements or promises in a contract or overstating the value or quality of goods or services. The misrepresentation doesn't have to be in writing. It can be verbal. It can also mean not telling your client about all of the facts. There are 5 components to prove a misrepresentation claim:
There was an important comment about a certain product. And the comment led the client to sign the contract or make a decision

You knew that the information wasn't entirely truthful or that you purposefully did not provide all of the facts

You made the statement or gave the advice with the intention that your client would rely on it to make a decision or enter into a contract

The client did in fact rely on that information
It's not always easy to tell if a comment was a fact or someone's opinion. And this can be a point of contention in a misrepresentation case. The court will look at how a reasonable person would have understood the information.
How To Avoid Professional Negligence Claims
If you offer the kinds of professional services that often lead to professional negligence claims. It's important to be proactive and take steps to lower your risk of being sued. Let's talk about a few of the best practices that could help you significantly reduce the risk of a lawsuit.
Contracts
Whether it's a new client or an extension of a project you're already working on, you should always insist on a clearly written contract that explains the nature and the limits of the job. It's important to include every detail you can about the job. Having a clear contract will lower the risk of a negligence claim because your exact promises or the possibility of certain portions of the contract may not work out are listed.
Expectations
It's easy to get carried away when you're trying to get a client by making promises you're not entirely sure you can keep. Even if you do have every intention of making it happen, there's always the possibility of things not panning out. This is also a very easy way for a professional negligence claim to come about. Make sure you give your clients realistic expectations when you speak with them about how things will work out. Make sure to warn them about possible negative outcomes as well. This will help you avoid awkward and possibly expensive situations where your client feels they were cheated and should be compensated.
Communicate
It is very important to have clear communication with your client. If you let them know about problems and changes in a timely manner, they will think you are more responsible, even if the news is often bad. Changes that come up quickly and out of the blue may make the client upset and more likely to sue you for professional negligence. Keep in touch with your clients often. Even if you have nothing new to say, let them know that you are still working on their project and are fully committed to it.
Records
Unfortunately, a lot of cases of professional negligence start with "he said, she said" claims. The best way to deal with this is to keep careful records of all the professional services you provide. Email is always better than the phone for making deals and decisions because you can keep track of what was said and what was agreed upon. If you prefer to do business by phone or in person, record your talks with clients. If you don't want to do that, get an email confirmation of what was agreed upon so you have a copy of what was said.
Learn
Keeping up with the latest changes in your industry will help protect you from professional negligence claims. Also, it's important to keep up with changes to the way state rules govern duty of care.
How To Protect Your Business
Even when you've done everything to avoid a negligence claim, they can still happen to anyone. That's why it's important to be proactive and get ahead of possible claims by having a good risk management plan and the right business insurance to protect you. Professional liability insurance, which is also called "errors and omissions" insurance, will cover these kinds of cases. It will protect you financially from accusations of negligence, malpractice, errors, and omissions that could happen while you're giving your clients professional services.
When a claim of professional negligence is made, your E&O policy will pay for your legal defense, judgements, and settlements up to the limits of the policy. It's important to know that professional liability insurance is a "claims-made" coverage. This means that the policy had to be in effect when the event that led to the claim happened and when you told the insurer about the claim. Also, it's important to remember that professional liability plans have things they won't cover. One of the most common is when a professional does something illegal or hurts a client on purpose.
Call EZ
In general, all of the big insurance companies offer professional liability insurance. If you already have business insurance, talk to your insurance company about the possibility of adding professional liability to your coverage. But working with an insurance agent is your best bet. The agents at EZ are well-trained and work with some of the best companies in the country. We can look at all your policy choices and work with your budget to make sure your business has all the coverage it needs. If you would like to see quotes online simply enter your zip code in the box above. If you would like to speak to an agent now call 877-670-3538 today to talk to get a free quote.