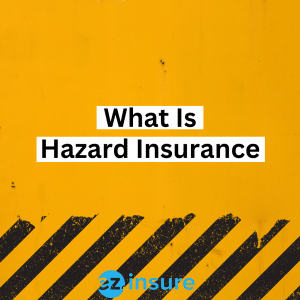 Keeping your business's doors open depends on a number of factors. But it's clear that maintaining your business's property and equipment is a huge part of that. If these assets are damaged in a fire or natural disaster, it might be difficult for your business to recover. So, you need to protect them. The best way to protect your business and be able to recover some of the costs associated with repairing or replacing your property, is to carry enough hazard insurance. Otherwise known as commercial property insurance.
What Does Hazard Insurance Cover?
Hazard insurance covers both the building that your business owns or rents, as well as the equipment that it uses. Depending on your policy, hazard insurance will generally cover the cost to repair or replace the following items:
Personal property

Tools and equipment

Inventory

Furniture

Computers

Accounts receivable

Documents

Outdoor landscaping
It will cover damages to the above due to:
Fire and smoke damage

Theft and vandalism

Some weather-related events such as hail, lightning, snow, sleet, or ice

Explosions

Aircraft or vehicles

Sprinkler leakage

Building collapse

Water (in certain specific cases)

Civil unrest or rioting
Damages caused by floods, earthquakes, acts of terrorism, nuclear attacks, or damage resulting from war are typically not covered by hazard insurance policies. You will need a separate insurance policy to protect your business from these occurrences.
Does My Business Need Hazard Insurance?
Even though business owners in many states are not required to have hazard insurance. It is still a good idea to get it because it can assist in covering the costs of damages that you would otherwise have to pay for out of your own pocket. 
And while you might not be required by your state to have hazard insurance, in many cases if you want to borrow money for your business from a financial institution, you will most likely be required to have a particular type of hazard insurance policy. For instance, loans from the Small Business Administration (SBA) may require evidence of business hazard coverage.
If you're looking to take out a loan for your business, you can read more about this topic here.
Do I Need Hazard Insurance if I Have a Home Business?
If you run your business out of your home, your homeowner's insurance policy might not be sufficient to cover the business-related property that you keep in your home. This means you'll probably want to have a separate policy. 
The Cost
The price of hazard insurance will vary widely depending on a number of factors, including:
The age of your building/property –

If the workspace that you own or rent is older, you'll typically pay higher premiums because repairs to older properties tend to be more expensive.

The value of your building/property –

The higher the total value of your assets, the higher the premium for this coverage will be.

Whether you choose a cash value or replacement cost policy –

With a policy that pays out based on the actual cash value of your property, your payout will be determined by how much your property was originally purchased for before it was damaged. But if you have a policy that pays out based on replacement value, you will be covered for how much it would cost to buy a brand new version of the item that was damaged. Because of the effects of depreciation, cash value insurance is typically more affordable than replacement value insurance.

Coverage limits –

As is the case with the vast majority of insurance policies, your monthly premiums will go up as you add more coverage.

Lender requirements –

A lender may require that you have a certain amount of property insurance coverage before they will approve your application for a loan. The more insurance your lender requires, the larger your premium will be.
Hazard Insurance for a SBA Loan
The Small Business Administration (SBA) helps small businesses get the credit they need by putting the government's name on loans made by commercial lenders. The lender provides the loan, and if the borrower doesn't pay back the loan, the SBA will cover up to 85% of the loss. 
To get a small business loan from the SBA, you need to show that you have hazard insurance. Having this type of policy shows that you own real assets that can be taken if you can't pay back the loan. For example, if a construction company wants to borrow money to buy a piece of equipment but can't pay back the loan, the lender can take ownership of the equipment.
Types of Hazard Insurance SBA Might Require
In order to be eligible for a loan from the SBA, you will have to show that your business has adequate insurance coverage. This could mean having general liability coverage as well as commercial property insurance/hazard insurance. Keep in mind that depending on the kind of loan you want to get, the Small Business Administration might require you to have other types of insurance coverage, such as workers' compensation.
Specifically, the Small Business Administration requires the following when it comes to hazard insurance:
The minimum required coverage amount is 80% of loan principal.

Your business's name must appear on the insurance policy.

Your DBA name must be included in the policy if you use one.

You must show proof of the required insurance within 12 months of receiving your loan. If your business does not already have it when you apply for your loan.
Is Hazard Insurance Tax Deductible?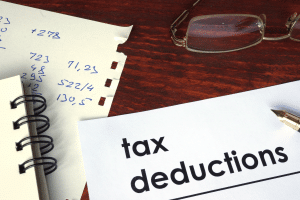 The Internal Revenue Service considers business insurance premiums to be an ordinary and necessary business expense. So, yes it can be tax deductible. But there are other factors to think about when determining if your hazard insurance is tax deductible.
If you have a home-based business, you may be able to deduct some of your operating costs from your taxable income. Insurance premiums can fall into this category, along with utilities and home office essentials. For instance, you can deduct half of your annual hazard insurance premiums if your home is used for business purposes in excess of 50% of the time.
If your company suffers losses in an area where a federal disaster declaration has been issued, you may be eligible for deductions. If you have hazard insurance and your insurer only pays a portion of your claim, for instance. You can deduct the amount of your claim up to $500 per incident.
Other Types of Business Insurance You Need
What, where, and how you do business will determine the specific types of coverage your company needs. The following are some examples of common types of business insurance policies, other than commercial property/hazard insurance:
Workers' compensation, which is also referred to as "workers' comp," is a type of insurance policy that is mandated by law. It provides benefits to employees in the event that they sustain an injury while performing their job. Employees can receive financial compensation, medical benefits, or both from the fund. Which fills the role of an insurance policy for disabled workers. Different states have different regulations regarding workers' compensation, so check out our state-by-state guides.
Standard liability claims made by third parties (people who are not affiliated with your company) are covered by general liability insurance. This type of commercial insurance policy will pay for your company's legal defense expenses in the event that your company is sued for causing bodily injury, damage to property, or injury to reputation. This includes everything from hiring an attorney to paying for court-ordered judgements and settlements. As well as any other costs that may arise.
General liability and commercial property insurance are the two main components that make up a business owner's policy, or BOP. Which is essentially a bundle of the two (or more) types of commercial insurance. With a BOP, you will be protected from financial loss and covered for any claims that would be covered by either of those two types of policies. One simple policy can protect your small business from a variety of significant legal risks. 
Commercial Property Insurance
As covered above, this type of policy typically includes coverages for the most common hazards. It safeguards both the structure and the contents of your business's property.
If your business uses vehicles, you'll need commercial auto insurance to cover things like liability, accidents, medical bills, personal injury protection, and uninsured motorists. It's similar to a personal auto insurance policy. But commercial auto insurance has different eligibility requirements, coverage, exclusions, and limits than personal auto insurance.
Working With EZ
Our insurance agents work with the leading insurance companies across the country to ensure that you have access to the best coverage options for your business and its employees. In fact, we can save you hundreds of dollars annually by tailoring our search to find you exactly what you need, at the best price possible. If you have any questions, please do not hesitate to contact us at 877-670-3538.