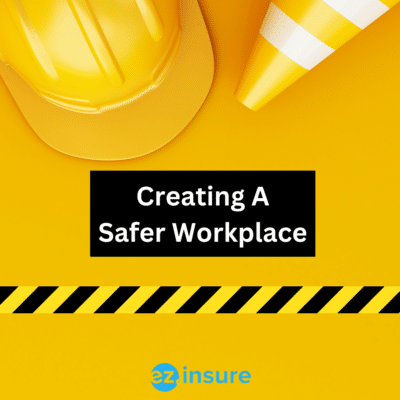 A serious injury at work can have a big effect on you and your business. It's more common than you might think. So far in 2023, employers have reported 4.26 million non-fatal workplace injuries. Even though that seems like a lot, the number of work injuries has been steadily decreasing. That's because more and more employers are starting to implement better safety programs. As an employer it's your responsibility to keep your employees safe. Taking care of safety issues at work might seem expensive at first, but in the long run safe workplaces save more money as well as lower workers' compensation premiums. 
Identify Risks
Before you can get rid of risks at work, you have to figure out what they are first. The GOAL method is one of the easiest ways to find risks in the workplace. GOAL stands for Go Out And Look. Essentially, conduct safety checks regularly. Depending on the risks and types of hazards, inspections can be done every day, weekly, monthly, or quarterly. An important part of these checks is keeping records of everything so it's easy to follow up. These records should include:
Names of the inspectors

Notes on each unsafe condition/practice

Suggestions to fix the conditions/practices
All inspections should also be looked over by the safety committee and the top managers. They can keep an eye on the cleanup process and look for any patterns in workers' compensation claims in the operation.
Encourage Employees To Report Issues
While regular safety checks can improve a lot of hazards, nobody knows the potential issues like the workers. Your employees spend all day on the floor and are more likely to notice potential hazards or unsafe procedures quicker. Workers should know how important it is to fix problems when they are reported, and they should be encouraged to notice and report hazards or close calls right away. This lets you fix anything you may not notice during safety checks, allowing you to fix any issues quickly and efficiently. 
Offices Have Hazards Too
There are some safety risks that are unique to office environments. Most office workers spend their day sitting which can cause back and neck pain. Other risks like vision staring and wrist injuries can come from typing and answering phones over and over again. There are even fall hazards in the office. These may all seem like smaller injuries but over time can cause long term problems and workers' compensation claims. Taking breaks can help reduce the chance of getting hurt, but figuring out other ways to reduce these risks is a great way to start making the workplace safer.
Workstation Safety
Not every injury is caused by a single accident. Repetitive stress injuries happen when employees do the same motions over and over again for years. These injuries can be avoided by making sure your work area is set up well. Here are some things to think about when setting up a new workstation:
Make sure work chairs can adjust to the employee's height. For the best posture their thighs should be parallel to the floor with their feet flat on the floor. This helps employees keep a comfortable posture so they don't injure their back with slouching.

Allow for keyboard height adjustments. While your employees are typing their elbows should be at a 90 degree angle with their wrists straight. This will help prevent wrist injuries such as carpal tunnel

Purchase adjustable high quality computer monitors. Their computer monitors should be able to adjust so they can keep the monitor at eye level. This also prevents slouching and eye strain. 
Preventing Falls In The Office
Whether you believe it or not, falls are the most common kind of accident in the workplace. The most reported common reasons for office falls are:
Tripping over desks, file cabinets, cords, and carpeting

Falling out of broken or unstable chairs

Falls from standing on chairs

Slipping on wet floors

Falls due to poor lighting
The easiest ways to avoid these incidents are things you may consider common sense, but making sure steps are taken is important: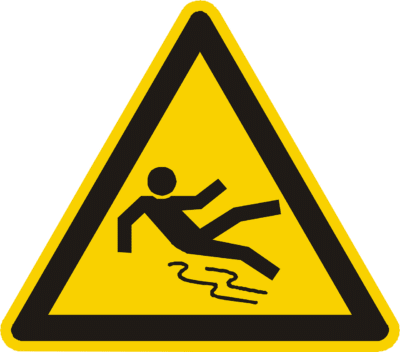 Maintain and fix carpeting and electrical cords

Keep offices well lit and change bulbs that start to dim immediately

Make sure there are no loose objects lying around

Keep walkways clear and ask employees not to leave things like their bags or personal items sticking out
Provide Safety Training
Everyone in the company, and we do mean everyone, from management to the interns, need to be trained in safety protocols. The safety program should also be part of the training for any new employees or when the tasks and possible risks of job changes. Employers who follow safety rules and procedures give their workers safety training, education, and occupational health programs. This way they feel safe when they go to work every day and aren't at risk for easily avoided mistakes. These safety procedures should be looked at regularly and updated as needed to make sure they are always effective.
Create Emergency Action Plans
Having a plan for what to do when an employee gets hurt will help make sure the worker gets care quickly and help the workers' compensation claim process go smoothly. Employees should be taught to stay calm, look at the situation, get in touch with the person in charge, and do what they can to help the person who is hurt or sick.
Think Like An Underwriter
Underwriters work for insurance companies, and their job is to decide whether or not they want to cover a certain risk. When your agent sends them the opportunity to evaluate, they will highlight what the business is doing to make it safer so that it looks like a good risk. When evaluating your own business, it can be helpful to think like an underwriter. This can help you see where you might need to tighten up. Think about how you want other people to see your business and work hard to make that happen.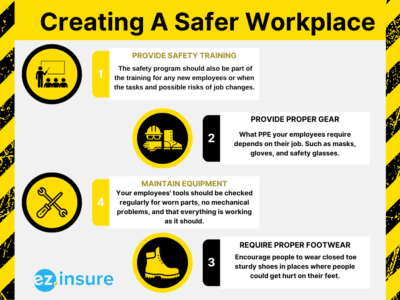 Provide Proper Gear
What kind of personal protective equipment (PPE) your employees need depends on what you do for a living. For example, antibacterial clothes keep people safe when handling food, masks with double-layer panels are used by people who work in health care, and industrial workwear is strong and resistant to fire. Often, an industry association can help you with questions about your workplace. Making sure your employees have the proper PPE will help keep them safe from potential hazards.
Require Proper Footwear
Any job requires that you wear the right shoes. If your workers are going to be outside, they should wear shoes that are right for the weather. Soles that don't slip are important almost everywhere. Encourage people to wear shoes with closed toes at work, and provide sturdy shoes in places where people could get hurt on their feet.
Perform Maintenance On Tools and Equipment
Did you know that dull knives hurt more people in restaurants than sharp ones? That's because a dull knife needs more force to cut through food, which makes it more likely that you'll cut yourself accidentally or get an injury from doing the same thing over and over again, like tendonitis or carpal tunnel syndrome. Your employees' tools should be checked regularly to make sure there are no broken or worn parts, no mechanical problems, and that everything is working as it should. Do regular maintenance on your equipment to make it last longer and keep your workers safe.
Factor In Your Employees Needs
Stress, anxiety, and tiredness can make it hard for an employee to pay attention, react quickly, concentrate, and do other things. What's going on in their personal lives may be "none of your business" as an employer, but how it affects them is very much your business. Even though you can't control what happens to employees on a personal level, employers can take steps to help keep problems from getting worse. Try to cut down on or limit long, rotating, or overtime shifts. Both employees who take on more work and those who don't get enough sleep are more likely to get hurt on the job. Plan regular breaks throughout the day. Consider starting a workplace wellness program to give employees a reason to do things that will help them stay healthy and less stressed. 
Working With EZ
Most businesses are required by law to have workers' compensation insurance. Having this insurance protects both your business and your employees. Your business doesn't have to spend a lot of money to keep your employees safe, though. There are many ways to encourage safety routines and programs, all of which will help you spend less on workers' compensation. If the best practices for claims management are put in place and followed, your employees will be able to go back to work as soon as they are medically cleared to do so. Not only will production get back to normal, but workers' compensation costs will go down as well. 
Come to EZ to get free, instant quotes from one of our licensed agents on the best workers' comp policy. And if you already have workers' comp benefits but want to look around for a better deal, we can help you do that. Your EZ agent will know about the rules in your area and be able to give you advice as you look for the best policy at the best price. To get started, just type your zip code into the box above or call us at 877-670-3538 to talk to a licensed agent.