If you're a business owner who works with contractors or has clients perform jobs for you, you have probably requested a certificate of insurance (COI) – or perhaps businesses you have worked with have requested to see yours. This certificate is a document that proves that a business or contractor is insured. It details how much and what kind of coverage you have, and lets you and others know that you are protecting your business against any accidents or mistakes. One of the most popular and commonly requested types of COI is called an ACORD certificate, so let's take a look at what this is and whether you need one. 
What Is ACORD Certificate?
ACORD certificates are governed by the Association for Cooperative Operations Research and Development. This association is a non-profit organization that provides the standardized forms and certificates for almost 90% of US property and casualty insurance carriers. Before ACORD created standardized forms, insurance companies had their own policy forms, which made it confusing for agents and brokers. 
The standardized forms now make it easier for small business owners to review their insurance and prove to customers and partners that they are insured. If a document meets the ACORD's standards, it will have "ACORD" stamped on the top left corner of the document. The insurance agency information will be located just below the stamp.
The ACORD 25 form, also known as a certificate of insurance (COI), is a type of liability insurance certificate that provides evidence of liability insurance, such as general liability insurance or professional liability insurance, and is the most commonly requested certificate of insurance. 
Benefits Of ACORD Certificates
When you purchase any type of liability insurance, ask your agent for an ACORD certificate so that you can provide it to any client or business partner that you want to work with. Having this certificate shows that you are covered, and that any business or client that works with you will not have to shoulder liability for any problems that arise. 
ACORD certificates are categorized by number, so you have a better understanding of the forms you need to send to prospects and receive from contractors. Some of the most popular forms used in the insurance industry are: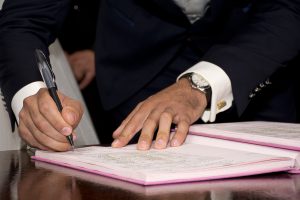 Certificate of Liability Insurance (25)

Evidence of Property Insurance (27)

Certificate of Property Insurance (24)

Evidence of Commercial Property Insurance (28)

Additional Remarks (101)
If you are going to work with a contractor or another company, you need to make sure they have their own liability insurance. This will protect your business in the event that they make a mistake, damage a customer's property, or cause physical harm through their negligence. The best way to do this is by asking them to send you an ACORD certificate. You should be able to do the same if asked for proof of insurance; when you quickly send an ACORD certificate, it shows that you are responsible, which will put people at ease and ensure that they will want to work with you.
If your insurance carrier does not issue ACORD certificates, it might be time to switch carriers to one who is compliant with industry standards. If you want to learn more about ACORD certification, or if you have any other commercial insurance questions, an EZ agent can help! One of our agents will assess your business' needs, compare plans in minutes, and find a policy that's right for you. To get free instant quotes, simply enter your zip code in the bar above, or to speak directly with one of our agents in your area, call 888-615-4893.