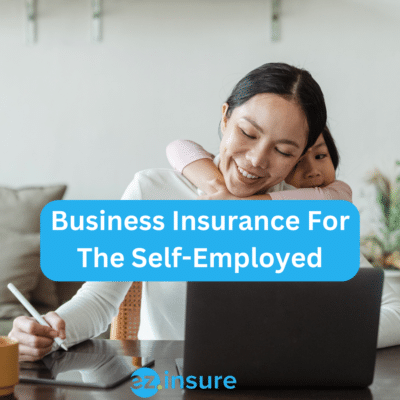 More and more Americans are leaving their cubicles to work on their own. Well, why not? You decide how to run your business. You decide when to work. Who is on your team is up to you. Those are some great perks. So it's not surprising that there are 15 million self-employed professionals in the American workforce right now, and that number could nearly triple in the next two years.
But there are some things you can't control or plan for in business or in life. What if something goes wrong on the construction site and one of your clients gets hurt? Or what if you get hurt in a freak accident and can't work anymore? Those "what if" questions are enough to turn the dream of a self-employed entrepreneur into a nightmare. So, if you work for yourself, you need insurance to protect yourself, your family, and your business. You've worked too hard to leave anything unprotected. But how do you know which types of insurance for self-employed people need and don't need? Let's look at types of insurance that will make you feel safe.
Self-Employed Business Insurance
Whether you're a plumber or a freelance writer, there's always a chance of something going wrong with your job. Some people are more likely to get hurt on the job, while others may be more likely to be sued. If you work for yourself, you need some kind of business insurance to cover the risks of your work. Here are the four most important types of business insurance to look into.
Liability insurance will protect you financially in the event that someone sues you for damages after slipping and falling in your coffee shop. Or breaking an expensive vase while cleaning a client's home. Slander suits are also covered by general liability insurance. This sort of protection is available both as a separate policy and as part of a business owner's policy.
Listen, we all have our flaws, and everybody messes up sometimes. This is where professional liability comes in handy. It's insurance that protects you in the event that a client is harmed as a result of a service you provided or advice you gave. It is also known by its more common name, errors and omissions insurance. Professional liability insurance covers financial losses in the event of injury or damage. While general liability insurance covers injuries and damages to property.
A business owner's policy (BOP) gives your small business protection against a wide range of claims. It does this by combining two types of coverage. Commercial general liability insurance and Commercial property insurance are both parts of its coverage. 
The part of a BOP called "general liability" protects your business in case someone makes a claim against you or your business. General liability insurance protects you from lawsuits if something like a customer slipping on a wet floor. Or a faulty product causing damage to a client's property. Or a claim that your products or services hurt someone. It can also protect you from libel, slander, and certain advertising lawsuits.
The property part of a BOP helps protect the buildings, equipment, furniture. And stock that you own, rent, or lease for your business. It helps pay to fix or replace things that are stolen, broken, or destroyed, even if they don't belong to you but were in your care. It can also pay for things like rent, payroll, and other bills while your property is being fixed or replaced after a fire or other covered loss.
If you have employees, no matter the nature of your business, you are required by law to carry workers' compensation insurance. Workers' compensation insurance, also known as "workers' comp," is a mandatory type of coverage that will provide financial support to your staff if they sustain an injury while performing their job duties. It serves as a disability insurance pool that reimburses workers monetarily and/or provides medical care in the event of an illness or injury. If you want to learn more about the workers' compensation laws in your state, you can visit the state by state guides on our site.
Physical dangers such as injury and property loss are ever-present in the business world. However, there are dangers associated with using technology that could affect your company. Data leaks and hacking are just two examples. Information about customers' identities or medical histories that you store on company computers is a prime target for hackers. In order to quickly recover from a data breach or cyberattack, it is crucial that your company be covered by data breach or cyber liability insurance.
If you're in business for yourself, it's important to have a basic understanding of health insurance. As a first step, you should enroll in a health insurance plan. If you do not have health insurance this year, you could be fined by the government depending on what state you live in. More importantly, you and your loved ones are taking a serious risk if and when a medical emergency arises.
In addition, if you have been relying on your employer to provide health coverage, you may be in for a rude awakening when you compare prices. Since you no longer have an employer to split the cost of health insurance with, you must do so on your own. The good news is that self-employed professionals can reduce their tax liability by deducting the money they spend on health insurance premiums.
How To Reduce The Cost Of Self-Employed Health Insurance
A high-deductible health plan (HDHP) is a good option for those looking to save money on health insurance premiums. A higher deductible on your health insurance plan means you'll have to pay more out of pocket for medical care before your policy kicks in. However, the trade-off is cheaper premiums every month.
Opening a health savings account (HSA) is an option with your high-deductible health plan, making it an even better value. The funds built up in a health savings account (HSA) are exempt from federal income tax, allowing you to save tax-free for future medical expenses. It's a good idea to consult with an EZ agent, who can explain your options and guide you toward a policy that works for your finances and your loved ones. They will assist you in locating competitive rates and suitable protection.
Self-Employed Disability Insurance
If you're self-employed and become ill or injured and unable to work, disability insurance could help replace some of your lost income. There are both public and private options for disability insurance. The government provides some options, such as the Social Security Administration and some state programs. 
When you're self-employed, you can buy your own disability insurance policy rather than participating in a potentially more expensive group plan through your employer. You may still be eligible for a group policy through your spouse's employer or a trade group. You may have more options with an individual policy, but the premiums may be higher. Policy features such as the waiting period, riders, and the definition of disability may be up for negotiation.  
Short vs Long Term Disability Insurance
Disability coverage comes in two flavors: long term and short term. Long term disability insurance typically has an elimination period of several weeks to months and a benefit period of several years up until retirement. There may be no waiting period or one as long as two weeks before benefits begin with short term disability insurance. Although long term disability insurance that pays out until retirement age is ideal, a short term policy could be worthwhile as well. In general, shorter waiting periods and longer benefits payout periods tend to come with higher premiums.
For an additional premium, you can secure coverage that the insurance provider can't revoke for any reason (including your failure to pay premiums) with a noncancelable policy. With guaranteed renewable policies, the insurer cannot cancel your coverage. But they can raise your premiums along with other customers in your rating class.  Additional riders, such as cost-of-living adjustments (COLA), residual benefits in the event of a partial disability, premium refunds for going claim-free, premium waivers in the event of a disability, and so on, can be purchased for an additional cost.
EZ Can Help
Working independently or as a freelancer allows for more freedom and a better work-life balance. One disadvantage is that you will be responsible for arranging your own insurance. It's essential that you do this. Since an accident or emergency can cause financial ruin if you don't have the proper insurance.  As a result, self-employed people who don't have insurance are taking a risk by not doing so. However, EZ can help! We offer free instant quotes on business insurance and we can even help you find the best plans for you. Enter your zip code in the box below or call one of our licensed agents at 877-670-3557 to get started.