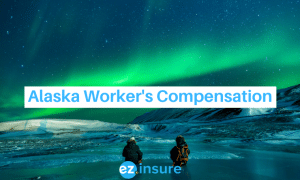 If you run a business and have employees, you'll need to purchase Alaska workers' compensation insurance to protect your employees and your business. In fact, this type of insurance, which helps pay your employees' medical bills if they get injuries on the job and limits your liability for workplace accidents, is a requirement in most states, including Alaska, with some exceptions.
In Alaska, business owners typically pay $2.27 for every $100 of covered payroll. Therefore, a company with a $100,000 annual payroll will pay around $2,270 a year for workers' compensation insurance, or around $227 a month. It's important to note, though, that this figure depends on a number of variables, including your industry, workforce, location, and claims history.
Jump To:
What's Covered
If one of your employees is injured at work or becomes ill because of workplace conditions. Workers' compensation in Alaska can help pay for their medical bills. The weekly average wage of an employee is used to calculate workers' compensation benefits. The type of claim determines the exact amount.
The most important thing that workers' compensation does is offer coverage for your injured employee's medical treatment. This would include doctor's appointments, hospital stays, and surgical procedures. Following a return to work, an employee may need ongoing care. Such as follow-up appointments or extra surgeries; workers' compensation will also cover these medical bills.
Additionally, if the incident causes permanent or temporary disability, the employee will receive compensation in the form of weekly or lump sum payments. If your employee suffers a temporary disability, their injury is preventing them from performing their regular job while they recover. They have a permanent disability if a doctor determines that they will not fully recover from their injury. 
These two classifications fall into two subcategories:
Temporary total disability (TTD)

– These payments will be made if your employee is unable to work at all during their recovery.

Temporary partial disability (TPD)

– TPD payments will be made if your employee is still able to work, but with certain restrictions, such as requiring lighter duties or fewer hours. Even if your company does not provide work that meets these requirements, the employee may still be eligible for these payments.

Permanent total disability (PTD)

– If the accident or illness leaves your employee unable to work at all, even after recovery, they will be eligible for PTD payments.

Permanent partial disability (PPD) – If an employee has permanent impairments but is able to work with those impairments, they will be eligible for PPD.
In Alaska, workers' compensation insurance also includes benefits for survivors if an employee dies because of an injury or illness sustained at work. Employees' families receive a death benefit of $10,000 for funeral costs. And $5,000 for the employee's surviving spouse and/or children.
Additionally, workers' comp also provides weekly payments to dependents following your employee's death. The total benefit amount must match the deceased employee's rate of total disability compensation. Children, widows, and widowers are usually the dependents.
Children who are not biologically related to your employee, but who were supported by the deceased, or those who were living in their home, are also treated as dependents. Minors who are in high school or their first four years of a trade, technical, or college program, as well as all unmarried dependent children, are entitled to receive benefits until they turn 19.
Parents, grandkids, or siblings who were dependent on the worker may qualify for payments if there is no widow, widower, or children.
Coverage Requirements
According to Alaska state law, businesses with one or more employees must carry workers' compensation insurance.
Even though you don't have to if you are self-employed, partners, or LLC members can decide to be on the workers' compensation application. An executive officer or LLC member count as an employee and needs workers' compensation insurance coverage if they own less than 10% of the company.
Executives who own less than 10% of the company are not exempt and also need to have workers' compensation coverage. By default, executives who own 10% or more of the company's equity do not have to have coverage unless they choose to.
In addition, there are types of employees who do not need coverage under Alaska state law. For example, owners and employees of non-profit corporations, part-time babysitters, non-commercial cleaners, sports referees for amateur events, contract entertainers, and commercial fishermen are among those who are exempt from the workers' compensation requirement. 
NCCI oversees the Alaska State Insurance Fund.
Proof of Coverage
In Alaska, businesses must show documentation of their workers' compensation insurance. This document, known as a certificate of insurance, lists the people and things that the policy covers. 
Alaska has a free online tool for looking into business's workers' compensation insurance coverage. Anybody can look for a company using its name or FEIN. Additionally, only employers with coverage in the state will have their business name and policy number displayed in the search results. The Department of Labor and Workforce Development is in charge of the data.
Alaska's Workers' Compensation Laws
Again, Alaska requires any business with one or more employees to carry workers' compensation insurance. There is one exception: if you have permission to self-insure (ie, pay your workers' comp claims out-of-pocket as they come up instead of holding an insurance policy). 
In general, almost all employees have to have workers' compensation insurance coverage in Alaska. But certain categories of workers are exempt from this requirement, including:
Part-time babysitters

Non-commercial cleaning staff

Employees hired to harvest crops, and other temporary or part-time workers

Officials in amateur sporting events

Contracted entertainers

Employees who work in commercial fishing

Taxi drivers who work under contracts

People who are receiving state subsidies for temporary help while performing required employment tasks

Players and coaches on professional hockey teams, so long as they have health insurance

Real estate agents working under contract

Drivers for transportation companies
Get free instant quotes by entering your zip code in the bar below. No hassle. No obligations.
How to Buy Workers Compensation Insurance
There are a few ways you, as a business owner, can buy workers' comp coverage.
Through a recognized workers' compensation insurance carrier

– Private insurers are regulated by state law, but they are also free to choose to accept or deny any clients and set their own premiums. A private carrier might offer policies at a lower cost with better customer support than a government-sponsored program.

From an assigned risk pool

– State-sponsored organizations called assigned risk pools help people and companies get insurance who might not otherwise be able to.

Through a group self-insured fund – This is a nonprofit organization of employers created with the sole purpose of providing the required employers' liability and workers' compensation coverage. Employers who form a self-insured fund are typically small to medium-sized businesses that lack the size or financial capacity to become self-insurers on their own but want to take control of their workers' compensation costs and reap the benefits of self-insurance.
Individual self-insurance

– With this approach, you, the employer, would assume the financial risk of offering benefits to your employees. In short, you would pay the cost of each claim "out-of-pocket" as it arises, rather than paying a predetermined premium to an insurance company or a state-sponsored Workers' Compensation fund. 
Self-insurance Requirements
A business must meet certain requirements in order to be classified as a self-insured employer in Alaska. You must:
Have been in business for at least five years in the state;

Have a minimum of 100 employees;

Have at least $10,000,000 in net worth;

Have the financial means to meet current and future obligations;

Maintain a safety/loss program;

Provide claims services in Alaska through your own staffed facility. Or through independent, licensed resident adjusters, and agree to post any required security deposit.
If you meet these requirements, you can apply for a Certificate of Self-Insurance by filling out and submitting an application.
How to Get the Most Savings
There are a few ways to make sure you're getting the best rates for your workers' compensation insurance. First of all, it's important to correctly classify your employees when purchasing your policy. For example, employees with desk jobs or other low-risk occupations will cost less to insure. You can also avoid misclassification fines by making sure you're getting this right.
Next, if you're a small business, you can look into the option of purchasing pay-as-you-go workers' compensation. The upfront cost of this kind of workers' compensation insurance is low. And you can base your payments on your actual payroll rather than an estimated one. Businesses who recruit seasonal staff or have shifting employee counts can benefit from this type of arrangement.
Finally, a formalized safety program can aid in reducing workers' compensation expenses. Safer workplaces have fewer accidents, which helps keep your insurance costs low.
Alaska Workers' Compensation FAQS
Are you required to have workers' compensation insurance in Alaska?
If you don't keep your workers' compensation insurance up-to-date, you risk a number of civil penalties, such as:
Fines of up to $1,000 per employee, every day

A stop-work order

$1,000 in additional fines for every day your disregard a stop-work order

Being prohibited from obtaining employment contracts with the Alaskan government

Being held accountable for providing benefits to sick or injured employees. Who should have been covered by workers' compensation at the time of their illness or injury

Potential criminal penalties, including $10,000 fines and a year in jail.
How do workers' compensation settlements work in Alaska?
The Alaska Workers' Compensation Board authorizes lump-sum payments of permanent complete disability benefits. But only if the employee can show that doing so is in their best interest.
Employees may also consider collecting their money in the form of a structured settlement if the state authorizes a settlement. This entails dividing the payment over a period of time into several installments.
According to Alaska law, the court typically assumes that it is not in a person's best interest to waive future benefits. However, if an employee demonstrates that it is in their best interest, the state will permit waivers of future benefits.
What is the statute of limitations in Alaska?
The maximum amount of time from the date of the accident to file a workers' compensation claim, with the exception of those involving occupational illness, is four years.
Why Use EZ
If you're looking for workers' compensation insurance for your business, come to EZ. We pride ourselves on giving each and every one of our customers individualized attention. And we strive to create a supportive environment while you shop. In addition to offering our personalized service, we also provide instant (and free!) quotes from an agent chosen based on your needs. One who will get to know you, and who really knows their stuff. Our services are always free and there are no obligations.
If you still have questions, feel free to give us a call at 877-670-3538. You can connect to a local insurance agent who can answer all of your questions and help you find the workers' compensation policy that works best for your business.
Looking For A Different Type Of Insurance In Alaska?