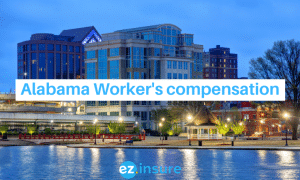 If you run a business and have employees, you'll need to purchase Alabama workers' compensation insurance. In fact, this type of insurance, which helps pay your employees' medical bills if they get hurt on the job, and limits your liability for workplace accidents, is a requirement in most states, including Alabama, with some exceptions. 
On average, business owners in Alabama pay around $1.05 per $100 in covered payroll. That means a business with a total payroll of $100,000 will pay around $1,050 a year, or around $87 a month, for workers' compensation insurance. This, of course, can vary based on several factors, such as your industry, workforce, location, and claims history. 
Jump To:
What's Covered
If an employee gets hurt on the job, or becomes ill because of workplace conditions, workers' compensation will help pay for their medical bills. This type of policy also limits your liability for the incident: exclusive remedy provisions in Alabama's workers' compensation law provide protection for employers. 
Specifically, workers' comp covers the following:
Accidents and injuries – If your employee gets injured while working, and they need treatment at a hospital or doctor's office, the medical expenses they incur while treating their injury would be covered by workers' compensation.
Illness

– An employee may become ill at work if they are exposed to allergens or dangerous substances. In the event that an employee becomes ill because of conditions at your workplace, workers' compensation can help pay for their medical expenses.

Repetitive injuries

– Employees can develop repetitive strain injuries after years of hazardous, repetitive motions. Workers' compensation can assist in reimbursing a worker's medical expenses for a repetitive occupational injury like carpal tunnel syndrome.

Missed wages

– Sometimes illness or injury sustained at work is so serious that your employee will need to take an extended amount of time off. Workers' compensation will cover a portion of their lost pay; specifically, your policy will usually pay them two-thirds of their average weekly income as compensation. The maximum and minimum amounts that will be paid in this situation are outlined in Alabama state law. State law also regulates who can receive this type of compensation: after a three-day waiting period, employees who miss work for more than 21 days are eligible for compensation. The absence from work must also receive the approval of an authorized treating physician.

Ongoing care

– Your employee's work-related illness or injury could also require ongoing treatment, like more operations or physical therapy. Workers' compensation may cover the costs of your employee's ongoing care.

Disability

– Employees who become temporarily or permanently disabled because of their workplace illness or injury are eligible for workers' compensation benefits. Payments for a permanent or partial disability may be made weekly or all at once.
Workers' compensation insurance also pays out death benefits to the qualifying family members of an employee who passes away as a result of a work-related illness or injury. Eligibility for death benefits are determined by relationship to the deceased and level of financial dependence on them.
Alabama considers the following people to be financially dependent on your employee:
The surviving spouse

Children under 18 who reside at home with the spouse

Children under the age of 22 who are in a higher education program

Adult children who are physically or mentally incapable of providing for themselves, or who previously relied on the deceased worker for financial support
Additionally, family members who can demonstrate that they previously relied on the deceased employee may be eligible for death benefits. This includes:
Parents

Siblings

Grandparents

Grandchildren
Weekly death benefits of no more than 75% the deceased employee's average weekly wage will be available to eligible family members. This sum cannot be greater than the state's average weekly wage.
The amount of the weekly benefit for survivors who are only partially dependent will vary based on how much financial support the deceased individual gave each dependent.
Survivors can get benefits for a maximum of 500 weeks, whether totally or partially dependent.
As long as the worker passed away within four years of the accident, Alabama also allows qualifying family members to obtain a lump sum payout for burial and other costs. The amount of this lump sum is based on the state's average weekly wage.
Coverage Requirements
Alabama requires any business that has at least five employees to carry workers' compensation. According to Alabama state law, LLC members, corporate officers, and part-timers are all considered employees. But some workers don't require workers' compensation insurance, including:
Domestic help employed in private residences

Farm workers

Casual workers, who don't have set working hours
Proof of Coverage
Businesses in Alabama must provide proof of coverage to show that they have the necessary workers' compensation policy. This document, which is often referred to as a certificate of insurance, specifies who and what the policy covers. Find out how to obtain evidence of coverage for your company and request a free quote from EZ today.
Alabama Workers' Compensation Laws
The Workers' Compensation Division manages the workers' compensation system in Alabama. You can refer to them for specific regulations, and for disputes.
As pointed out above, all employers in Alabama who regularly employ five or more people are required to carry workers' compensation insurance under state law. And this type of coverage is not only important because it's legally required: it protects both your employees and your business.
Workers' compensation obviously helps your employees by covering their medical bills and replacing some of their lost wages, but it also aids in protecting you as an employer against double payments, penalties, and fines, as well as in limiting your liability for a mishap at work.
How to Buy Workers' Compensation Insurance
According to the Alabama Department of Labor, there are a few ways you, as a business owner, can buy workers' comp coverage.
Through a recognized workers' compensation insurance carrier

– Private insurers are subject to state regulation, but they are allowed to set their own rates and accept or deny clients. A private insurance company may offer better rates and customer service than a government service.

From an assigned risk pool

– Assigned risk pools are state-sponsored groups that make insurance available to people and businesses who might not otherwise be able to purchase it. 

Through a group self-insured fund

– A group self-insured fund is a nonprofit association of employers established with the sole goal of offering employers' liability and workers' compensation coverage. 

Individual self-insurance

– You as the employer can take on the financial risk of providing your staff with benefits in the case that they need them. In essence, you wouldn't pay a set premium to an insurance company or a state-sponsored Workers' Compensation fund. Rather, you would pay the expense of each claim "out-of-pocket" as it is needed. 
You will need to apply for eligibility for self-insurance. Before applying for approval of a self-insurance certificate, you'll need to make sure your business meets certain financial criteria. You must have and keep a net worth of at least $5,000,000, a current asset to current liabilities ratio of at least 1.0, and a positive net income for the previous three years, as shown on the submitted audited financial statements, at all times. A $500 non-refundable application fee is due with the application.
Get free instant quotes by entering your zip code in the bar below. No hassle. No obligations.
How to Get the Most Savings
There are a few ways to make sure you're getting the best rates for your workers' compensation insurance. First of all, it's important to correctly classify your employees when purchasing your policy. For example, employees with desk jobs or other low-risk occupations will cost less to insure. You can also avoid misclassification fines by making sure you're getting this right.
Next, if you're a small business, you can look into the option of purchasing pay-as-you-go workers' compensation. The upfront cost of this kind of workers' compensation insurance is low, and you can base your payments on your actual payroll rather than an estimated one. Businesses who recruit seasonal staff or have shifting employee counts can benefit from this type of arrangement.
Finally, a formalized safety program can aid in reducing workers' compensation expenses. Safer workplaces have fewer accidents, which helps keep your insurance costs low.
Alabama Workers' Compensation FAQS
Are you required to have workers' compensation insurance in Alabama?
In Alabama, operating a business without workers' compensation insurance carries a $1,000 per employee penalty for each day you didn't meet the requirement. Other possible penalties include being forced to close down your business until you satisfy the state's workers' compensation requirement. As well as criminal sanctions like fines, jail time, or both.
How do workers' compensation settlements work in Alabama?
A settlement for workers' compensation may be reached with or without a formal hearing. And settlements are frequently made in the form of a lump sum. In some cases, like death benefit cases in which the survivor is in financial trouble, the survivor may receive payments over time. 
Unlike many other states, Alabama allows for the potential of getting further medical benefits. Even after you reach a workers' compensation settlement. If your employee's medical condition worsens within four years, state law permits the employee to reopen the claim. 
What is the statute of limitations in Alabama?
The statute of limitations for workers' compensation claims in Alabama is two years from the date of the incident. Or from the date of the final voluntary payment of disability benefits, whichever comes later.
Why Use EZ
If you're looking for workers' compensation insurance for your business, come to EZ. We pride ourselves on giving each and every one of our customers individualized attention. And we strive to create a supportive environment while you shop. In addition to offering personalized service, we also provide instant (and free!) quotes from an agent chosen based on your needs. They will get to know you as soon as you submit your form, and who really knows their stuff. That is what sets us apart from the competition. We want to ensure that you make an informed choice and get the best deal possible for your money. There are no hassles and no obligations – and our services are always free!
If you still have questions, feel free to give us a call at 877-670-3538. You can speak to a local insurance agent who can answer all of your questions and help you find the workers' compensation policy that works best for your business.
Looking For A Different Type Of Insurance In Alabama?