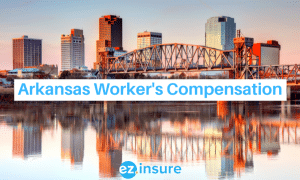 If you run a business and have employees, you'll need to purchase Arkansas workers' compensation insurance. In fact, this type of insurance, which helps pay your employee's medical bills if they get injured on the job and limits your liability for workplace accidents, is a requirement in most states, including Arkansas, with some exceptions.
In Arkansas, you can expect to pay around $0.74 for every $100 of covered payroll for a workers' compensation policy. That means if you have a total annual payroll of $100,000, you will spend roughly $740 a year for workers' compensation insurance. This is a general estimate, though, since factors like your location, the types of employees you have (laborers vs office workers), and your claim history can all affect your rates.
Jump To:
The price of workers' compensation is determined in part by the likelihood of a workplace injury, and you will need to provide your insurance company with workers' compensation class codes so that they can determine your level of risk. For example, your business may have some office employees whose workers' compensation costs will be lower than those who work outside of your office and face more risks.
What's Covered
Workers' compensation insurance in Arkansas provides benefits to your employees to assist them in recovering from a work-related injury or illness. Arkansas workers' compensation benefits can help with medical expenses that arise if your employee gets injured at work or becomes ill because of workplace conditions.
This type of insurance covers the cost of medical treatment, including doctor's visits, emergency room visits, and possible surgeries. Additionally, workers' comp can cover your employee's ongoing care after their initial treatment, and after they've returned to work, such as follow-up appointments or additional surgeries. 
Workers' compensation insurance will also cover a portion of your injured employee's lost wages while they recover. Your employee will not receive their full pay while they are unable to work but will typically get payments equal to around two-thirds of their normal pay. 
If the accident or illness leads to permanent or temporary disability, your employee will qualify for either weekly payments or one lump sum to compensate them. There are two types of disability payments that workers can qualify for: temporary and permanent. 
Temporary disability is given when the employee's symptoms or injury limitations are 100% gone once they finish treatment. Such as in the case of a broken arm. Permanent disability is given if your employee's doctor finds that the issues persist once the employee has recovered to their full medical potential, like in the case of a brain injury. 
Both of these types of disability are further divided into two classifications:
Temporary total disability (TTD)

– If your employee can't work at all during their recovery, they will receive these payments. 

Temporary partial disability (TPD)

– These payments are for employees that can return to work but with limitations. These limitations include only being able to do light duty or work fewer hours. If your business does not offer the type of work that can comply with these restrictions for some reason, your employee could still be eligible for these payments.

Permanent total disability (PTD)

– If your employee is unable to work at all due to their illness or accident, they are eligible for permanent total disability.

Permanent partial disability

(PPD) – These benefits are paid when a worker has physical impairments that are not completely disabling but are permanent.
Coverage Requirements
Arkansas businesses with three or more employees must have workers' compensation insurance. There are a few exceptions to this state law, however, including:
Railroad and maritime employees

Farm labor

Domestic assistance

Employees of non-profit organizations

Religious, charitable, or humanitarian organizations
There are exceptions to the three-or-more requirement. So, employers with fewer than three employees should consult with authorities before assuming they are not subject to workers' compensation laws. Employers who are unsure should consult with their insurance agent or the Arkansas Workers' Compensation Commission's Information Officer, Operations/Compliance Division, or Legal Advisor Division.
Exemptions to workers' comp laws in Arkansas are simple. There is no need to file any paperwork with the state. There are exclusions for sole owners, self-employed, partners and LLC members. Meaning they do not have to have coverage under the workers comp policy. However, they should be on the Acord 130 workers' comp application to note their exemption. Even though they do not have to have coverage they can opt to be included on the policy.
Workers' compensation death benefits are available to family members who are financially dependent on an employee who dies as a result of a work-related injury or illness. If there are no surviving dependents, benefits may go to partial dependents. Spouses, children, parents, siblings, grandparents, and grandchildren can all qualify as either dependents or partial dependents.
Workers' compensation in Arkansas pays benefits equal to 67% of the deceased worker's average weekly wage, up to a yearly maximum. The amount will be divided among the surviving dependents.
Arkansas Workers' Compensation Laws
The Arkansas Workers' Compensation Commission is in charge of enforcing and administering Arkansas' workers' compensation laws. The Commission monitors workers' compensation claims and benefit payments throughout the state.
You, as an employer, need to have coverage for your employees through a workers' compensation insurance policy. Or you need permission to self-insure for such purposes. Any other arrangement made may be fraudulent.
Workers compensation insurance needs to be completely paid for by you; no portion of it should be paid for or deducted from your employees' pay.
If you don't comply with these laws, you may face state penalties as well as loss of the protections against liability provided by workers' compensation insurance and state laws.
How to Buy Arkansas Workers' Compensation Insurance
There are a few ways you, as a business owner, can buy workers' comp coverage. You can get a policy through:
A recognized workers' compensation insurance carrier

– Private insurers are governed by state law, but they can deny clients and set their own premiums. Private companies often offer lower-cost policies and have better customer service than government-sponsored programs.

A risk pool

– Individual states, including Arkansas, have established the Assigned Risk Pool to ensure that employers can obtain workers compensation insurance even if standard market insurance companies are unwilling to provide coverage for their business.

Individual self-insurance

– You can accept the financial risk of providing benefits to your employees if you qualify. In short, rather than paying a premium to an insurance company or a state-sponsored Workers' Compensation fund, you would pay the cost of each claim out-of-pocket as it arose. To qualify for self-insurance, you need to submit an application at least 60 days before the desired start date of the coverage. As well as show a steady net worth of at least $250,000 a year.
Get free instant quotes by entering your zip code in the bar below. No hassle. No obligations.
How to Get the Most Savings
There are a few ways you can save on your workers' compensation insurance. For example:
Implement a workplace safety program

– If you have fewer accidents at work, your workers' comp costs will be lower. You can reduce the number of Injuries and illnesses at work with a safety program. Whatever type of business you're running, it is critical to have a safety program and standard operating procedures for hazards. It's also vital to ensure that employees are aware of these operating procedures. It's also important that they have the opportunity to participate in training. Or at the very least have some level of introduction to safety rules.

Evaluate your claim history

– It is essential to review your claims on a regular basis, or to request a deeper analysis of your claims history from your insurance provider. Identifying patterns and correcting them can help you save money on workers' compensation premiums. It is not unusual to discover patterns associated with claims and discover that certain parts of your operation generate more claims than others. Or that claims tend to spike at certain times of the year.

Classify employees correctly

– It is critical that employees are correctly classified for the purposes of workers' compensation insurance. Your employees will be classified based on risk; your workers' compensation insurance premiums are directly proportional to risk classification. So, that means if your company has a large number of employees who are classified as high risk, your premiums will most likely be higher. As your workforce grows or diversifies, it is prudent to reevaluate classifications with your workers' compensation insurance carrier. This will help you avoid higher premiums or even fines due to misclassification.
Arkansas Workers' Compensation FAQS
Are you required to have workers compensation insurance in Arkansas?
Yes, in general, if you have 3 or more employees you have to have workers' compensation insurance. Employers who fail to carry the required coverage will face fines. And will lose the Arkansas Workers' Compensation Commission's protections against liability for accidents and illnesses in the workplace.
How do workers' compensation settlements work in Arkansas?
A workers' compensation settlement is an agreement between all the parties to settle your employee's workers' compensation claim. Both you and your employee benefit from this.
A workers' compensation settlement provides the worker with a lump sum payment. This payment covers medical expenses, ongoing treatments or therapies. As well as past and future lost wages.
Once your employee agrees to a settlement, you no longer have liability for the claim. And the employee can no longer bring any additional claims for the same injury.
A workers' compensation claim can cover an injury from a single accident as well as injuries that occur over time. Such as repetitive motion disorders, job-related hearing loss, or occupational illnesses like mesothelioma.
What is the statute of limitations in Arkansas?
The statute of limitations is how long your employee has after an injury to file a workers' compensation claim. The statute of limitations in Arkansas is two years from the date of injury. Or the date the worker should have known that an injury or impairment developed as a result of workplace conditions.
Why Use EZ
We pride ourselves on providing a positive shopping experience and giving each customer our full attention. We offer personalized service as well as quick results. As soon as you fill out our form, you will receive free quotes from an agent who understands your needs. We want to ensure that you make the best decision for your budget. And the best part is that our services are completely free!
If you still have questions, feel free to give us a call at 877-670-3538. You can speak with a local insurance agent who can answer all of your questions, and help you find the workers' compensation policy that works best for your business.
Looking For A Different Type Of Insurance In Arkansas?