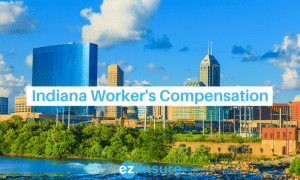 If you run a business and have employees, you'll need to purchase Indiana workers' compensation insurance. In fact, this type of insurance, is a requirement in most states, including Indiana, with some exceptions. It helps pay your employees' medical bills for a work injury. And limits your liability for workplace accidents.
Businesses in Indiana can expect to pay an estimated $0.75 for every $100 of payroll in workers' compensation insurance. That means, for example, a business with a total annual payroll of $100,000 will pay around $750 annually, or around $62 a month for coverage. These rates can vary, though, based on multiple factors.
Jump To:
In general, though, the likelihood of an on-the-job injury at your workplace is what determines your workers' compensation rates. Some types of employees may have lower workers' compensation costs than those who undertake more labor-intensive tasks and are more vulnerable to injury. You can use a variety of workers' compensation class codes when applying for coverage.
What's Covered
Workers' compensation in Indiana can help with medical bills or lost wages if one of your employees sustains an injury at work or becomes ill because of workplace conditions. Workers' compensation benefits are determined based on the weekly average wage of the employee. The amount depends on the type of benefit.
In general, workers' compensation in Indiana covers:
Accidents and injuries

– Your employees may be involved in a workplace accident; if they need medical treatment, their medical bills would be covered by workers' compensation.

Illness

– If an employee becomes ill as a result of being exposed to allergens or other hazardous materials at work, they can claim workers' comp benefits to help pay for their treatment.

Repetitive injury

– It's not just accidents that are covered: treatment for repetitive injuries, like carpal tunnel syndrome, are also covered by workers' compensation. 

Ongoing care

– If your employee still has medical needs as a direct result of their accident or illness, even after they return to work, they can get benefits for ongoing care. This includes additional doctor's appointments or additional surgeries.
In addition, workers' compensation insurance covers disabilities caused by a workplace accident or illness; your policy will usually compensate your employee in the form of weekly or lump-sum payments. 
If your employee's accident or illness results in permanent or temporary disability, they will receive weekly or lump sum payments. Payments will be based on whether they have a temporary or permanent disability. A temporary disability means that their injury will only prevent them from working while they recover. On the other hand, if a doctor determines that they have an injury from which they will not fully recover, they have a permanent disability. 
Temporary total disability (TTD)

– These payments will be made if your employee is not able to work at all while recuperating.

Temporary partial disability (TPD)

– TPD payments are made when your employee is still able to work, but only with certain restrictions, such as light work duties or fewer hours. Even if your company does not provide work that meets these requirements, your employee may still be eligible.

Permanent total disability (PTD)

– Employees who are unable to work due to an accident or illness, even after they have recovered as much as they are likely to, will be eligible for PTD payments.

Permanent partial disability (PPD)

– Employees who have permanent disabilities, but can work with them will be eligible for PPD.
In Indiana, the family of an employee who passes away following a work illness or injury may qualify for death benefits. Dependents are eligible for 500 weeks of lost pay at 67% of the deceased's average weekly wage. Workers' comp also covers and medical bills left behind by the worker, and burial costs up to $7,500.
In Indiana, there are two types of dependents: presumed dependents and dependents-in-fact. 
Death benefits are distributed evenly among presumed dependents, who include:
Spouse (as long as they do not remarry)

Children under 21 who aren't married and who resided with the employee

Children under 21 who did not reside with the employee, but who were financially dependent on the employee

Children over the age of 21 who have never been married, are physically or mentally ill. Or are caring for the employee's home but are not otherwise employed.
If there are no presumed dependents at the time of the employee's death, dependents-in-fact are eligible for benefits. These include people who are blood- or marriage-related, and who were wholly or partially reliant on the deceased employee.
Indiana's Workers' Compensation Laws
In Indiana, the majority of employers legally have to have workers' compensation insurance. One major exception is employees who satisfy the IRS requirements for independent contractor status in the construction industry. If your employees meet this requirement, you must submit a Workers' Compensation Clearance Certificate to the Indiana Workers' Compensation Board along with a $20 filing fee. These regulations also apply to sole proprietor independent contractors.
The following are also exempt from Indiana's workers' compensation laws:
Self-employed, partners and LLC members

Corporate officers

Independent contractors

Licensed real estate agents
If you are any of the above, you still have the option to purchase workers' compensation insurance coverage, but you do not have to.
How to Buy Workers Compensation Insurance
In Indiana, you can buy a workers' compensation insurance policy from a private insurance carrier. For businesses that are unable to acquire coverage from a private company. There is the Assigned Risk Pool or other State Insurance Fund. Individual states usually have an Assigned Risk Pool to ensure that employers can obtain workers' compensation insurance. Even if standard-market insurance companies are unwilling to provide coverage for their business. 
If you need help finding a policy, EZ's agents can help sort through all of your options and find you the best workers' comp insurance for your business.
Get free instant quotes by entering your zip code in the bar below. No hassle. No obligations.
How to Get the Most Savings
Even though factors beyond your control determine the majority of workers' compensation costs. There are still ways to save. A safety program is an excellent way to avoid workplace injuries and claims. It is important to have safety procedures in place, no matter your industry. Employees who have safety training have less injuries, resulting in lower workers' compensation costs for your company.
It's also a good idea to regularly review your claims history. Analyzing your claims history may enable you to spot patterns, and then make any necessary changes to operating procedures that seem to be producing a lot of claims. By keeping a close eye on potentially risky operations, you can save money on workers' comp premiums.
One of the most efficient ways to save money is to properly classify your employees. When you apply for workers' comp insurance, you classify each employee based on their function, such as desk worker or laborer. These risk classifications impact the cost of workers' compensation, so make sure your employees are classified correctly. Not only that, but if you fail to properly classify your employees, you could face fines.
Some small business owners might have the option of purchasing pay-as-you-go workers' compensation. This kind of workers' compensation policy has a low initial premium, because it allows you to pay based on your actual payroll rather than a predicted payroll. Businesses that employ seasonal workers or have a fluctuating staff can benefit from this type of policy.
Last but not least, you can save hundreds of dollars a year by working with a licensed EZ agent. We are experts in insurance for small businesses and can find you the right policy for your business and budget. Get free instant quotes, so you can start comparing workers' compensation insurance rates from top U.S. carriers.
Indiana Workers' Compensation FAQs
Are you required to have workers' compensation insurance in Indiana?
Yes, in Indiana, the majority of employers have to have workers' compensation. An employer who does not have insurance or self-insure their workers' compensation, is committing a Class A violation. The penalties for this type of violation could include:
Up to $10,000 in fines

Any injured employees' healthcare costs

Any reasonable legal fees from your employee

You will also have to stop operating in Indiana until you provide insurance documentation.
The Worker's Compensation Board has a procedure for referring an employer who is in violation of workers' comp laws to the county prosecutor. After that, it is up to the prosecutor to look into the case and carry out the law. The level of enforcement of workers' comp laws could differ greatly from county to county.
How do workers' compensation settlements work in Indiana?
To qualify for workers' compensation payments, an employee does not have to demonstrate that their employer was at fault for their work injury. If your employee wants to contest a workers' compensation settlement, they can submit an Application for Adjustment of Claim to the Workers' Compensation Board.
What is the statute of limitations in Indiana?
The statute of limitations for workers' compensation claims in Indiana is two years. This means that employees can make a claim up to two years after an incident. In addition, according to the Indiana Workers' Compensation Act, employees have 30 days to notify their employer of any workplace injuries. 
Why Use EZ
We do everything in our power to make shopping for workers' compensation insurance as easy and stress-free as possible, and we give each of our customers our undivided attention. As soon as you fill out our form, you will receive instant, free quotes from your agent, who will give you personalized service and will work to understand your needs. We want to ensure that you make the best decision possible, and that you get the best coverage at the best price. Our services are completely free so check out your quotes today!
If you still have questions, feel free to give us a call at 877-670-3538. You will speak to a local insurance agent who can answer all of your questions, and help you find the workers' compensation policy that works best for your business.
Looking For A Different Type Of Insurance In Indiana?