Medicare has been a hot topic lately: the H.R. 3 bill, which would allow Medicare to negotiate prescription drug prices, is currently in the Senate waiting to be passed, and talks surrounding  expanding coverage to more older Americans continue on both sides. Not only that, but there have also been changes to Medicare brought on by the coronavirus pandemic, including the expansion of access to telemedicine. New guidance was recently issued by Congress and the Center for Medicare and Medicaid Services (CMS) on the delivery of psychology care services through the use of telemedicine, allowing psychologists to treat seniors through audio-only calls. But there are now new restrictions to mental health services provided through telemedicine that Medicare beneficiaries need to be aware of. 
Background: The Coronavirus Preparedness & Response Supplemental Appropriations Act 2020
Under the Coronavirus Preparedness and Response Supplemental Appropriations Act of 2020, which went into effect on April 30, 2020, CMS is now waiving telehealth requirements for Medicare beneficiaries in order to make it easier for them to access mental health services. Psychologists can now provide many of their typical services through audio-only calls, and can:
Provide telemedicine services from their home.

Provide services to new and established Medicare patients.

Offer Medicare patients telemedicine services in their homes.
In addition, telehealth services are now reimbursed for the same dollar amount as in-person visits.
The New Restrictions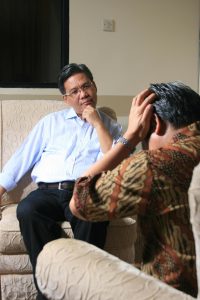 While this step towards greater access to mental health care through telehealth has been good news for Medicare beneficiaries, there is now a new restriction on reimbursement for these services that threatens to put patients back to where they started. The Consolidated Appropriations Act of 2021 states that "Payment may not be made…for telehealth services furnished by a physician or practitioner to an eligible telehealth individual for purposes of diagnosis, evaluation, or treatment of a mental health disorder unless such physician or practitioner furnishes an item or service in-person, without the use of telehealth…" within the 6-month period prior to the first time the telehealth services are furnished.
In other words, under this new Act, a Medicare patient must first have an in-person examination before they can seek mental health services through telehealth. This is a change from previous laws surrounding telehealth, which in most states allowed doctor-patient relationships to be created through telemedicine without an in-person examination.
The coronavirus pandemic paved the way for telemedicine to become a more popular and widely used way to get medical care, including mental health care. Most government action surrounding telehealth has moved in the direction of expanding access to it, but unfortunately this new restriction is a step backwards, and will mean that Medicare patients will now need to see a doctor in-person before using telemedicine to get mental health care. 
It is unclear what the next step is going to be for telemedicine and mental health care, but if you are a Medicare beneficiary in need of mental health services, remember that they are still covered: Medicare Part B covers mental health services, as well as counseling services, and if you need help covering the 20% coinsurance that Medicare Part B does not cover, a Medicare Supplement Plan can help. If you are curious, or want to compare Medicare Supplement Plans in your area, EZ can help. To get free instant quotes, enter your zip code in the bar, or to speak to a licensed agent, call 888-753-7207.