It's 6 PM and your child is running a high fever. The pediatrician's office is closed, but you want to speak to a doctor immediately. Should you go to the emergency room? Use telehealth services? Or should you head to an urgent care center? When you are faced with an unexpected illness or injury, it is important to understand the difference between emergency care, urgent care, and telehealth services. This knowledge can make a huge difference in the type of care that you receive and in how much money you could end up paying. 
Emergency Room
Emergency departments provide medical care at any time, day or night, for anyone experiencing serious injuries and life-threatening medical issues. While your first instinct might be to rush to the emergency room when illness strikes, it isn't the best place to handle every bump, bruise, burn, cut, or fever. The less serious the condition is, the longer you will end up waiting for treatment at the emergency room. You should consider going to the emergency room when experiencing: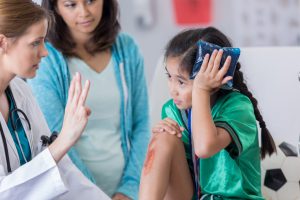 Head or eye injuries

Slurred speech

Chest pain

or difficulty breathing

Serious burns

Loss of vision

Mental illness concerns 

Concussion or confusion

Fever with a rash

Fainting

Facial laceration

Vaginal bleeding during pregnancy

Weakness or numbness on one side 
When visiting the emergency room, you will most likely end up paying a larger co-payment, and more coinsurance than after a visit to an urgent care facility. You will also have to meet your deductible before your healthcare plan begins paying for your costs.
Urgent Care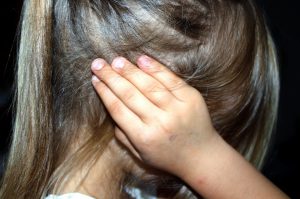 Urgent care is not the same as emergency care, but these offices are a great backup for when your regular doctor is not available. They can handle a variety of medical problems that need to be treated right away, but are not considered true emergencies. They will perform basic lab tests and treat minor illnesses and injuries such as:
Minor fractures, sprains, and strains

Fever without a rash

Cough, sore throat, or sinus pain

General cold and flu symptoms

Nausea and vomiting

Diarrhea 

Ear pain

Dehydration

Wheezing or shortness of breath

Abdominal pain

Small cuts that require stitches
Urgent care facilities offer fast, convenient access to medical care, and are normally staffed by nurse practitioners and physician's assistants. You will generally pay less for treatment at an urgent care facility than you would at an ER, and most accept insurance. Make sure to ask if they accept your insurance before you go to the urgent care facility or accept treatment. The best part of urgent care is that they work hand-in-hand with emergency rooms, so if they cannot treat your condition, then they will refer you to the closest emergency room.
Telemedicine is usually the most convenient option for immediate help. If you are feeling ill, you can call and speak to a doctor over the phone from the comfort of your own home. During a virtual visit, a doctor will help with the same things that you would normally have to wait days or weeks to discuss with your primary care physician.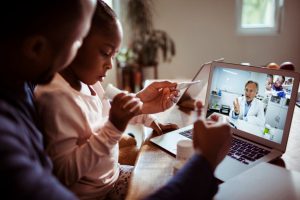 Consider using a telehealth visit when you have one of the following concerns:
Cough, cold,

flu

, or other respiratory infections

Headache

Nausea and vomiting

Sore throat

Allergy

and asthma flare-ups

Joint aches and pain

Rashes or insect bites

Small wounds or infections
Not everything can be treated during a video or telephone visit with your doctor. If you actually need in-person care, then you should consider going to an urgent care facility to be treated. 
Your primary care physician knows your history, and knows best how to take care of your health concerns. But during times of emergencies when you or a loved one is sick or injured, and your doctor's office is closed, you need to seek help elsewhere. Understanding the difference between emergency room care, urgent care, and telehealth will help you save time and money.