For seniors, access to healthcare can be a real issue. Research has shown that, despite the universality of Medicare, seniors in the United States face greater barriers to healthcare and are overall sicker than their counterparts in other high-income countries. With the COVID-19 pandemic bringing shelter-in-place orders and a particular risk for seniors, we are now faced with an even more pressing need for accessible healthcare. Telehealth can help bridge this gap, and we are seeing seniors and healthcare facilities turn to it in large numbers  – one medical center in New York saw telehealth visits increase from 300 per day pre-COVID to 7,000 per day in the peak of the pandemic. Will this much usage continue after the pandemic has died down? It's possible that telehealth is changing the landscape of healthcare, so let's look at what telehealth is, and how it can play a role in supporting seniors' health for the long term. 
What Is Telehealth?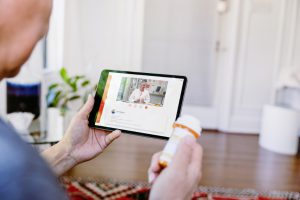 Telehealth is a variety of methods for remote healthcare services, communications, and education. The four main categories of telehealth are:
Live, synchronous video calls:

A two-way conversation in real time between patient and provider.
Asynchronous transmissions:

Recorded health histories that are transmitted electronically to another healthcare provider. This is particularly useful in rural areas, as it allows a

primary care physician

to consult with specialists in another location. 

Remote Patient Monitoring (RPM):

Often used for seniors, especially those living in senior communities, RPM collects patients' health data and then electronically transfers it to healthcare providers for monitoring and review. 

Mobile Health (mHealth)

:

mHealth makes use of health-based apps that can be used on tablets, laptops, or smartphones. Apps range from ones that can monitor a diabetic's blood sugar levels to daily reminders to drink enough water.  
Post-COVID Benefits for Seniors
Telehealth has been a great healthcare option for seniors (and everyone else) during the coronavirus crisis, as it has meant fewer visits to the doctor and less risk of virus transmission. But its benefits go beyond helping to flatten the curve during a pandemic. Some experts foresee that telehealth is around for the long haul, because it allows for: 
Routine monitoring of chronic conditions.

With aging comes more chronic health issues, such as cardiovascular disease, diabetes, and arthritis. These conditions require regular monitoring by healthcare professionals. Telehealth can save on the cost of frequent visits, while still allowing doctors to keep tabs on things like

blood pressure

, sugar levels, and pain. 

Regular sick visits.

Many people forego visits to the doctor when they're sick due to

cost

, scheduling issues, or lack of transportation. Telehealth makes seeing the doctor easier, and means doctors are more likely to catch an illness before it turns into something more serious, like a common cold that could become pneumonia. 
With telemedicine, you can see any doctor from different cities or states. 

Improved communication. When monitoring multiple conditions, as many seniors are, it can be helpful to have a second person in the doctor's office, noting things like medication changes, symptoms to look out for, and risk factors. Telehealth makes it easier for a family member or caregiver to keep track of what happens at appointments, making for better continuity of care. 
Range of care.

With telemedicine, seniors have access to a wider range of providers, such as

specialists

in other cities or even across the country. This improves quality of care and makes treatment that was previously inaccessible much more realistic. 

Removal of barriers.

Pandemic or not, there are always barriers to treatment, such as location and mobility. For seniors who live in rural areas, are unable to drive, do not feel comfortable with or are unable to navigate public transportation, or have mobility issues, telehealth makes a visit to the doctor's office much less stressful. 
What Happens Next?
In order to make telehealth a reality nationally, a lot needs to change. To start with, over 19 million people in the United States lack access to the internet speeds required for telehealth, and others would need technology like a smartphone or tablet with a camera. Furthermore, funding is a huge issue. Currently, some insurers have temporarily expanded coverage to support telehealth throughout the pandemic. Some representatives in Congress have recently introduced a bipartisan bill called the HEALTH Act, which calls for Medicare reimbursement to support telehealth services in community health centers and rural health clinics. The bill notes that "access to telehealth has become more than just a convenience, but rather a critical necessity in America". 
What do you think? Have you used telehealth? How was your experience? Tell us about it in the comments section!