It's June, and that means it's Pride Month! Last year gathering together in-person was out of the picture, but this year, things are looking up! So as we reflect on the struggles we've been through over the past year, and as we start to feel thankful for the hopefulness on the horizon, it's worth remembering that periods of struggle often lead to real progress and change. The same is true for the struggle for LGBTQ rights. People in this community (and their allies) have bravely fought for their rights and, while the fight is not over, they have achieved amazing things and changed our society for the better – because what society does not benefit from everyone enjoying equality and safety, and generally being able to get in on that whole life, liberty and the pursuit of happiness deal? So this Pride Month, let's both look back at where things started and look forward to where we're going, because there are lessons we can all learn from Pride Month. 
The History of Pride Month
So why June? It's not because of the beautiful weather, although that makes the fabulous parades (here's hoping they come back soon!) all the more enjoyable. No, the reason that Pride Month takes place this month dates back to what is considered the start of the modern LGBTQ movement: the Stonewall riots. The LGBTQ movement didn't start with the Stonewall riots – LGBTQ activists have been organizing since the 1920s – but they definitely provided the momentum for change, with the overflowing emotions of those times pushing the movement to a new level.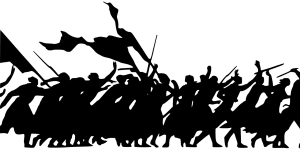 The riots all started with something that might seem unimaginable to us now, but was in no way unusual for the time. On the night of June 27 – 28, 1969, 8 police officers from New York City's Public Moral Division, which enforced all laws regarding "vice," like gambling, prostitution, drugs and, yes, homosexuality (they could even arrest and force hospitalization of gay people), raided the Stonewall Inn, a gay bar in Greenwich Village. That night, though, was the night that patrons would fight back. 
There are multiple myths surrounding how the riots actually began, including stories about who might have started everything by throwing the first brick (was it Marsha P. Johnson?), the first molotov cocktail (was it Sylvia Rivera?), or the first punch (was it Storme DeLarverie?), but it's still unclear what really happened that night. What is clear is that Stonewall, and the movement it sparked, was at heart a collective uprising, which was the peak of an entire community's frustration at their treatment. That activists like Johnson, Rivera, and DeLarverie were involved is important in that it reminds us of the huge part that LGBTQ people of color and African American Trans women played, and continue to play, in the movement.
The Stonewall riots lasted for six days, with hundreds of people resisting arrest and fighting back against police oppression. The unrest occurred at a pivotal time in US history, when there were massive societal changes happening all around, and when the media was really able to show people in real time what was happening in the world around them. That meant that coverage of the riots allowed people to see the LGBTQ struggle with their own eyes, and to relate to it as a struggle of those fighting for basic rights. The events of Stonewall also emboldened other activists to mobilize and take action.
One year later, the anniversary of the Stonewall riots was marked by demonstrations in New York, Chicago, Los Angeles and San Francisco. At first, the New York City day of celebration was called "Christopher Street Liberation Day." In Los Angeles and San Francisco, these events became known as "Gay Freedom Marches," and the day was called "Gay Freedom Day."  Chicago had Gay Pride Week. All of these events were focused on both celebration and politics, and aimed to promote visibility of the LGBTQ community, as well as to make clear what LGBTQ activists were fighting for, like protection against harassment, greater awareness of the AIDS epidemic, and marriage equality, among other rights. 
The voices of these activists began to be heard, and the marches grew from having a few hundred participants to the parades and events of today, which draw hundreds of thousands of people. In the 1980s, as the culture shifted, and a different style of activist took over the parade committees, the words "liberation" and "freedom" were dropped from the events, and the term "Gay Pride" became popularized.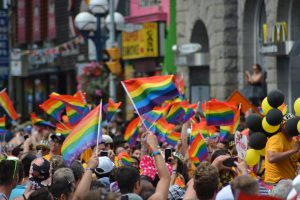 Pride Today
Now, in the 21st century, June is celebrated as Pride Month, with two Presidents before Joe Biden (Bill Clinton and Barack Obama) officially declaring it as such during their presidencies. The LGBTQ community and allies come together for a month-long celebration of love, diversity, acceptance and, of course, pride, with parades, marches, parties, concerts, and workshops. The month is also meant to commemorate the impact of LGBTQ activists on history here in the US and around the world, as well as memorialize those who have lost their lives to the AIDS epidemic and hate crimes throughout the decades. 
And that hard work is something worth celebrating: it has led to great strides, and now marriage equality and the right to adopt children in all 50 states are legal. Not only that, but during Pride Month 2020, in a victory 60 years in the making, the Supreme Court ruled that the 1964 Civil Rights Act protects LGBTQ employees from discrimination.
But while these are all huge gains, there is still a long way to go. For example, there are glaring gaps in the protections of the Supreme Court's ruling, LGBTQ couples still face financial inequalities, Trans rights (as well as the safety of Trans people) continue to be at risk all around the country, and LGBTQ youth continue to face a mental health crisis. As with most struggles to progress and make positive change, there is no fixed end point: those dedicated to making things better will continue their work, generation after generation.
Lessons for Today and for the Future
All of the above is why Pride Month is so important for the LBGTQ community, as well as for people who aren't part of the LGBTQ community. Pride is a way to support the LGBTQ community, and a way to remind everyone that we should never take freedoms, rights, and protections for granted. Pride is vital because the achievements of the LGBTQ community need to be made visible and celebrated as wins for all of society – but we also need it because the continuing struggles have to be acknowledged as part of the problems of our wider society, so that we can all move forward. There are so many lessons we can take from the origins of Pride, and from what it stands for today. For example: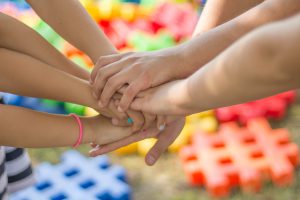 When people come together, they can make change.

The 20th century was a time of massive changes to society, many of which were sparked by activists and protests, but our present is, in many ways, just as intense. The last year has seen protests erupting all over the country, and the LGBTQ community has drawn a parallel between their activism and the activism of groups like Black Lives Matter, proving that we can all be allies and make change together. For example, last year LBGTQ and civil rights organizations called for action in an open letter, stating "We celebrate June as Pride Month, because it commemorates, in part, our resisting police harassment and brutality at Stonewall in New York City, and earlier in California, when such violence was common and expected. We remember it as a breakthrough moment when we refused to accept humiliation and fear as the price of living fully, freely, and authentically. We understand what it means to rise up and push back against a culture that tells us we are less than, that our lives don't matter. Today, we join together again to say #BlackLivesMatter and commit ourselves to the action those words require."

Telling your story makes a difference.

Collective action is one important piece of the puzzle, but Pride also reminds us that personal stories of individuals can be just as impactful. Coming out, for example, can be extremely powerful: it can change people's minds and make them see things in a different way. Telling your story, whatever it is, can have a ripple effect that leads to change! Speaking out about injustice you see, whether you are a member of the LGBTQ community or not, is also a way to have an impact on those around you. 

Change takes time, but even small personal commitments are worthwhile.

How long have marginalized groups been working for change? Decades? Centuries? Progress is incremental, but everyone can claim a piece of it by making small commitments, such as

Ask how you can support others in order to help make a change.
Speaking up about the issue of LGBTQ rights (or any other issue that you are committed to!) in your social circle

Protesting

Calling your legislator

Educating yourself on the best things you can do right now, even if it means just listening!

Asking how you can support others
Pride Month can mean so much to so many people: it can be a time to express joy and self-love, to memorialize and celebrate those who came before you, and to look forward to the  future – all at the same time! And, while we enjoy a little more togetherness this year (safely!), remember we've been through tough times before, and we've been able to move forward, we just have to keep hold of what matters.