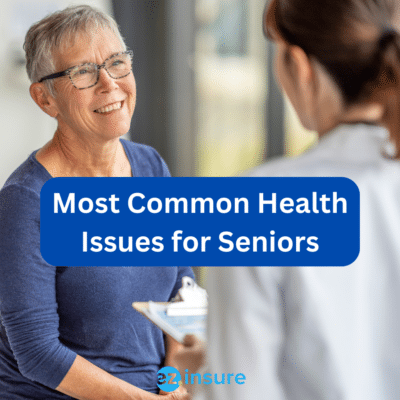 As you age, you'll start to face new health problems, and old ones become harder to treat. Thankfully, according to the Center for Disease Control and Prevention (CDC), seniors today can expect to live longer and healthier than ever before. That doesn't mean you don't have to be careful with your health though. Taking steps like quitting smoking, losing weight, and eating healthier can help you avoid the most common health issues that seniors face.
Heart disease is one of the most common health problems that seniors have to deal with. There are a range of conditions that fall into the heart disease category:
Blood vessel diseases

Arrhythmias (irregular heartbeat)

Congenital heart defects

Heart muscle disease

Heart valve disease
Heart diseases are also called "silent killers" because they don't always have obvious outward signs. You have a higher risk of heart disease if you have diabetes, high blood pressure, or high cholesterol.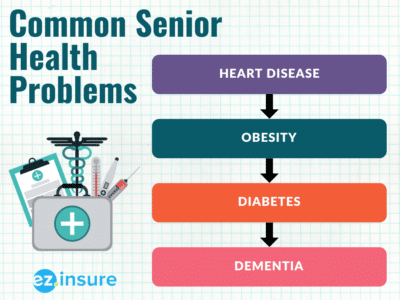 Heart Disease Symptoms
Heart disease symptoms vary depending on what types of disease it is:
Blood Vessel Disease Symptoms
Coronary artery disease is a common heart problem that affects the main blood vessels that bring blood to the heart muscle. Most of the time, coronary artery disease is caused by cholesterol buildup (plaque) in the heart's vessels. This plaque build up can lead to the heart and other parts of your body getting less blood. Which can lead to heart attacks, angina, or stroke. Men and women can have different signs of coronary artery disease. For example, men more commonly experience chest pain while women are more likely to have nausea, fatigue, and shortness of breath. Other symptoms include:
Chest tightness

Chest pressure

Pain in the neck, jaw, throat, upper abdomen, or back

Numbness, pain, weakness in your legs or arms
Coronary artery disease might not be found until you have a heart attack or stroke. It's important to keep an eye out for any of these symptoms and talk to your doctor about them. If you mention it early enough the disease can be found and treated early.
Arrhythmia Symptoms
Arrhythmia is when your heart is beating too fast or slow in an abnormal way. In general, heart arrhythmias can lead to problems like stroke, sudden death, and heart failure. Blood clots are more likely to happen in people with heart problems. If a clot breaks free, it can move from your heart to your brain and cause a stroke. Some signs of arrhythmia are:
Chest pain or discomfort

Dizziness

Fainting

Chest flutters

Lightheadedness

Racing heartbeat

Shortness of breath

Slow heartbeat
Congenital Heart Defect Symptoms
Adult congenital heart disease (ACHD) is a group of disorders that affect the structure of your heart and are present at birth. "Congenital" means that the problem was there when the baby was born. It happened while the baby was still in the womb. These diseases can change how your heart pumps blood. They are also called birth defects of the heart.
Heart problems that are present at birth can be mild or very dangerous. Depending on the type of heart disease and how bad it is, signs may not show up until a person is an adult. Some people never feel anything at all. And some people were treated for these conditions when they were kids, only to have long-term effects as adults. Symptoms include:
Blue tints to fingernails, lips, and skin

Dizziness

Fatigue

Heart murmur

Heart palpitations

Irregular heartbeat

Shortness of breath

Swelling in your ankles, feet, or hands
Heart Muscle Disease Symptoms
Heart muscle disease, or cardiomyopathy, makes it harder for senior's heart to pump blood to the rest of your body. Cardiomyopathy can cause the heart to stop working. There are 3 types of cardiomyopathy: dilated, hypertrophic, and restrictive. Depending on the type of cardiomyopathy and how bad it is, treatment might include medicines, device implants, surgery or in the worst case heart transplant. Symptoms include:
Breathlessness

Swelling in your legs, ankles, and feet

Bloating

Coughing

Difficulty lying down

Fatigue

Chest discomfort

Dizziness

Fainting
Heart Valve Condition Symptoms
The aorta, mitral, pulmonary, and tricuspid valves are the four valves in the heart. They open and close to help the heart pump blood. Many things can hurt the valves in the heart. A heart valve can become narrowed (stenosis), leaky (regurgitation or weakness), or not close properly (prolapse).
Heart valve disease is another name for valve heart disease. Depending on which valve isn't working right, the signs of heart valve disease are usually:
Chest pain

Fainting (syncope)

Fatigue

Irregular heartbeat

Shortness of breath

Swollen feet or ankles
Medicare And Heart Disease
Medicare Part B pays for heart disease blood tests every 5 years if your doctor orders them. You don't necessarily have to have any signs of heart disease to get these tests done, you can have them just as a precaution if you'd like. Original Medicare pays 100% of the Medicare-approved amount for screening blood tests for heart disease. This means you don't have to pay anything. Medicare Advantage plans have to cover heart disease screenings without deductibles, copayments, or coinsurance if you see a provider in their network.
During your heart disease check, your doctor may find something new or old that needs to be looked into or fixed. This extra care is diagnostic, which means that your doctor is treating you because of some signs or risk factors. During a preventive visit, Medicare may charge you for any medical care you get.
As the number of seniors in the U.S grows, so does the obesity rate. According to the National Health and Nutrition Examination Survey, more than one-third of seniors were considered obese. Research has shown that obesity puts older people at risk for a wide range of health problems. When a person is overweight, their organs are put under extra stress, which makes it hard for them to work properly. If you are obese as a senior, you are more likely to have health problems like:
Diabetes

Hypertension

Respiratory problems

Arthritis

Osteoarthritis

Cardiovascular disease

Cancer

Mobility issues

Body pain

Gallbladder disease
Additionally, obesity has been shown to cause depression and a low quality of life. Depression in old age can put you at a higher risk for heart disease and other serious health complications.
Medicare and Obesity
Recent changes to Medicare Part B are a big step toward getting doctors and patients alike to see obesity as a serious health problem. So, beneficiaries with a BMI (body mass index) of 30 or more can get free obesity screenings and behavioral therapy through the Intensive Behavioral Therapy for Obesity program. Their services must be given by a doctor, nurse practitioner, physician's assistant, or clinical nurse specialist. Covered services include:
Initial BMI assessment

Nutritional evaluation

Ongoing weight loss and dietary counseling
Medicare only pays for visits that take place in a primary care setting as part of the Intensive Behavioral Therapy program. If your doctor tells you to see someone else, like a chef, you'll have to pay for those services yourself. Some Medicare Advantage (Part C) plans give you more benefits, which can help you lose weight. These plans may cover gym memberships and subscriptions to exercise programs like SilverSneakers, an app for older people that helps them stay fit. For a short time, some Medicare Advantage plans may also cover the delivery of healthy meals to your home.
Medicare will pay for bariatric surgery if your doctor says you need it because you are very overweight (BMI of 35 or higher). In most cases, you'll need a certain BMI and at least one health problem connected to your weight, like diabetes or heart disease, in order to get coverage. You must also show that you have tried and failed to lose weight in the past by dieting or working out.
Diabetes
Diabetes affects about 33% of adults ages 65 and up. People in this age group are more likely than younger people with diabetes to get problems like hypoglycemia (low blood sugar), kidney failure, and heart disease. There is new knowledge that can help us better understand and treat diabetes in older people. Special things should be taken into account to help people's general health and quality of life. Many older people have more than one condition at the same time, such as cognitive impairment, heart disease, and others that affect how they learn about and take care of their diabetes. 
Diabetes Symptoms
Diabetes can cause you to feel tired, hungry, or thirsty more often, to lose weight without trying, to urinate a lot, or to have trouble seeing clearly. You could also get skin diseases or take a long time to recover from cuts and bruises. Some people with diabetes may not know they have it because the signs usually come on slowly and are easy to miss. Seniors sometimes brush off these signs as "getting old," but they could be signs of a major problem. If you have any of these signs, you should talk to your doctor.
Medicare And Diabetes
If you have been diagnosed with diabetes or have certain risk factors, you can rest easy knowing that Medicare Part B covers free diabetes screenings, prevention programs, supplies and nutrition therapy. So you won't have to pay your deductible or the copayment for Part B, which is usually 20% of the cost of services paid by Medicare. Part B also pays for lessons on how to take care of your diabetes on your own, but you may have to pay the Part B deductible and copay.
Screenings
You can get up to two diabetes checks a year for free if your doctor thinks you might get diabetes and you have any of the following risk factors:
High blood pressure

Abnormal cholesterol history

High blood sugar

Obesity
Or if you have 2 of more of these:
Are 65 or older

Had gestational diabetes during a pregnancy

BMI of 25-29.9

Parents or siblings with diabetes
Prevention
One Medicare-covered diabetes prevention program can help you avoid type 2 diabetes, which often happens to people because of what they eat, how little they exercise, or how they live their lives. The program includes weekly group meetings for six months to help you change your diet, move more, and keep your weight in check, as well as six monthly follow-up meetings.
To be eligible, you must have certain amounts of glucose in your blood or plasma, a BMI of 25 or more, and no history of type 1 or type 2 diabetes. Part B needs you to go to a program put on by a Medicare Diabetes Prevention Program provider that has been approved.
Nutritional Therapy
If you have diabetes or kidney disease and your doctor tells you to go to nutrition therapy, you don't have to worry. This service may include an initial nutrition and lifestyle exam, individual and group nutritional therapy, help with managing lifestyle factors that affect your diabetes, and follow-up visits. The nutrition therapy services must be given by a registered dietitian or another qualified nutrition worker.
Diabetes Supplies
Medicare covers a lot of products for seniors with diabetes, like blood sugar monitors, glucose test strips, glucose solutions, and lancets used to draw blood. It also pays for constant glucose monitors for seniors who take insulin or who have had trouble with low blood sugar in the past. Part B says that these items are covered as long-lasting medical tools. After you've paid your Part B payment for the year, you'll pay 20% of Medicare-approved costs.
You must buy the equipment from a Medicare-enrolled supplier or order it through Medicare's mail-order program using a Medicare national contract provider. A Part D prescription plan pays for things like alcohol swabs, bandages, inhaled insulin devices, needles, and syringes that are used to give insulin.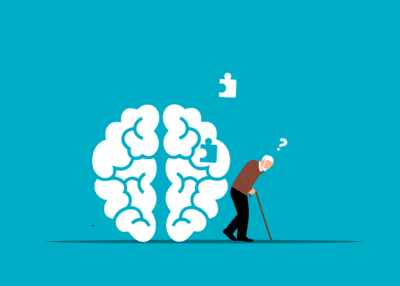 Dementia isn't just one illness. It's actually a general term for a group of signs that people with different diseases, like Alzheimer's, may have. Diseases that are called "dementia" are caused by changes in your brain that make it not work properly. The symptoms of dementia cause a decline in cognitive abilities that is serious enough to make it hard to live on your own or do daily tasks. Dementia also changes how you act, feel, and relate to others. 
60-80% of dementia cases are caused by Alzheimer's disease. Vascular dementia is the second most common cause. It is caused by tiny blood clots and blocked blood vessels in your brain. People with mixed dementia have brain changes that stem from more than one type of dementia at the same time. Most people call dementia "senility" which is wrong because that term comes from the belief that mental decline is a normal part of aging, which it's not.
Medicare And Dementia
Medicare covers dementia care, providing much-needed assistance throughout the condition. Alzheimer's, vascular dementia, and other dementias require comprehensive care across multiple healthcare providers. However, Medicare addresses many of these needs, thankfully.
First, Medicare Part B covers cognitive tests. These are essential for senior dementia tracking. Doctors can adapt treatment plans based on cognitive changes in you or your loved one through regular cognitive exams. They can also identify the patient's dementia stage. Medicare Part B provides cognitive and home safety tests. These examinations can detect household hazards that could injure or complicate dementia patients. The evaluations suggest ways to make living safer and dementia-friendly. Medicare Part B also covers care planning. The advancement of dementia requires care modifications. Medicare care planning helps address medical, social, and mental needs as dementia progresses.
Medicare Part A covers hospital stays for complications or severe dementia progression. Inpatient care at general or mental hospitals is included. Dementia care requires pharmaceutical management, which Medicare Part D provides. This prescription drug coverage covers doctor-prescribed dementia drugs. This coverage can greatly minimize senior drug expenditures, which can add up. While Medicare provides extensive coverage, it's crucial to understand your plan's deductibles, copayments, and other out-of-pocket charges. Remember that knowing what to expect might make dementia care easier.
How EZ Can Help
EZ can help you enroll in Medicare, buy a Medicare Supplement Plan, or compare options. Our representatives deal with top insurance companies. They can compare all local plans for free. We will assess your medical and financial needs and recommend a plan. Simply call one of our qualified agents at 877-670-3602 or enter your zip code in the bar below to begin.