Attention deficit hyperactivity disorder, or ADHD, often gets misdiagnosed in young people. While around 11% of children ages 4-17 in the U.S. have received a diagnosis of ADHD, studies show that this is just a small percentage of people who actually have ADHD. This misdiagnosis, and failure to treat ADHD, can end up causing bigger issues for people when they get older: those with undiagnosed or untreated ADHD have a higher risk of developing mental health conditions such as depression. Symptoms can become worse after midlife, and continue to worsen with regular age-related cognitive decline. Don't ignore the symptoms, speak to your doctor before your condition gets worse.
What ADHD Looks Like In Older Adults
An estimated 3% of older adults have been diagnosed with ADHD, although the number of those who are actually living with the condition might be higher. While some studies show that ADHD doesn't necessarily get worse with age, and that some adults can outgrow their symptoms, this is not the case for everyone. In fact, some people will experience more severe or intense symptoms during their day-to-day activities when they get older, since the more stress you encounter, the worse your ADHD symptoms can get. That means adults with ADHD will need more support than the average aging adult.
When Do Symptoms Get Worse?
Symptoms of ADHD generally change during the transition from childhood to adolescence and young adulthood, again when a person enters midlife, and yet again during older age. Often, older adults with ADHD will have issues with things like:

Misplacing items

Forgetting words

Talking too much

Having trouble following conversations

Difficulty maintaining their home

Difficulty maintaining relationships

Memory issues

Not getting things done

Time-management challenges

Poor sleep patterns

Poor nutritional habits
In addition, a 2012 study found that 62% of those with ADHD had at least one other disorder, such as:
Anxiety

Depression

Eating disorders

Bipolar disorder
Eventually, if left untreated, ADHD can lead to serious mental health issues. Specifically, older adults with ADHD have an increased risk of developing depression and dementia. "Older people with ADHD who have never been diagnosed may suddenly fear that they're developing dementia because they are absentminded and forgetful," says Kathleen Nadeau, Ph.D.
Managing & Treating ADHD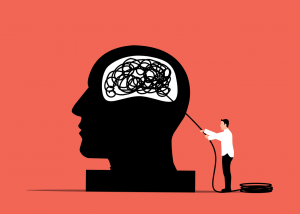 If you suspect that you have ADHD, speak to your doctor. The best way to help manage your condition is to seek treatment as soon as possible: the earlier you get help, the more manageable the condition is. You can do this by going to a support group, or attending cognitive behavioral therapy. This type of therapy can help raise your awareness when symptoms occur, help you combat feelings of low self-esteem to reduce feelings of depression, and teach you how to cope with stress and increase productivity.
If you need more help, doctors can prescribe medications such as amphetamines and methylphenidate to help deal with ADHD. And in rare cases, doctors will prescribe antidepressants.
If you're on Medicare, getting medications and therapy for ADHD will be partially covered, but you will still have out-of-pocket expenses, such as your Part B deductible and 20% Part B coinsurance, which can add up to a lot. It's worth looking into a Medicare Supplement Plan to save as much money as you can, so speak to an EZ agent for all of your options. EZ's agents work with the top-rated insurance companies in the nation and can compare plans in minutes for you at no cost. To get free instant quotes for plans that cover your current doctors, simply enter your zip code in the bar on the side, or to speak to a licensed agent, call 888-753-7207.