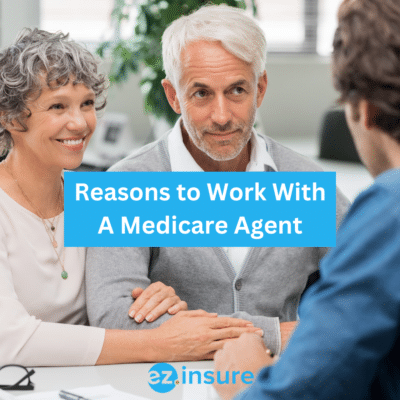 You can technically enroll in Medicare and Medicare products on your own. You can do all your own research on Medicare, Medicare Advantage, and Medicare Supplement Plans. Or you can look into all of the providers available. You can even search for quotes for these plans on your own. However, is this the best way to enroll in Medicare? We don't think so. The issue with doing your own research is that you may not find all of the information you need. Due to years of experience, a Medicare Agent will have more information for you, including things not commonly found on the internet.
Contrary to popular belief, you don't pay your Medicare agent. Since the insurance companies pay your agent for their services, you never pay them a dime. Your premium will also not increase just because you used an agent. So using an agent is free and absolutely no hidden fees. They are there to give you all the information you need and help you find the best options for you.
What Is A Medicare Agent
Before we dive into why you should use an agent, let's look at what they actually do. A Medicare agent is a licensed expert who assists you in reviewing and evaluating Medicare plans and their benefits, as well as assisting you in selecting and enrolling in the best plan. There are two types of Medicare agents. The first is an independent agent. This type of agent works with numerous insurance providers and can enroll you in any of their plans. The second type is a captive agent. These agents work with one specific insurance company. EZ's agents are independent so we can provide you with plans from all providers.
Benefits of Medicare Agent
We know it's hard to trust that you'll be in good hands. So, we've made a list of reasons a Medicare agent could be beneficial to you. Since EZ's agents are independent we've based this list on the benefits of working with independent agents.
1. Expert Knowledge
Simply put, Medicare can be confusing. You can spend countless hours reading about Medicare and its products and you could get a fairly solid understanding of how it operates. However, our Medicare agents continuously educate themselves and are familiar with Medicare's rules and regulations, which changes frequently. A simple mistake, such as missing your Initial Enrollment Period (IEP), could result in penalties or delays in coverage. Even selecting the wrong Medicare Supplement Plan can leave you with big gaps in your coverage. Meaning you've got unnecessary money coming out of your pocket for healthcare costs that you could have saved with the right plan. When it comes to Medicare, the devil is in the details. Our agents will ensure that you are educated and supported through your entire Medicare journey.
2. Help Choosing a Plan
Once you're eligible for Medicare it's not as simple as enrolling. You have some options to consider. For instance, you can choose to enroll in a Medicare Advantage plan instead of Original medicare. If you enroll in Medicare Advantage through a private insurer you'll still have Medicare but your coverage comes directly from the Advantage plan rather than Original Medicare. Medicare Advantage can include additional coverages such as vision, hearing, dental and wellness programs. They also usually have prescription drug coverage under Medicare Part D.
On the other hand you can choose to stick with Original Medicare and then purchase a Medicare Supplement Plan and enroll in Part D on your own. Going this route also gives you these additional benefits but deciding which path to take depends on your specific needs. You need a thorough understanding of each path in order to choose the right one. There are so many factors to consider, like your budget, provider networks, and current prescriptions. Our licensed agents understand the pros and cons of both paths and as they get to know your circumstances, they can help you figure out which is the best one for you.
3. Help with underwriting
Underwriting is a process that private insurance companies use to figure out your health stats when you apply for health insurance, such as Medicare Advantage or Medicare Supplement. The process helps companies decide how much your premium will be. Our Medicare sales agents are very familiar with the underwriting application questions from various companies. Suppose you are interested in switching Medicare Supplement companies. We can match you with the company that is most likely to accept you –even if you have a medical condition that you think might make you ineligible. We're here to find you coverage, no matter what.
4. Benefit clarity
When you're searching for coverage or deciding what choice is best for you, you'll mainly be looking at benefits. Our agents can help you read through all the legal jargon to find out what benefits are specifically being offered and if they're beneficial to you.
5.Access to a variety of providers
Medicare agents work for you, not the insurance company. So we won't just offer you plans from one source, we offer you dozens of options. We can research pricing for nearly every provider in the country for any given plan. For instance, Medicare Supplement Plans are standardized, meaning the plans all have the same benefits no matter where you live or who you buy them from. So, say you like Plan G, you can compare prices from all the available providers in your area. Why pay more than necessary for the same coverage? When you work with a Medicare agent you never will. 
6. Continued service
Your relationship with your agent continues even after you enroll in Medicare. During the annual enrollment period, your agent can help you review your coverage. Then, they can help you decide if your current plan is still the best option or whether you need to make adjustments. They will then help you make those adjustments. They can also help you with any concerns or questions about your coverage no matter the time of year or how long you've had Medicare. Once you find an agent they are available to you the entire time you have Medicare.
7. Time saver
Working with a Medicare agent can save you a great deal of time. You won't be stuck spending hours, days, or even months researching Medicare and looking for plans on your own. Agents can compare every plan for you quickly and efficiently. They can also answer any questions you have immediately and accurately rather than having to read through hundreds of internet searches hoping to find the answers you need and hoping the answers you find are accurate .
8. It's free!
You don't pay any fees to work with a Medicare agent. Using their services is completely free. You're probably wondering, "So, how do they get paid?". Their pay comes directly from the insurance companies. Most agents are paid commission. When they enroll you in a plan, the insurance company pays them for the first year of coverage as well as an initial sum for each year you are enrolled. Now, don't worry, they aren't incentivized to enroll you with a specific company. So you don't have to worry that they'll push you to enroll with a certain company to get more commission. They're only motivation is getting you enrolled in the best coverage possible.
Choosing a Medicare Agent
After you provide us with some fundamental information through EZ, we will provide you with quotes and match you up with an insurance agent who is the most suitable for your circumstances. Who we match you up with depends on a variety of factors, including your location and the kind of coverage you're looking for in a plan. We take measures to ensure that your agent is familiar with the area in which you live. This way, you won't have to worry about being assigned an agent who lives in another part of the country and who isn't as knowledgeable about the services provided in your area as a local agent would be. 
Why Work With EZ
EZ is able to help you with enrolling in Medicare, buying a Medicare Supplement Plan, or even just answering any questions you might have. We can also help determine which options are best for you. Our insurance agents work closely with a number of the country's most well-known and respected insurance companies. They are able to give you a free analysis and quotes that compare all of the plans offered in your area. First our agents will talk with you about your medical needs and your budget. Then we help in finding you a plan that we can help customize to fill those needs while staying well within your budget. We can actually save you hundreds of dollars a year. If you're ready to start, simply enter your zip code into the bar below or give us a call at 877-670-3602 and we'll get the process started right away.