When it comes to determining if a short-term health insurance plan or a major medical health insurance is best for you, there are many factors you must consider. Two of the main things to consider are how long you want coverage and what you want to be covered. Short-term plans aid people when a catastrophic issue arises, such as a sudden injury or illness. With short-term health insurance, you can choose how long you need coverage, and what price you want to pay. Major medical health insurance provides more comprehensive care than short term insurance.  Major medical plans include things such as preventative care and wellness checks. Unlike short term plans major medical plans lasts longer than a year and are usually more expensive.
Short-Term Health Insurance
The purpose of a short-term plan is to cover medical and travel expenses from 3 – 12 months. These health insurance plans are also called travel insurance plans because if you are traveling outside of the US, short-term plans will offer you basic coverage for a limited time.
Short-term plans are a more flexible option for people looking for coverage for no longer than a year. Short-term plans, unlike regular health insurance plans, are charged a daily rate which lets you buy a plan for the time you need, whether it be a month or more. The plan can go into affect anywhere from the day after applying to 14 days later. These insurance plans are generally nonrenewable, but you can reapply if needed with some restrictions.
Short-term plans are usually up to 50% cheaper than long-term plans. Savings vary by person, for example, a man who does not smoke can purchase the cheapest short-term plan for $110 a month, while the cheapest long-term plan will cost him about $270 a month. The savings are even more significant if you are under the age of 30 and plan on traveling out of the United States. People under the age of 30 can get short term health insurance plans for  as low as $38 a month.
These plans are less expensive and much easier to obtain. The application does not require a medical exam and only asks a handful of yes or no health questions in order to get approved.   Short term health insurance plans, unlike normal health insurance plans, also offer plans for older customers. You can apply for a plan up to the age of 89, while normal health insurance plans are not offered after age 75.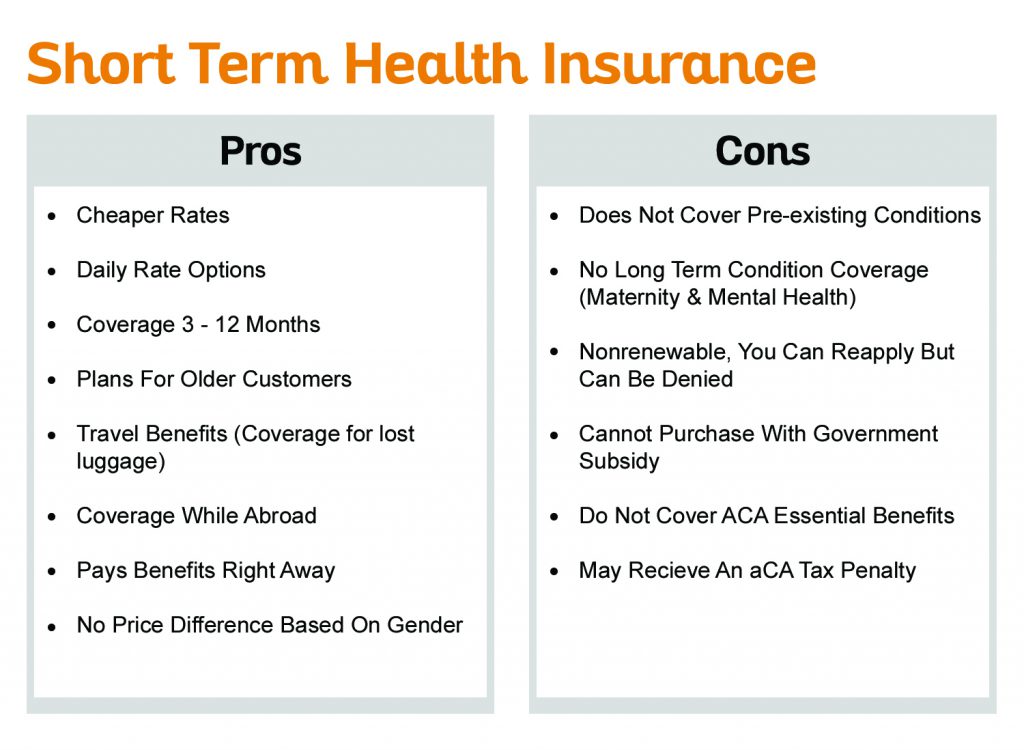 Who Should Apply For Short Term Health Plans
According to the National Association of Insurance Commissioners, short-term policy utilization has increased from 108,000 people in 2013 to 148,000 people in 2015. Short-term plans have been gaining popularity among those who need coverage but cannot afford long-term health insurance. It is ideal for anyone who waited too long to purchase long-term and missed the open enrollment period, young adults who can no longer be on their parents' health plans, people in between jobs, and those that are waiting for their employer or government benefits to begin. Some people buy short-term insurance to cover the deductible period before their long-term insurance starts paying. Others purchase these plans to fill in the gaps of Medicare coverage.
Major Medical Health Insurance
Major medical insurance is a long-term plan that offers more comprehensive coverage. These plans help manage day to day expenses and are convenient for those that require routine medical work , such as medication, lab work, and inpatient and outpatient services. Major medical health insurance complies with the ACA requirements which means it provides the ten essential health benefits. These ten essential benefits are: ambulatory patient services, prescription drugs, emergency care, mental health services, hospitalization, rehabilitative services, preventative and wellness services, laboratory services, pediatric care, and maternity and newborn care. However, most health insurance plans do not cover dental, vision and hearing, so you must purchase a separate plan for any of these forms of coverage.
Major medical policies offer peace of mind in knowing that you are covered in case of emergency or future conditions. These plans allow you to choose your own policy and deductible, but require you to answer health questions and conduct a medical exam to determine if you are qualified for benefits. Your policy rates depend on your age, gender, marital status, and the amount of coverage you desire. As of January 1, 2014, people who purchase major medical plans cannot be turned down or have rates raised due to pre-existing conditions.
Unlike short-term health insurance plans, major medical plans offer more extensive coverage and you will not be issued a tax penalty because it abides by ACA guidelines. These plans can be  renewed annually unlike short-term plans which only last up to a year. You must enroll during open enrollment which is from November 1st to December 15 this year. If you miss open enrollment, then you will have to wait until the next enrollment period, unless you qualify for special enrollment. These special circumstances are when you adopt or have a child, get married, lose coverage from an employer, or move outside network area. If you attempt to purchase a plan outside of open enrollment, it will cost you a lot more.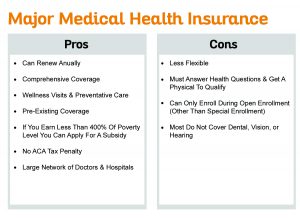 Who Should Apply For A Major Medical Health Plan
Major medical insurance is important to have for everyday health coverage, for both an individual or a family. It helps people whose employer or spouse's employer does not offer health insurance. If you are pregnant or planning to become pregnant, this plan is your best option because it will cover your medical expenses and the newborn is generally put on the plan automatically. Short term health plans do not offer any type of coverage for pregnancy expenses. When you are over 26 years old and are no longer on your parent's plan, then a major medical plan is best if you are looking for preventative care and wellness checks.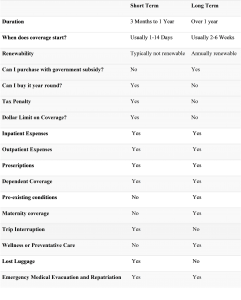 If you need help comparing different types of health insurance plans EZ.Insure will help you. We will connect you with a highly trained agent that will help you discover what health insurance plan is best for you. To get started, you can put your zip code in the link to the right, email us at replies@ez.insure, or give us a call at 855-400-0489.