Thyroid conditions are very common in people over 60, and chances of developing them increase with age. In fact, an estimated 20% of women over the age of 60 have some form of thyroid disease. Each kind of thyroid condition – hypothyroidism and hyperthyroidism – has different symptoms and treatments associated with it, and being able to identify each of them can help you get the necessary treatment more quickly. But when it comes time to talk to your doctor about a thyroid condition, will Medicare cover the tests?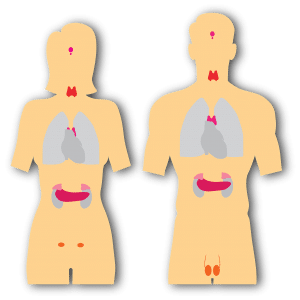 Your thyroid gland is located in your neck below the voice box, with two lobes on each side of the windpipe. It produces hormones that regulate your metabolism, T3 and T4, which are essentially chemical messengers that control your metabolism and mood. If your thyroid either makes too much or too little thyroid hormone, your body will experience certain changes. There are two different conditions related to too much or too little thyroid hormone:
Hypothyroidism

– This is the most common type of thyroid condition in seniors, with up to 1 in 4 patients in nursing homes dealing with it. It is caused by the underproduction of thyroid hormones and results in a low metabolic rate. Symptoms include sleepiness, dry skin, joint and muscle pain, constipation, intolerance to the cold, and weight gain. 

Hyperthyroidism-

With this condition, your metabolism increases because your  thyroid produces too many hormones. Symptoms include mood swings, hyperactivity, swelling in the neck, diarrhea, and muscle weakness.
If you experience any of the symptoms above, talk to your doctor so that you can get tested for a possible thyroid condition. In order to test for a thyroid condition, your doctor will take a blood sample, which can be done at their office or at a laboratory. If the lab work reveals that you do have a thyroid condition, you can get the proper treatment to help control it and decrease your chances of any other conditions developing or worsening. 
Thyroid disorders that occur in older individuals can disguise themselves as other conditions, so in order to confirm or rule out a thyroid disorder, you need to get tested. Medicare covers thyroid testing and screening: anything that is done on an inpatient basis will be covered by Medicare Part A, and anything done in an outpatient setting will be covered by Medicare Part B, if your doctor orders the test. The criteria you will have to meet in order for Medicare to cover thyroid testing include:
Having symptoms that could be linked to your thyroid.

Your doctor confirming that it is medically necessary

Getting the test done at a Medicare-approved laboratory.
If you are not at risk for any thyroid conditions, a test can be performed 2 times per year. If you are at risk, have had thyroid cancer, or are adjusting to thyroid medications, your doctor can request more than 2 tests per year, and Medicare might cover it.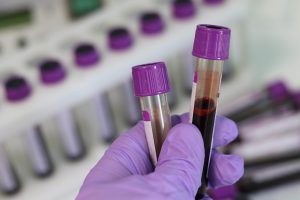 If your doctor orders thyroid testing, Medicare Part B will cover 80% of the cost, leaving you responsible for meeting your Part B deductible and paying the 20% that Medicare does not cover. 
Extra Coverage
Over time, the 20% coinsurance that you have to pay with Medicare Part B can really add up, especially if you have any chronic conditions that need to be managed. But, if you have a Medicare Supplement Plan, any coinsurance that you have to pay (the 20% not covered by Medicare) will be covered by the plan. All you will have to do is pay a monthly premium for the plan, and the plan will handle your coinsurance and other medical expenses. 
If you are interested in exploring your Medicare Supplement Plan options, EZ can help you. Our agents work with the top-rated Medicare Supplement insurance companies in the country, and we can provide instant free quotes in minutes to you. We will go over your needs and each Medicare Supplement Plan to help determine which is right for you. We can help you save hundreds of dollars each year with a Medicare Supplement Plan. To get free instant quotes, simply enter your zip code in the bar above, or to speak to one of our licensed agents, call 888-753-7207.