Picture it: a glistening pool reflecting a clear blue sky, a warm, sun-soaked towel, and a glass of ice cold lemonade. Spending time by the pool is a great way to pass the hours on a summer day. It's also one of the best ways for seniors to get exercise! Here are 4 ways swimming can improve your quality of life. 
1. Increase balance, coordination, and flexibility
Swimming is an ideal exercise for preventing falls, which doctors caution can have catastrophic outcomes for seniors. Regular swimming has been linked to improved balance and coordination because it helps you create your own base of support and stability while you simultaneously coordinate your upper and lower body movement. In fact, a recent study in Australia looked at seniors over a 4 year period and determined that those who swam once or twice a week experienced 33% fewer falls than their peers. Swimming can also improve mobility and flexibility, and can help loosen stiff joints in your neck, shoulders, hips, arms, and legs.
2. Strengthen your heart and tone your muscles
Experts believe that over 80% of seniors are affected by heart disease. Swimming offers an opportunity to improve your heart health by increasing circulation and lowering blood pressure. And, because swimming is a low-impact exercise and is easy on the joints, it allows you to exercise more frequently and for longer periods of time. Additionally, swimming strengthens and tones your muscles – the density of water acts as a natural form of strength training! 
3. Improve your mood (and
sex drive
!)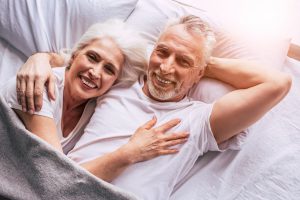 Have you ever heard of a "runner's high"? That sense of euphoria is caused by an increase in endorphin levels, the chemicals produced in the brain that make us feel good. Swimming, like running, triggers a boost in endorphin production, resulting in a similar rush of euphoria. Similarly, swimming has been shown to increase estrogen and testosterone production, which impacts the libido. Increased libido has been linked to higher self-esteem, enhanced mood, and a greater sex drive. 
4. Ease your mind
Last but certainly not least is the benefit that swimming can have on your mind! Exercise is connected with sharpened cognitive function in seniors, and most people say that they find swimming to be a relaxing, leisurely activity. Swimming with your friends and family can double the benefit!  
Swimming doesn't have to be limited to the summer – there are gyms and community centers with indoor pools, and some physical therapists offer aquatic therapy. Enjoy swimming year round and reap the benefits for your body, and your mind!