As you age, being fit is more important than ever in order to stay healthy, and enhance your overall quality of life. Going to the gym is beneficial in order to build muscle and hop on the treadmill to keep your body in motion. But what if you could become leaner, more flexible, and do cardio in the comfort of your home? This is possible with yoga! As you age, yoga can be more effective than going to the gym. 

Reduces Stress
The practice of yoga is to meditate, in order to give you a clear mind from all of the stressors of the day. When you do yoga, your mind blocks out all of the negative energies by reducing noises and distractions (that you experience in the gym).
Makes You More Lean
Stretching your muscles as you strengthen them will make your body more lean. During yoga, you will do different poses that will help strengthen your core, and build strength by holding your body weight.
Provides More Balance
Almost everything you do in yoga engages your core muscles, making it more muscular. You hold positions that engage your core, and when you move to different positions you engage it as well. Strengthening your core helps your body balance more. Improving your balance will help prevent you from falling and getting injured.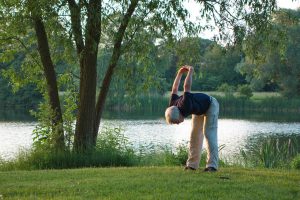 You Can Do It Anywhere
Yoga can be done anywhere! You can do it at home, in the office,and even in the park. As long as you have the time and need to meditate, you can do some yoga poses almost anywhere that is quiet and peaceful. You can tune out distractions, but it is not as easily done at the gym with all the loud noises from music, TV's, and people talking. 
No Waiting
Unlike at the gym where you have to wait for a person, or group of people to be done with a machine, you can do yoga on your own. Yoga is done at your own pace, without waiting for others to get out of the way or be done with something.
Good For You Internally
Twisting, stretching, and folding your muscles and body during yoga are good for the digestive system, the circulatory system, and more. It's a great way to detox the body and can improve your cardiovascular system.
Easier On Your Body
There are different classes such as hot yoga, and intense yoga classes. But there are ones that are easier on your joints such as chair yoga. Yoga works your muscles without lifting weights. Lifting weight takes a toll on your joints and can be painful. It helps build good posture, flexibility, and balance without straining your joints.
Yoga slowly stretches muscles and increases flexibility. The increased flexibility keeps muscles and joints lubricated
and healthy. Weights and treadmills at the gym can cause strain which leads to soreness and injuries.
Saves You Money
Yoga does not cost a thing. You do not need a gym membership because as you stay, you can do it anywhere! You can wear any clothing that allows you to move, and you don't need a mat. You can do yoga in the grass, or on a carpet.