Americans spent more than $129.1 billion on home health services in 2022. With home health care being so expensive it's important to have all of the facts. For example, if you're on Medicare and the need arises for home health care, will you be covered? What services will be covered? What won't be covered? All of these questions need to be answered so you can plan accordingly.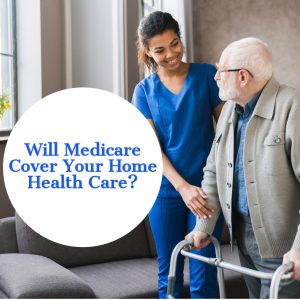 What Is Home Health Care?
Simply put, home health care is any medical care you receive inside your home. There are a variety of services you can receive at home, including skilled nursing care, therapy services, care from home health aides, and medical social services. All of these services help manage your health in different ways, and what you need will vary depending on your condition. 
Will Medicare Cover Home Health Care?
Medicare Parts A and B cover home healthcare services, but you have to meet certain criteria:
You must be under the care of a physician who is regularly reviewing your plan of care.

Your doctor must certify that you are homebound. This usually means you require a wheelchair or walker to be able to leave the house.

Your doctor certifies that you need intermittent skilled nursing care, physical therapy, or ongoing occupational services.
You do not have to be confined to your home 24/7 to qualify as homebound. You can still leave your home to receive medical treatment. Additionally, you can also leave for non-medical events like family gatherings, religious services, and even visiting the barber or beauty salon without risking your homebound status.
What Services Are Covered By Medicare?
As we said, there are several services that Medicare Parts A and B will cover.
But what do those services entail?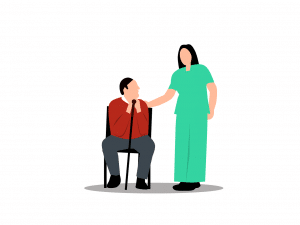 Skilled nursing –

This includes any service performed or supervised by a licensed nurse to treat your condition. Services may include receiving injections, catheter changes, tube feedings, and wound care. This type of care also includes management and evaluation of your healthcare plan.

Medicare will cover these services on a part-time or intermittent basis. That means they cover up to seven days a week for typically no more than 8 hours a day, and a total of 28 hours a week. In some cases, Medicare will cover up to 35 hours per week, depending on the level of care recommended by your doctor.
Skilled therapy

– There are a few different types of skilled therapy, including:

Physical therapy

-This includes gait training and training exercises to regain movement and strength in a specific area of your body.  

Occupational therapy –

This helps you regain the ability to do daily activities like dressing or feeding yourself. 

Speech-language therapy –

This helps strengthen your speech or language skills.

Home health aides –

Home health aides help you with personal care services like bathing, going to the bathroom, and dressing. Medicare will fully cover a home health aide only if you are also receiving skilled nursing care or skilled therapy, as well as personal care. 

Medicare social services

– These services help you with social or emotional concerns that can interfere with your care. They include counseling and finding resources in your community. As with coverage for home health aides, you have to also be receiving skilled care to have these services paid in full by Medicare.

Medical supplies

– Medicare will cover the cost of medical supplies like wound dressings and catheters when they are provided by a home health agency (HHA). Medicare pays for durable medical equipment like wheelchairs and walkers separately. Typically, Medicare with cover 80% of the cost of durable medical equipment. They have to fall under certain guidelines and a doctor must order them.
All of these services have to be necessary for treating your illness and performed or supervised by a licensed therapist. The amount of coverage varies, and Medicare needs to consider the services reasonable for each condition they treat.
What isn't covered?
While Medicare does cover a good number of services, there are limitations. Medicare will not cover:
24/7 home care

Meals delivered to the home

Household services like laundry, cleaning, and grocery shopping

Personal care if you are not also receiving skilled care

Medical social services if you are not also receiving skilled care
You'll have to pay for some things out-of-pocket, but you will know what they are. Your HHA has to give you an "Advance Beneficiary Notice of Noncoverage" (ABN) for any services that Medicare won't cover.
[zipformblock title="Find Health Insurance Palns in 3 Easy Steps" content="Let us help find the right health insurance plan for you." button="Find Health Plans"]
What Is an Advance Beneficiary Notice of Noncoverage?
Your home HHA has to give verbal and written notice before giving you any supplies or care that Medicare will not cover. You will receive an ABN if Medicare won't pay for services due to these circumstances:
The care is not reasonable or necessary

You're only receiving non-skilled care 

You are not homebound

You are not receiving your home care on an intermittent basis
Your ABN will have clear instructions and provide a reason why Medicare might not pay for the services. It will also detail exactly what service or supply is not covered. The ABN will also include directions to get an official decision from Medicare about the payment, and directions on how to file for an appeal. The HHA must also advise you how much the services will cost if Medicare decides they will not cover it.
While you are waiting for the official decision or appeal, you can opt to pay out-of-pocket to receive the care or supplies that are in question. If Medicare decides to pay for the care, they will reimburse you for all the payments you made during that time. 
Understand that if Medicare denies your appeal, or decides they will not cover the services, you will not receive a refund. Talk to your doctor and family to help you decide if you should pay out-of-pocket, or if you should wait for the decision before having the HHA provide the care or medical supplies.
The Bottom Line
In short, Medicare will cover your home health care. Just be sure to communicate with your doctor and have them regularly review your plan and renew your orders. And if you need extra help paying for your out-of-pocket expenses, your best bet is to look into a Medicare Supplement Plan.
If the time has come for home health care, EZ.Insure can help you find the Medicare Supplement Plan that's right for you. EZ's agents are highly trained and can help answer any questions you may have. We work with the best insurance companies in the nation and can get you instant quotes at no cost to you. For a free instant quote simply put your zip code in the bar above. Or call a licensed agent directly at 888-753-7207.
Co-written by Brianna Hartnett