There are some things in life that go without saying, and others that you need to be very clear about. For example, you can't assume that your loved ones will know what your wishes are when it comes to your end-of-life care. It is important to have a written document that spells out exactly what your wishes are in the event that you can no longer communicate them for yourself. This document is known as an advance directive, and because it is a legal document, you might be wondering whether you have to pay to have one drafted, and whether Medicare covers it.
Advance Directive Explained
An advance directive is a legal document that is drafted to ensure that you get the medical care you want if you ever become incapable of communicating your wishes. Essentially, this document  spells out what you would like to be done for you at the end of your life. The advance directive will be used by healthcare providers and your family to guide them in different scenarios. 
Your advance directive will allow you to give power of attorney to someone, who will then be able to make medical decisions for you if you are not physically or mentally able to. It will also include a living will that details your specific wishes regarding your medical care and even your after-death wishes.
How To Get An Advance Directive
You can get an advance directive drafted by an attorney, who will create a living will or power of attorney form. You can also get an advance directive from your local Area Agency on Aging, state health department, or through your doctor.
The best time to make an advance directive is when you are well, so you can be sure that you are making decisions with a clear head. Bring up the subject with your doctor, and provide them with a copy after you have had one drafted. Remember, your advance directive is not set in stone; you can change it at any time and, if you are able to communicate your wishes, your verbal instructions will always override your written directive. 
Why You Need One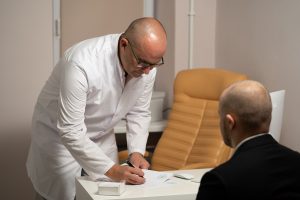 It's never easy to talk about the end of your life or the possibility that you could end up incapable of communicating your wishes. But it is something that you should think about and be ready for in the event that it does happen. Having an advance directive will put your family at ease, because they will know they did what you would've wanted regarding your medical care. 
Medicare Coverage
Medicare will cover advance care planning as part of your "Wellness" visit. During this appointment, you can talk about an advance directive with your doctor, and they might be able to help you fill out the forms if you'd like. As long as your doctor accepts Medicare assignment and talking about your advance directive is part of your "Wellness" visit, Medicare Part B will completely cover advance care planning. If you go to the doctor for something other than a "Wellness" visit, Medicare will still cover advance care planning as part of your medical treatment, but you'll have to pay your coinsurance and your deductible.  
In general, Medicare Part B covers 80% of qualified medical expenses, leaving you to pay the other 20% out-of-pocket. Medicare Supplement Plans help pay that remaining 20%, which will save you money in the long run, especially if you are being treated for a chronic condition. In fact, having a Medicare Supplement Plan could save you hundreds of dollars each year. There are 10 different Medicare Supplement Plans to choose from, each with different levels of coverage at different price points. One of our agents will go over each plan and find the one that meets your needs. To get free instant quotes, simply enter your zip code in the bar above, or to speak to a licensed agent, call 888-753-7207. No hassle. No obligation.