There are some things that are all around us, yet we don't necessarily see them. For example, if we are lucky enough to live a comfortable life, without ever having had to experience the horrors of war, the heartbreak of having to flee our home, or the struggles of being an outsider in a new country, we might not look around us and see that there are many people in our own communities who have had to deal with all of these things. 
Millions of refugees have been settled in the United States over the last four decades, but it sometimes takes a big news story, like the recent crisis for Afghans, for us to look around and see what has been there all along. This has not been the case for Luma Mufleh, however, who herself left behind the country where she was raised and started a new life in the United States. A chance encounter one day with some children playing soccer in her community led her to found an organization that aims to give a new life to the most vulnerable of all refugees. 
The Fugees Family, which began as a soccer club for refugee children, now not only gives children survivors of war a social way to cope with their trauma, but has grown to become the nation's only school dedicated to refugee education, and to ensuring that these children can reach their full potential.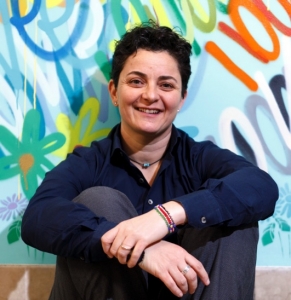 "I've Experienced Being an Outsider"
Luma Mufleh has always had a personal connection to displaced children: while Mufleh was raised in Amman, Jordan, she is the daughter and granddaughter of Syrian refugees. Not only that, but she herself left behind everything she knew in Jordan after she came out as gay to her parents; they disowned her, and knowing that being gay is considered a crime in Jordan, Mufleh fled to the U.S. to start a new life for herself, and was eventually granted asylum here. 
As she told CNN: "I've experienced being an outsider because of having to leave my country and having to start with nothing. So there's empathy that I have that allows me to relate. When you've left your home, your family and everything you know to start new, that is very difficult. You don't have the education, the language, and you don't have someone that can broker things for you."
Mufleh managed to build a life here, despite having to deal with the above unimaginable stresses, as well as the difficulties of what she calls the "broken" immigration system. She finished college and opened a coffee shop – but it was a random wrong turn one day in 2004 that led her to her true calling. 
"This Is the One Place They Get to Be Kids Again"
Mufleh's wrong turn led her into the parking lot of an apartment complex in Clarkston, Georgia, where a group of young boys was playing soccer with a beat-up ball, some barefoot, using rocks as goal markers. The scene reminded her of home, where she had played soccer in the streets with her brothers and cousins – in fact, Mufleh was one of the only girls who had played soccer at her school in Jordan. She felt drawn to these children, and got out of her car, offering them a nicer ball, and asking if she could join in with them.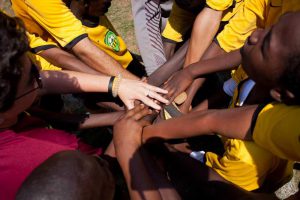 Over the next few months, she continued to play soccer with these boys, who turned out to be refugees from Afghanistan and Sudan, and eventually, the "Fugees" team was born, and began playing competitively in Georgia. This team became more than just a pastime for the children involved (and for Mufleh herself). It became a sort of family and a way to feel part of something, as well as to help boost the mental health of children who had been through so much. After all, the sad fact is that refugees can suffer under the stress of their situation, with anywhere from 4 to 40% dealing with anxiety, 5 to 44% dealing with depression, and 9 to 36% dealing with PTSD, according to psychiatry.org. 
But psychiatry.org also points out that these issues don't have to be long-lasting, and the Fugees team has had a big effect on the kids involved. As Mufleh (who is a Top 10 CNN Hero for 2016) told CNN: "When you have a kid that has fled their country, has had a horrible experience, comes to this strange country, the one thing they understand is soccer. It's always been an escape for them…You see kids…who have been struggling for months. And when they come here, their faces light up when they're on the field. For kids that were robbed of their childhood, this is one place they get to be kids again. They feel comfortable. They feel confident and happy. You see the transformation begin when they're around a group of kids that have shared similar experiences and they help each other adjust to their new lives."
"I Had Barely Scratched the Surface"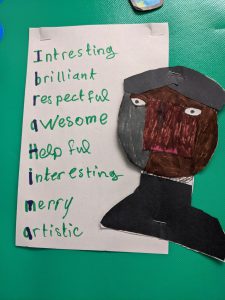 But, while the soccer program has meant so much to the kids involved, Mufleh began to realize that it could not solve all of their problems. To start with, they were dealing with the very practical, material issues that come from being forced to flee their home countries to a new place, sometimes with only the clothes on their backs, and almost always with very little education.
As Bethany Letiecq, associate professor of human development and family science at Maryland's George Mason University, told NPR of refugee families, "If you are a refugee, coming here with very little, English might be limited, job opportunities can be limited, trying to just meet your family's basic needs can be a full-time job." In fact, Mufleh recounts a story on The Fugee Family website of a young boy on her soccer team who complained of being hungry one day as she took him home from practice. She thought she would bring him to his house and simply help him get a snack, but instead she found a house with cupboards that were completely bare, despite his mother working as hard as she could to make a life for her child. 
As Mufleh says on the website: "I realized that I had barely scratched the surface. I felt so naive and helpless. Children living less than five miles away were going to bed hungry, because their parents weren't getting paid enough to make ends meet. This is just one of many experiences with my players that has completely changed the way I see the world."
"Stellar Performers"
So what could Mufleh do to even begin working toward a solution for these children? The answer to her was education: she realized that they needed to be given a way to reach their full potential, and change their futures. What she saw was not only parents who weren't getting enough support, but children who weren't being given the tools they needed to move forward from that situation:
"You've experienced conflict. You've seen war. You haven't had food security. Then you get to come to the United States, and you're super excited. And then you come here, and there's a rude awakening. Academically, they're not ready. A lot of the kids have had little or no formal education, and they're plunked in the age-appropriate class. So you have a kid who's 14 or 15 and is put into ninth grade and expected to do algebra and read Shakespeare when they don't know the letters of the alphabet, and they don't know how to add. So they're feeling like failures at school."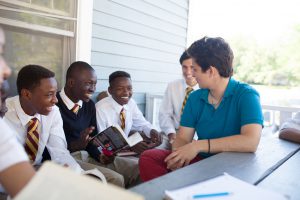 And so the Fugees Academy was born, which educates refugee students, no matter how far behind they are, offering classes for sixth through twelfth grade. As The Fugees Family website points out, the children they serve go from being at risk of "drop[ping] out of school and never learn[ing] English, develop[ing] fundamental academic skills, or identify[ing] themselves as a valuable part of American society" to children who "don't just catch up – they become stellar performers who can meet rigorous academic standards." 
In fact, the academy has a 100% graduation and college attendance rate, and sees a 137% and 187% increase in growth targets for math and reading respectively for their 6th and 7th graders. All of this means that the Fugees Academy has become so popular among the refugee community that Mufleh receives nearly three times as many requests for enrollment as she has space and resources. 
"Courage, Resilience, and Creative Potential"
In the last few years, the Fugees Academies have expanded to include a location in Columbus, Ohio, and are hoping to expand their unique model of education nationwide, with Cleveland being the next planned location. The schools integrate soccer into their academic program, because as Mufleh says, "Soccer is the one thing that's very familiar to them and the one thing that is normal. It reminds them of home," and the Fugees soccer team is still going strong.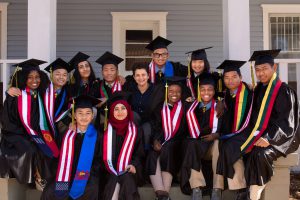 With all of that hard work, the overarching Fugees Family nonprofit has reached more than 1,200 vulnerable kids from more than 22 different countries, "empowering refugee children to use their voices to reclaim and tell their own stories – shifting the narrative around refugees away from the current fear-mongering frame to one of courage, resilience, and creative potential," as their website says. 
What Mufleh and her organization are doing is bringing a sense of hope, belonging, and faith in the future to children and families who have come to us to find a better life – and she is also facilitating their successful integration into society. As Mufleh pointed out in an opinion piece on Cleveland.com, "With the right support, refugees routinely make incredible strides in America. We are upwardly mobile, more than tripling our household income after 25 years, according to the immigration advocacy research group New American Economy. The communities where we settle become safer; between 2006 and 2015, 9 of the 10 cities with the highest resettlement rate saw their crime rates fall. And nearly 350,000 refugees are essential workers, from health care to the food supply chain."
But beyond all of that, she's letting kids be kids, and seeing them for who they are, not just refugees: "They're just like most kids," Mufleh notes. "Yes, they've had experiences that children typically don't have. But they have so much to contribute to this country to make it great and to teach us all about how grateful we are to be here."
If you'd like to learn more, or find out how you can help, head to the Fugees Family website, or to donate, click here.